This post contains affiliate links. As an Amazon Associate I earn from qualifying purchases.
<!–googleon: index–>
Choosing an infant car seat can be a daunting proposition. There are so many factors to consider! If you're on the market for the lightest infant car seat you can find, you have some excellent options to consider in 2023. Keep reading to learn how to choose the best lightweight infant car seat for your family – and why weight might not be the most important thing for you to consider after all.
If you're specifically focused on finding a travel-worthy car seat for your infant, you'll want to read my article about the best travel infant car seats – it's not completely the same list as in this article!
I'm fortunate to have worked with nearly all of the car seats below in-person during my CPST class or out in the community with parents. They're all solid choices and will keep your baby safe as long as you use them correctly. Fortunately these are all easy to use, long-lasting options.
(Big thanks to Graco for the featured image above)
Quick picks: best lightweight infant car seat for travel and home
Don't want to read all the reviews and details below? Here are a few quick picks for different family needs.
Read more: The best infant car seats for travel
Comparison of lightweight baby car seat options
Read more: 10 rules for flying with your car seat
Lightest infant car seat for travel and everyday: 2023 reviews
Nuna Pipa Lite RX review
Keep reading for an exciting update from Nuna!
If the only thing you care about in choosing the best infant car seat for your family is weight, the new Nuna Pipa Lite R or the more feature-rich Nuna Pipa Lite LX) might be a great contender. It's the lightest baby car seat around, but make sure to read this entire review to understand it's many pros and one major con – it's not the right choice for every family.
It's extraordinarily light. You may never encounter another car seat that's this light. The Nuna Pipa Lite R is actually just 5.3 pounds if you leave the infant inserts at home and take the canopy off. If you leave those accessories on (as many families will) it's still the lightest infant car seat in town at 6.7 pounds.
What does the Nuna Pipa Lite R have going for it? So much! For starters, the base is fool-proof to install thanks to rigid LATCH connectors. The seat fits even little babies very well thanks to lots of adjustments. The Nuna Pipa Lite R comes with Nuna's new RELX base, which has 4 different recline adjustments, an adjustable and lockable load leg and even an anti-rebound bar for additional stability in an accident.
The Nuna Pipa Lite LX version is a little heavier but it has Nuna's famous "Dream Drape" to give babies sun protection and a dark place to nap when you're on the move. The fabrics are nice to the touch. When you're working hands-on with it, everything about the entire Nuna Pipa Lite series just feels extremely high-quality.
The Pipe Lite LX doesn't currently come with the updated RELX base, but all Pipas are compatible with either the regular or RELX base so you could opt to buy the Nuna Pipa Lite LX and then add the RELX base for your family's second car.
Other than the high price tag, what's the hold up? The Nuna Pipa Lite can only be installed using its base. Once more for the folks in the back, you need to have the base with you to use the Nuna Pipa Lite R or Lite LX. If you're staying around town and using your family's cars, that's obviously not an issue and you'll bask in having the lightest car seat for babies that money can buy.
But what if you want to travel? Very few families bring an infant car seat base when they travel, because they're extremely heavy and bulky – 14 pounds for the PIPA base and almost 19 pounds for the RELX base.
Read more: 5 Car Seat Tips for New Parents That I Wish Everyone Knew
Nuna has now addressed this issue by adding a new family member: the Nuna Pipa Lite RX. I wish they'd been a little more creative with naming or discontinued a few options to avoid confusion. But the Nuna Pipa Lite RX infant car seat is a true winner in that it incorporates all the best that Nuna has to offer in this series: easy-to-use RELX base, ultra lightweight infant car seat, ability to install baseless, Dream Drape, magnetic buckle holders and more.
The downside? All that innovation earns it the title of "most expensive infant car seat on the market". It's also about a pound heavier than the other Pipa Lite models, but for many families the ability to install baseless makes the trade-off worthwhile.
One thing to note: if your vehicle has really sloped seats (Subaru, Pacifica, Sienna etc), you may need to use a rolled towel under the "foot" of the base to get it reclined enough for your newborn to ride safely. Be sure to consult with a local CPST to check everything over before your bundle of joy arrives.
The Nuna Pipa series also has a lower infant car seat weight limit than the other choices on this list. If you have a really chubby baby it may not last as long as the others, but in most cases the 32″ height limit or the 1″ of shell height rule will be reached before 32 pounds. For reference, an average 18 month old is 32″ tall but just 24 pounds.
The entire Nuna Pipa series (original, lite, lite lx and lite rx) is compatible with all the most popular strollers! In some cases you'll need an extra adapter. But you can use it with Nuna's own strollers or with offerings from Uppababy, Bugaboo, Baby Jogger, B.O.B. and more.
---
Century Carry On 35 LX infant car seat review
There's an ultra-cheap, ultralight infant car seat on the market and it has a lot of fans among car seat technicians and traveling families: the Century Carry On 35 LX infant car seat. The Century brand is almost as old as I am and is now being produced by Graco as a bargain version of its namesake baby gear line. If you've owned a Graco SnugRide recently, you'll notice plenty of similarities with the new Carry On.
What's got me so excited about this new infant car seat? It takes the crown as the lightest infant car seat + base combination, and not by a small margin. The Century Carry On and base together come in at just over 10lbs. For comparison, the competitive Evenflo Litemax and its base weigh around 15lbs.
Why does it matter? Weight isn't everything, but many parents like the convenience of bringing the infant car seat base. I usually discourage that because bases are so heavy but that's just not the case with the Century Carry On.
Great news on the fit: in my experience the Century Carry On 35 LX offers a great fit for even small newborns, better than its lightweight Graco cousin below. On the larger end, the tall shell means you can continue using this infant car seat for travel until 15-18 months depending on your child's height!
A few other nifty features to note: first up, the cover and padding are made from recycled soda bottles. Second, the base includes a pop-out recline foot to make sure you newborn is riding at a safe angle. Third, if you will be mostly using trains or other public transportation and want to leave the base at home you can still do a simple and easy seat belt installation (though you may need a locking clip). Finally unlike the similarly priced Evenflo Litemax, the Century Carry On is a wonderful choice for compact cars.
There's a less expensive version, the Century Carry On 35 (no LX) but I'd probably spend the money to get the LX. The basic version has a shorter canopy that's weirdly connected to the carry handle and it doesn't come with the newborn body insert. But if you're on a tight budget, the basic Century Carry On 35 is one of the cheapest infant car seat options. It also comes in gorgeous colors!
While you're at it, you can grab a super-affordable spare base for another family car – or even to leave at Grandma's so you don't have to bring yours! If stroller compatibility matters to you, there are several singles and a double to choose from. They aren't likely to stand up to strollers costing five times as much, but could make a helpful extra addition that you won't mind checking on your flight.
A fantastic is the Century Swap On stroller. It has a bargain price tag but gives you the option to add an affordable bassinet for neighborhood walks during the first 6 months – a much safer option than keeping baby in the car seat when you're on foot.
---
Graco SnugRide 35 Lite review
Graco has added another solid contender for parents seeking an affordable infant car seat and those who want a lightweight infant car seat. It's even lighter than the Evenflo LiteMax (below) at just 7.2 pounds!
The new Graco SnugRide 35 Lite is a great pick for families who expect to bring home a full-term newborn since it offers 6″ bottom harness slots when you use the included insert (compared to 4″ bottom slots on the LiteMax). This would not be a good choice for parents expecting multiples, who usually arrive on the smaller side. Even for a typically sized newborn, you'll probably need to put a rolled washcloth between the buckle strap and your baby's diaper for the first month.
This is an awesome choice for compact cars since it doesn't take up much room from front to back – it's the smallest of the cheap infant car seats. If you're installing it without the base for travel or to save even more space, you have the option of European routing (wrapping the shoulder belt around the back of the seat for extra stability).
If you're interested in an affordable travel system, the Graco NimbleLite is probably the cheapest travel system you can find. It includes a full-featured stroller that you can continue using into the toddler years.
The trade off for the bargain price, light weight and compact size is that this Graco infant car seat is pretty basic. You won't find extra safety or extra convenience features. The base that comes with the SnugRide Lite is also ultra-light and very basic, though it gets to job done. If you'll be moving the seat between multiple cars you can consider buying the fancier and easier-to-install SnugLock base for your primary car – it adds a SnugLock arm for easier seatbelt installation as well as premium lower anchor connectors and a more useful recline option. You could also opt for the SnugFit Graco infant car seat base, which further adds extra energy absorbing features.
There's a slightly upgraded version, the Graco SnugRide 35 Lite LX, that has a nicer infant insert (which still has to be removed at 12 lbs) and upgraded fabrics. The two versions seem to be otherwise the same.
---
Evenflo LiteMax review
Key stats:
-Weight 7.8 lbs
-Rear-facing size limits: 3-35lbs, up to 32"
Pros:
✔ Budget-friendly
✔ Fits preemies extremely well
✔ Very light
✔ Lock-off on base for easy seatbelt installation
Cons:
✘ Basic padding on the least expensive model
✘ Requires 1.5″ between car seat and front seats if not installing in the center
✘ Limited stroller compatibility
The Evenflo LiteMax is one of the cheapest infant car seats out there but it really has a lot going for it! It's very lightweight at only 7.8 pounds and it (along with the other new Evenflo infant car seat cousins in this series) offers the lowest approved weight limit around at 3 pounds.
The low weight rating combined with plenty of adjustments for harness, hip and crotch straps makes this one of the best car seats for preemies available today. Note that some versions of the manual say there's a 4 pound minimum, but Evenflo has updated their approvals.
At the top end of the range, the LiteMax goes up to 35 pounds and 32″ – it'll last most kids past their first birthdays! Keep in mind that your baby still needs to have 1″ of shell height above their heads, and that may be your limiting factor.
Whether you want to install it with the base at home or install it without the base when you're using it as a lightweight infant car seat for travel, it's easy to work with.
If you have more room in your budget, you should look at the Evenflo LiteMax DLX – sometimes even cheaper when you buy directly from Evenflo. It has some great extra features for comfort, convenience and safety without adding much weight. It adds premium lower anchor connectors, a no-rethread harness, extra padding, a load leg (to add stability in an accident) and more! These are some seriously premium features at a very moderate price point. And yes, it's still almost a lightweight as the regular LiteMax.
There's also the similar Evenflo Gold SecureMax infant car seat. While the shell appears to be the same, it's gone through additional side-impact and rollover testing. Remember that there are no Federal standards for those tests – as we've learned the hard way, car seat manufacturers design their own and decide what "passing" means. A more tangible difference is the load leg on the base and the SensorSafe chest clip (more on that here). Other premium features include high-end fabrics designed to keep babies cool, LATCH guides and more.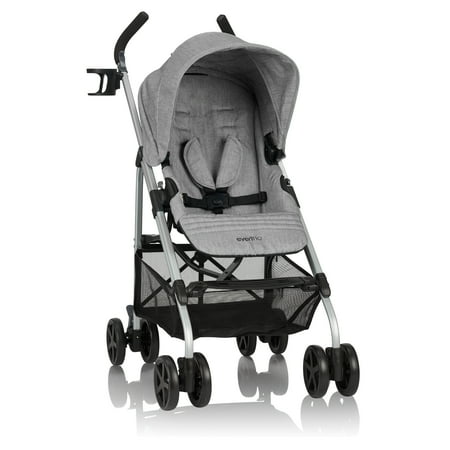 The biggest downside of Evenflo car seats is that, for the most part, stroller compatibility is limited to Evenflo strollers. But they've got some great choices these days – if you're trying to stick with a budget-friendly, lightweight stroller then the new Evenflo Urbini Reversi will tick a lot of boxes and last your family for years to come.
The LiteMax and SafeMax also aren't great choices for compact cars. Evenflo recommends installing in the center seat if possible. In most cases that requires using a seatbelt, which is 100% safe but may intimidate some parents compared to using LATCH; fortunately the LiteMax has an easy-to-use lock-off on the base to make seatbelt installation a breeze.
If you can't or don't want to install in the center seat, Evenflo requires 1.5″ between the back of the LiteMax/SafeMax and the seat in front. That means a front passenger would potentially have their knees in the dash or realistically couldn't sit at all if you're driving a very small car.
---
Graco SnugRide SnugFit 35 DLX
Graco is probably the best-known name in baby gear – almost every family owns one of their Pack n Play play yards, a high chair, a bouncer or one of their many car seats. They may not be the sexiest car seats in town, but Graco is always a dependable option at a reasonable price. The new Graco SnugRide SnugFit 35 DLX (also available here) won't disappoint you and is a real step up in features, along with being one of the lightest infant car seats in town!
Ok first we have to talk about the name… there are so many Graco SnugRide car seat choices and all the names sound pretty much the same, but there are some major differences. Why am I recommending that you look at this particular model compared to the dozen other SnugRide infant car seats?
SnugRide tells you that this is an infant car seat – easy enough.
SnugFit seats have a no-rethread harness and an anti-rebound bar on the base.
SnugLock is no longer explicitly included in the name even though it's still part of the seat. It refers to the easy-to-use lock-off that's built into the car seat's base. It's similar to the Britax ClickTight technology: open the panel, buckle the seatbelt and gently pull the slack out, close the panel. The end! It really is extremely simple to install the base, whether you're using the seatbelt or the base's premium lower anchor connectors. Having an easy lock-off like that is wonderful if you want to install your car seat in the middle but your car doesn't have lower anchor connectors in that position.
The "35" tells you that it has a 35 pound weight limit, along with its 32″ height limit. Some other Graco infant car seat weight limit options are 30 pounds, which also have a 30″ height limit that won't last you as long.
Finally, DLX tells you that you're getting some premium features on this particular seat. It has nicer lower anchor connectors, nicer fabrics, a fancy canopy, a more convenient handle and some extra impact absorption technology.
All that is to say that there are lots of choices if you want to buy a lightweight Graco car seat. The Graco SnugRide SnugFit 35 DLX is a great balance between light weight, moderate price and quality features. It's one of the best lightweight car seat options if you want all the features without a premium price tag.
What are the downsides? Compared to the similarly-priced Evenflo LiteMax DLX, the Graco newborn car seat doesn't have a load leg for improved stability (some studies have shown that a load leg manages energy better than an anti-rebound bar) and the Graco is a little heavier.
While the Nuna Pipa Lite and the gb Asana are compatible with some of the nicest strollers available, the Graco infant car seats are mostly just compatible with Graco strollers and then a few additional choices like Baby Jogger and B.O.B. which the purchase of an adapter. But if you have your heart set up an Uppababy Vista or a similar luxury stroller, be sure to research whether or not it's compatible with the Graco SnugRide (you'd need the Click Connect adapters) before you commit.
---
gb Asana review
GB, short for Goodbaby, may not have the same name recognition as other brands on this list but rest assured – they're legit. Goodbaby is actually the parent company or Evenflo and Cybex (among many others). The GB Asana infant car seat is a high-quality, lightweight car seat that has lots to offer parents.
The gb Asana offers plenty of adjustments to fit babies of all sizes. It's easy to install, whether you're using lower anchors or the seatbelt to install the base. The no-rethread harness is easy to adjust as your baby grows.
There are two versions of the GB Asana: DLX and LTE. The LTE is only available as part of the gb Lyfe travel system; the gb Asana DLX infant car seat is sold on its own and features a load leg on the base to decrease movement in a crash. But as of this writing, the travel system – which gives you a swanky stroller as well – costs less than the DLX car seat on its own! If you're a two-car family, you can always buy the upgraded load leg base for your primary car – look for it here or here.
Honestly the biggest downside of the GB Asana is just that there aren't so many options to buy it. While you can get Graco's car seats from nearly every mainstream website or retailer, your only options to get your hands on an Asana are to buy it in the travel system or to get the pricey DLX here (possibly also here, depending on stock).
If you decide to buy the DLX version on its own, there's great news on the stroller compatibility front: it works with any stroller that has Cybex adapters, including the ultra-popular, ultra-light gb Pockit+ and the slightly larger gb Qbit+.
---
Just how important is infant car seat weight?
Many first time parents get wrapped up in all the details of choosing their child's first car seat – the huge list of specs, features and marketing-speak can be overwhelming!
Here's what I'll say about infant car seats and weight: while it can be nice to have a lightweight car seat for baby, it's not usually the most important factor in your choice. The vast majority of infant car seats weight 8-10 lbs (though there are some exceptions as you've read above), and by the time you add an entire baby to it, a 2 pound difference just doesn't feel all that significant. You'll probably also find that once your baby is beyond the newborn stage you aren't hand-carrying it long-distances with the baby inside; it's much more practical to snap it into a stroller and then wheel the car seat and baby along unless you're just walking from the car to the house and back.
So while weight is a factor to look at, it shouldn't be the only factor to consider when you're picking an infant car seat for travel. I'd much sooner look at features like size limits and stroller compatibility.
Here's an example of why weight can be a deceptive factor: the Nuna Pipa Lite weighs just over 5lbs when you take off the canopy and take out the inserts. That's crazy light! On the other hand, the Doona infant car seat comes in at a beefy 16lbs. Seems like the Pipa Lite is the better choice for travel, right?
Wrong! The Nuna Pipa Lite makes a lovely seat at home when you might just be popping it in and out of your family's cars but it's featherweight package has one achilles heel: it's the only infant car seat in the US currently that can only be installed with the base. If you plan on traveling anywhere and renting a car or going in a taxi, you would have to bring the hulking 14 pound base as well. Uhhhhhh I'll pass on that.
The Doona, on the other hand, weighs a massive 16 pounds – over three times as much as the Pipa Lite. But the Doona's hidden trick is that it comes with an entire stroller built in, which can deploy with the squeeze of a handle. It's also extremely easy to install without the base, making it a more ideal travel infant car seat than its lightest infant car seat competitor.
This isn't to say you should entirely disregard the weight of your infant car seat. If you're considering the Nuna Pipa Lite, for example, you'll be able to carry it comfortably for at least a few months longer than some competitors. Just make sure that it meets all of your needs before looking only at weight.
Read more: How to get your car seat through the airport
What should you look for to choose the best infant car seat for you
There's really no such thing as "the best infant car seat" – only the best one for your family. The three most important factors for choosing a car seat are:
It fits your child correctly (and will last for a while)
It fits your car
You can use it correctly 100% of the time
If that sounds a little too "clinical", let me break it down for you:
Fits your child correctly
Good news: you don't have to worry too much about this one. If you're buying an infant car seat for your upcoming newborn, know that most of them will fit an average size baby well from birth. There are a few that don't (like this one, which is also a huge nuisance to use).
If you're expecting multiples or a pre-term baby, you'll want to look for one that can fit a teeny tiny baby well – many seats now go down to 4 pounds and have lots of harness adjustments to fit even the smallest newborns once they're ready to come home from the hospital. If you think there's a good chance your baby will come home even smaller, this is the only infant car seat that fits a 3 pound baby.
On the other hand, if you want to buy an infant car seat that lasts as long as possible there are some great options now. They aren't as light as many choices above, but an infant-to-toddler car seat can be a good pick for travel because you can keep clicking the car seat into the stroller even as your child hits 2 years old (or more).
The two main infant-to-toddler car seats to consider are the Chicco Fit2 and the Graco SnugRide SnugLock Extend2Fit 35. Both seats fit kids from 4 to 35 pounds and up to 35". That extended height is what distinguishes them from the typical infant seats, and it can really make a big difference! The Fit2 gives more leg room by rotating to a more upright position, while the Extend2Fit base extends to move the car seat further from the car seat back.
Some kids can use these seats beyond age 2, so they can be helpful for travel with toddlers. A tall toddler or one with a longer torso may outgrow it sooner. Between the two, you might base your selection on which stroller you prefer: these strollers for the Chicco Fit2 or these strollers for the Graco SnugRide Extend2Fit.
Fits your car correctly
Some car seats and some cars just don't play nicely together. What are some pitfalls you should look out for in infant car seats?
The biggest issue can be if you drive a relatively small car and the adults in the front seat need lots of leg room. You don't generally want the car seat to be pushing agains the seatback in front, and some brands (like Evenflo) require a certain distance.
You can usually avoid those space issues by installing your infant car seat in the middle of the back seat. Just be aware that many cars don't have lower anchors in the middle seat, and you can't necessarily "borrow" them from the outer seating positions. That definitely won't work for a car seat that has rigid LATCH, but your car and the car seat might now allow it even for regular LATCH.
The good news is that nearly all of the infant car seats above have a lock-off built in. You can also install any of them by locking your seatbelt at the retractor, a feature in every car in the US for decades. That makes seatbelt installation just as simple as LATCH, just be sure to read your manual.
You can use it correctly 100% of the time
You need to know how to correctly install your swanky new lightweight baby car seat and how to safely secure your bundle of joy in it. The best place to learn the details is the car seat's manual! Many of them have become very user friendly and they're full of critical information.
Some car seats out there have a million rules and extra pieces to keep track of. Infant car seats are thankfully a little simpler than the ones you'll use later, but make sure you keep track of the weight limits for infant inserts, when it's recommended to adjust straps and other little details.
Still need more help? It's always great to schedule a visit with your local CPST to learn the ins and outs!
---
Lightest infant car seat FAQs
Which infant car seat is the lightest weight?
The Nuna Pipa Lite R is the lightest infant car seat. While the average infant car seat weight is about 8-9 pounds, the Nuna Pipa Lite R weighs just over 5 pounds without the infant insert or canopy.
What is the most compact infant car seat?
If you're more concerned about space front-to-back, the Cybex Aton 2 is a real space saver! Though it weighs almost 9 pounds, it's the smallest infant car seat and one of the best infant car seats for compact cars. It also comes loaded with great safety features like linear side impact protection and a load leg on the base, plus a tensioning plate for easy seatbelt installations.
Are lightweight car seats safe?
Absolutely, lightweight car seats pass the same testing as every other car seat in the US. While some car seats drop weight by minimizing steel reinforcement or other features, some high end light car seats use high-tech materials to achieve their featherweight status.
---
Wrapping up
Choosing a new car seat can be one of the most confusing decisions for parents. Hopefully this guide has helped you narrow down your choices to find the best infant car seat carrier for your needs!

Still not sure what to pick? Drop a comment below for more ideas!

<!–googleoff: index–>