This post contains affiliate links. As an Amazon Associate I earn from qualifying purchases.
<!–googleon: index–>
A decade ago when parents of school-age children went on vacation, they generally left the booster seats at home. Some of them knew it wasn't safe and preferred convenience, while others didn't even realize the danger of using an adult seatbelt alone. Booster seats have come a long way since then, and there's now a huge universe of portable booster car seats to keep kids safe while traveling light.
In this review, I'm taking a look at one of the most innovative child safety products of the last few years: the mifold folding booster seat. Thanks to our partners at Carfoldio, I have the opportunity to get hands-on and in-depth with their upgraded version, the new mifold comfort.
This mifold comfort (also available here) review covers the basics of mifold, who should use mifold, how to use mifold, how it fares in real world testing and hands-on comparisons of mifold versus competing folding booster seats. Hopefully this review will help you decide if mifold is the right choice for your family.
What is the mifold travel booster seat?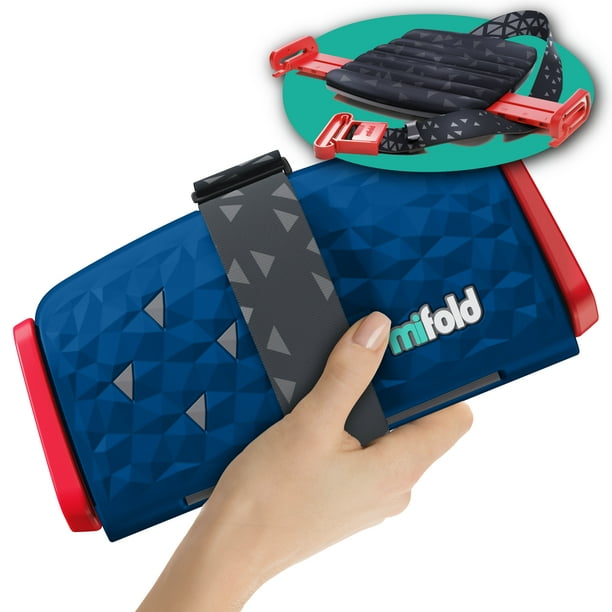 The mifold comfort is an ultra-portable booster seat that folds in half like a clamshell and weighs about as much as a hardcover book. As you can see above, it's tiny!
Read more: Folding car seats for every age
Like all belt positioning boosters, it adjusts the fit of an adult seatbelt to fit a child's much smaller body. The difference is that it pulls the lap belt lower on the child rather than boosting the child up – the same basic idea as the Ride Safer travel vest (read my Ride Safer review).
There are several versions of the mifold booster seat out in the wild, though in this review I primarily evaluate the new mifold comfort. There are three mifold folding booster seats currently available: mifold original, mifold sport and mifold comfort. They all have the same basic design but mifold sport and mifold comfort have additional padding (and are thus a little bulkier) compared to the hard surface of mifold original. You can see all three below to compare.
Who is the mifold grab and go booster seat for?
Mifold's manufacturer advises on the booster seat packaging, manual and labels that the mifold grab n go car booster seat is for kids ages 4+ who weigh 33-100 pounds. The model I received for testing was manufactured in July 2020.
On their website, mifold lists the size range as 40-100 pounds and 40-57″. The minimum weight change is in line with the direction all booster seat manufacturers are moving in light of booster seats shifting underneath some young riders who are under 40 pounds in certain types of crashes. In looking at customer reviews on mifold's website, there seems to be some confusion among consumers as to whether the current minimum size is 33lbs or 40lbs. Unfortunately a 33 pound child may not weigh enough to keep the booster seat in place in a severe crash.
The general guidance for booster seat usage in the Child Passenger Safety community is at least 40lbs, at least 5 years old and mature enough to stay seated properly 100% of the time. Parents and CPSTs alike know that most children aren't mature enough to stay seated correctly 100% of the time at age 4. Some children are ready at age 5 and many are not ready until 6 or even 7 years old.
It's also critical that your child achieve a safe seatbelt fit in any booster seat she's going to use – more on that later in this mifold review.
Read more: The best travel car seats for 5 year olds
How do you use the mifold booster seat?
There are just a few steps to prepare the mifold portable booster seat for use, but it's important to follow them.
First, unwind the shoulder belt adjuster strap that's used to keep mifold folded. That will allow mifold to flop open as it needs to be for your child to sit on it.
Second, find the red tabs on the bottom to adjust the width of the lap belt guides. They're easy to adjust once you know what to look for. There are three different widths to choose from, market on the guides as I, II and III. Choose the same width on each side, and be sure it's the option that's closest to your child without touching. For reference, my almost 7 year old (around 45 pounds) used setting I and my 9.5 year old (around 65 pounds) used setting II.
Third, place the mifold as far back on the vehicle seat as possible. You want the back of the mifold booster car seat to be right at the junction between the bottom and back of the vehicle seat. If your vehicle seat has a "waterfall" bight – meaning there's a small sloped panel between the bottom and back of the seat – the mifold manual directs you to place the back panel of the mifold up on the slope.
Fourth, thread the shoulder belt through the attached and required red shoulder belt guide. If you're already familiar with backless boosters, you'll know that the shoulder belt adjuster clip is typically required only if your child needs it to achieve a proper fit. That is not the case with mifold.
Finally, have your child sit on the mifold folding booster seat, thread the lap belt through the red guides on both sides and then buckle the seatbelt. The shoulder belt doesn't go through the guides (which is fine, but different than many boosters to older independent riders might need reassurance that it's correct). Adjust the shoulder belt clip down so that the shoulder belt makes nice contact and crosses mid-way between the neck and the edge of the shoulder.
That's it! Once you've done it once or twice, the whole set up process is extremely quick – as is the case with most backless booster seats.
If you're riding in a car with adjustable head restraints, be sure to move it up so that your child has full support at least to the tops of the ears (but ideally to the top of the head).
mifold review: seatbelt fit
While some booster seats include fancy extra features, in reality a booster seat's function is simple: to properly position an adult seatbelt so that it safely secures a child's much smaller body. The shoulder belt should make contact with the middle of your child's shoulder. The top of the lap belt should fit low on the hips and touch the top of the thighs.
This diagram from the Insurance Institute for Highway Safety is extremely helpful in understanding how to judge lap belt fit. If it's too high, the seatbelt can cause severe abdominal injury (also called "seatbelt syndrome") in a crash. If it's too low, the child's pelvis can be rotated forward and cause them to slide down in a crash – again resulting in abdominal injury.
In performing a mifold safety review, the million dollar question for CPSTs is how well the lap belt fits. It's generally easy enough to adjust shoulder belt fit with a clip, but the lap belt positioning is primarily based on the design of the booster seat and the child's build; sometimes the specific car's seatbelt geometry can come into play as well. There's really no way to change the lap belt fit.
I have seen many, many seat belt fit pictures of the original mifold. In about 80% of them, the lap belt fit is not one I'd be comfortable with for my own child or the kids I help as a CPST. In the remaining 20% it's ok, but rarely in an ideal range unless the child is close to passing the "5 step test" to stop using a booster seat (around age 10-12).
I was pleasantly surprised to see that the fit on my son (9.5 years old, around 49″, 65 pounds and desperately in need of a profession haircut) was pretty close to what I would feel comfortable with. The lap belt is still a little lower than what I'd consider a great fit, but it's getting there. The shoulder belt fit is just fine.
For those of you reading this with booster-age kids, you'll probably recognize that my kids are little peanuts for their ages. Genetics at work! Most of my son's buddies are 6-12″ taller than he is and the thicker built ones will likely achieve a much safer lap belt fit. I'll definitely be keeping our new mifold comfort in the trunk as a backup if one of them needs a lift home from soccer.
Now on to my even tinier child… she'll be 7 soon but is only around 45″ and 45 pounds. She's small for her age but still well within range for the mifold, which now starts at 40lbs and 40″. We've had a hard time getting a good fit for her in a few boosters because she has a short torso – she could still fit in plenty of convertible car seats but is mature enough to handle a booster seat. As long as a booster seat fits her properly, it's an extremely safe choice for her age, size and developmental level.
Unfortunately the lap belt fit you see in this picture is typically of what we often see with young kids using the mifold – remember that this joyful sprite is almost 7 and the product is marketed for kids 4+. The lap belt is extremely far forward on her thighs, clearly out of the recommended range that we saw in the IIHS diagram above. In a crash, her pelvis could move forward without engaging the lap belt as it should.
I checked several times to make sure that the booster was flush with the vehicle seatback and that she was properly positioned. This is where the lap belt landed and there's no realistic way to change it.
For comparison, you can see her below in the same spot on the same day fit testing the Graco RightGuide. That seat has a 50lb minimum so she didn't ride in it yet. But the lap belt fit is completely in the "green zone" from the IIHS chart above.
Read more: The best travel car seats for 6 year olds
So what's the issue here? The mifold lap belt guides are positioned really far forward. It's possible that in the car with the "waterfall" seat bight I mentioned in the installation section, the lap belt guides would be in the perfect spot (I know this sounds excessively nuanced, but these are the details that we as CPSTs look out for – check out page 19 here if you really want more info). But in most modern cars, the bottom and back of the vehicle seat are basically perpendicular to each other and the mifold comfort will sit flat like it does here in my CR-V.
A child who has a thicker-than-average build may have a better lap belt fit with mifold than my average kiddos. This is why it's always so important to try each child in each booster seat in each car to make sure fit is correct. Booster seats seem simple at first glance, but there's a lot of room for error!
For reference, you can see above how the lap belt guides are positioned on the hifold booster by the same company versus the mifold comfort sitting in its lap. The shiny red arm of hifold on the right is its lap belt guide. mifold is pushed all the way back here – meaning the child's back would be positioned the same in both. You can see that mifold's lap belt guides are several inches forward of the hifold lap belt guides.
We have no problem getting a safe lap belt fit with hifold. Below you can see her more than a year ago testing out hifold. The lap belt is exactly where it should be.
Many CPSTs have noted that mifold's lap belt fit would be much better if the belt guides were simply moved to the other half of the shell. Some people have even done a fit test with the mifold backwards (not that they would use it that way) and found the lap belt fit substantially better. While that kind of change would require some engineering work, it would also make mifold safely usable for a much broader group of kids in the stated size range. Hopefully we'll see that change in the next version!
mifold comfort review
In this review, we specifically tried the mifold comfort. Thanks to a neighbor I had the opportunity to compare it to the original. While the bones of the two seats are basically the same, the new one is definitely an improvement!
First off, you can see that there's a lot more labeling on the shell of the mifold comfort (dark blue shell on the left). The mifold comfort complies with regulations for US, Canada, Europe/UN (though the older R44/04 as the new standard doesn't allow backless boosters) and China. Functionally, that means you can legally use the mifold comfort everywhere except Australia! The same is true of their hifold highback booster seat, though that has a shot at Australian compliance since it has a back.
You may notice the zip ties our neighbors added to their original mifold (not an approved modification that I'd recommend to families). They found that in the locked position, the belt guides were hard for their kids to release without adult assistance. At the same time, I noted that it was extremely easy to push the belt guides back in even without using the buttons on the bottom. Fortunately the entire adjustment mechanism seems to work much better on the mifold comfort.
One small change is the presence of those little gray triangles. They're intended to decrease slipping on the seat when your child gets in though they were inadequate for my kids' testing.
The biggest change from the original mifold grab and go to the new mifold comfort is the addition of lots of squishy padding. One of the biggest complaints about the original mifold was child comfort for all but the shortest rides, and that issue has been successfully addressed. My kids were both satisfied with the padding of the hifold and this is even thicker and squishier!
When I asked my kids how they felt sitting on the mifold comfort, they both said it was comfortable but very small. "Small" wasn't so much of a negative for them as it was a surprise, given that they're both used to riding in high back boosters or larger backless boosters. It doesn't lift kids off the seat too much so the shallow depth may not be much of a problem even for older kids with long legs.
It does offer a teensy bit more seating area than the original mifold as you can see below. However, that additional length moves the lap belt even further down the thighs and away from the proper position.
My biggest comfort-related concern is that the kids who actually achieve a safe seatbelt fit will be so big that they find the seating area inadequate. I'm hoping to borrow a taller model soon to answer that question!
mifold booster reviews: travel worthiness
One of the big selling points of the original mifold is that it's compact enough to slip in a purse or backpack so that you always have it when you're out for the day. The new mifold comfort isn't quite as compact, but it's still much smaller than most of its competitors – see below for lots of helpful comparisons.
When considering a child restraint's "travel worthiness" it's really important to consider whether or not you'll be able to use it properly in a given car. In the case of a car seat that might include ease of installation and whether or not you'll be able to find a top tether overseas, but for the mifold it all comes back to the seatbelt fit.
If you plan to travel with mifold, you need to be confident that your child will have a safe seatbelt fit in whatever kind of car you're in – and if you plan to use a taxi, Uber or Lyft you may not be able to predict what will come your way. Before bringing mifold on a trip, I recommend trying your child on it in multiple cars to confirm that you get a good lap belt fit in different types of vehicles.
As I mentioned above, the new mifold comfort is approved for visitors to use in almost every country. If it fits a child well, that'll be a huge relief for parents worried about the legality of using an American car seat on vacation.
mifold comfort vs mifold original
mifold comfort is noticeably thicker than mifold original. It clocks in at 1lb 10oz on my scale versus 1lb 8oz for the original – not a big difference. Either one will fit well in your day bag, but your kids will probably be happier with the mifold comfort. A happy kid is certainly worth the small trade-off in size and weight.
mifold vs Ride Safer travel vest
When folded, mifold comfort (on the right) is only a little smaller than the Ride Safer travel vest (full review here). The Ride Safer is about 4oz heavier than the mifold comfort but it's a great, safe choice for kids starting at age 4. However, mifold is simpler to use especially for quick hops in and out of taxis.
DEAL ALERT! Save $11 off the Ride Safer Travel Vest with coupon 'VOYAGE'
mifold vs Bubblebum
The Bubblebum inflatable booster seat (full review here) has long been a popular choice for traveling families. It weighs 1lb 1oz, gives a great seatbelt fit for kids starting at 40lbs/4oz and even passes crash testing when deflated for an extra measure of security. When rolled, the Bubblebum takes up a bit more space than mifold comfort and much more than mifold original.
The Bubblebum's seating area is just a little bigger than mifold comfort's seating area. Many parents don't realize it, but kids aren't supposed to sit on the silver part of Bubblebum! If your child's bottom is on it, they need a bigger booster seat.
mifold vs hiccapop Uberboost
Like the mifold comfort, the hiccapop Uberboost (full review here) wasn't ideal for our petite kids but could work well for bigger carpool buddies who sometimes ride with us. It's another inflatable booster seat but gives a little more space for broader kiddos than the Bubblebum. It's hollow inside so you can probably roll it small than this, and at 1lb 3oz it's 6oz lighter than the mifold comfort. However, my kid hated the optional shoulder belt clip and won't use the seat until he's tall enough to avoid it.
mifold vs Graco RightGuide
The Graco RightGuide is a new kid on the block in the portable booster seat game. It's foldable in the sense that the belt guides fold under the seat to make it flat for transportation. As you can see, it's quite a bit larger than mifold or mifold comfort. It weighs 2lbs 1oz vs 1lb 10oz for the mifold comfort so that's a noticeable difference. The RightGuide has minimum requirements of 5yo/50lbs/43″ so it's one of the more meaningful comparisons with the mifold.
As you can see below, the Graco RightGuide offers a much bigger seating area. Kids who are big enough to get a good seat belt fit with both will need to decide whether they want to carry around the extra size of the RightGuide or be content with the smaller seating area of the mifold comfort. Either way, parents can rejoice that these kiddos are old enough to carry their own booster seats!
I tested both of my kids on the Graco RightGuide and was very pleased with the seatbelt fit (even though my daughter isn't even big enough to use it for a ride yet). It's not without it faults, though, so be sure to do your research before buying.
Read more: In-depth Graco RightGuide review
mifold vs hifold
As you've probably noted by now, mifold isn't Carfoldio's only product! Their hifold highback booster seat is pretty rad. In fact, as of this writing it's my daughter's daily ride. You can read my full review here. The major advantage of hifold is that kids will almost certainly achieve a safer seat belt fit than with mifold; that's why hifold will be coming with us on our upcoming vacation. The downside of hifold compared to mifold is that's there's no comparing the size – hifold weighs 10 pounds and folds to the size of a bowling ball bag. It's not an ideal choice if you'll be jumping in and out of Ubers all day!
DEAL ALERT! Save 15% on hifold with exclusive coupon VOYAGE15
Final thoughts of my mifold booster seat review
I truly applaud Carfoldio for pushing the envelope on booster seat design. As kids get older and travel and carpool more frequently, it's handy to have ultra-compact options that keep them safe.
I also hope that the engineers will take some of my feedback (and feedback from fellow CPSTs) to heart in designing the next version. Parents don't generally have all the information they need to judge booster seat fit and as a CPST I try to steer parents toward products that are safe, easy to use and consistent. Especially for traveling families, it's extremely challenging to recommend a product that will only work safely for certain children in certain cars.
If your child is well into the approved size range has a sturdier build it may be worth ordering one to see how the lap belt fit looks on your kiddo. If it fits safely, consider yourself fortunate to be able to travel with the most compact booster seat on the market!
Where to buy mifold comfort
If you feel that mifold comfort is right for your child, here are the best places to find a good deal:
mifold FAQs
Is the mifold actually safe?

Mifold passes crash testing per American, Canadian, European and Chinese standards. However, any booster seat is only safe if the seatbelt fits your child properly in your vehicle. The seatbelt fit with mifold isn't consistent, so if you're interested in using the product you'll need to buy or borrow one to see how it fits on your kiddo.

Is mifold safe for 4 year old?

Nearly all 4 year olds do not have the impulse control to sit properly in a booster seat 100% of the time. In addition, the lap belt fit issues I highlighted above will be even more pronounced with a smaller child. There are many excellent travel car seats for 4 year olds.

Is mifold approved in the US?

Yes, mifold is approved in the US.

Is mifold legal in UK? Is mifold legal in Europe?

Yes, mifold is currently legal in the UK and Europe. It's permitted under the older ECE R44/04 standard. Once new R44 seats are no longer allowed and only newer R129-compliant seats are approved, the minimum height for all backless boosters in the UK and Europe will be 125cm (49″). That's the size of an average 7 year old and is in line with both best practice and the size at which mifold realistically starts to fit children safely. Some of the details of R129 "booster cushions" (backless boosters) are still being ironed out but heightless boosters like mifold may eventually need to be redesigned to comply with design specifications.

Do mifold booster seats expire?

Yes, mifold booster seats have a usable lifespan of 7 years. Fortunately the date of manufacture is printed right on the shoulder adjustment clip so you'll never have to hunt for it!

Thank you to our partners at Carfoldio for providing the mifold comfort for review. All opinions are my own.

<!–googleoff: index–>