This post contains affiliate links. As an Amazon Associate I earn from qualifying purchases.
<!–googleon: index–>
There are many things we encounter as new parents that make our eyebrows raise in surprise, and for me it was how much my babies sweat in the car seat. Once the temperature hit 75, it was baby back sweat central! Fortunately I've learned how to keep baby cool in the car seat over the years (now to mention how to keep baby warm in the car seat).
In this article you'll find out how to keep babies and kids cool in the car seat without compromising their safety. And yes, I'll even help you figure out how to stop your baby from sweating in the car seat.
There's no one "right" solution since every family's needs are different. You'll probably want to use a few of these strategies together and might even need to use different options from this list when you're flying and renting a car.
Keep your car cool
One of the easiest low-tech strategies to keep your kids cool and comfortable is to keep your car cool. That will in turn keep your car seat cool.
If you live in the sun belt, consider dark ceramic tint for your kids windows. You obviously need to keep within the legal limits of your state (and states you plan on driving to), but it can make a big difference.
For families that want to stay old-school, a big windshield reflector will keep the car temperature much lower. If you drive a sedan, don't forget to grab one for the back window as well!
We have found window shades to be really helpful for our kids – we bought them in a moment of desperation during a sweltering Southwest roadtrip and they made a big difference. If you choose to go this route, be sure to pick window shades that are least likely to become projectiles in an accident. I now recommend this cling-on style, as a different style we had broke and I have concerns about it injuring a kid in a crash. They're easy to move from one car to another and pack in your luggage for vacation.
Lately these elasticized pull-on window shades have gotten really popular. You open the car door and then they pull over the entire top half of the car door! They offer full-coverage, there's no projectile risk and they stay put even if your kids roll down the window for fresh air.
Of course the most basic strategies apply too: park your car in a shady spot and, if you're starting your trip from home, start the car (with the garage door open) a few minutes early to let the AC get cranking.
---
Shade your car seats
You can take things to the next level with a car seat shade cover. It uses the same principal as reflective shades for the windshield, but you can put it directly over your car seat. You must remove this shade before buckling your kid in.
The upside is that it's cheap, easy, portable and can be used even when you're out and about – no pre-planning required. You can even deputize your kids to cover their own car seats.
There are more expensive versions sold by certain car seat manufacturers, but it's not necessary to spend an arm and a leg for a reflective car seat cover – you won't be using it during transit, the fit is universal, and they all do the same thing!
Some families get by with a light color muslin blanket, though they aren't quite as effective.
---
Cool the car seats
If you're a desert-dweller, you may need some serious solutions to keep your kids' car seats cool. A car seat cooler pad may be a great addition to your toolkit. It's essentially an ice pack that folds up like a changing pad. It has blue ice inside that stays cold for the long haul and insulation on the outside.
Put the frozen car seat cooling pad in your car seat about 10 minutes before you're ready to leave your house. Remove it from the car seat before buckling your baby in and fold it back up so that it stays cold for later use while you're out and about.
You'll find some products for sale that are intended to be left in the car seat while your child rides. Those aren't safe. You shouldn't have anything in the car seat that the manufacturer didn't provide (or explicitly approve). Those cooling mats and liners are not crash tested with your car seat and could cause injury in a crash.
---
Get a "car seat air conditioner"
If you're driving an older car like me, chances are you don't have AC vents in the back of your car. Womp womp. Even if you do, your rear-facing kids may not feel the arctic chill unless your vents are mounted on the ceiling. Thankfully there's a car seat air conditioning solution these days!
Enter the Noggle. This innovative baby AC hose clips on to your front vent and channels air back to your kids. Think of it as an AC vent extender. There are three different lengths to accommodate different vehicle sizes and both rear and forward facing car seats.
The Noggle is lightweight and it attaches to the post of a vehicle headrest to minimize projectile risk in a crash. This car seat air conditioner makes a huge difference, especially for rear facing kids who can't feel the AC blasting up front.
While there are a few retailers that sell the Noggle, you'll get the best price on their website – including a cool 10% off right here.
What about a baby fan for the car seat? You'll see these marketed, but they pose a greater projectile risk because they're heavier and not as securely attached. They also aren't as effective as the Noggle because they're just weakly recirculating the warm air in the back seat – that's especially true if you have a rear facer in the third row of a minivan or SUV. So skip the baby car seat fan and go for the big guns.
---
Specialized car seats for hot weather
I'm not going to tell you to run out and replace your current car seat with one that's especially made for comfort in hot climates but if you happen to be shopping for a new one it might be something to keep in mind. There are some great options – both high and low tech – that might help keep your big kid or baby cooler in the car seat.
Car seats with breathable material
Over the last few years, car seat manufacturers have done a great job making their fabrics more breathable. Some of them even have different options: ones with better air flow, ones that wick sweat away and even ones that regulate ambient humidity. Fancy stuff! Here are a few to consider (keeping in mind that you need to pick a seat that matches your child's age and size and your vehicle's space constraints):
Cooling infant car seats
Chicco KeyFit Zip Air
Britax B-Safe Gen2 CoolFlow
Evenflo LiteMax DLX FreeFlow
Cooling convertible and all-in-one car seats
Britax One4Life CoolFlow
Chicco Nextfit Max Zip Air
Chicco Fit4 Adapt
Graco SlimFit3 LX
Safety 1st Grow and Go Comfort Cool
Cooling combination car seats (forward facing + booster)
Chicco MyFit Air
Britax Grow With You CoolFlow
WAYB Pico (forward facing only)
Cooling booster seats
Read more: Most comfortable convertible car seats and most comfortable booster seats
Baby car seat covers for summer
A few car seat manufacturers actually make their own baby car seat covers for summer. While it's never safe to use a third-party product (they aren't crash tested with the car seat), these car seats might be a great option for kids growing up in extremely hot climates. Note that the covers are specific to each car seat model. Even other models from the same manufacturer may not be tested with these covers or they may not fit properly.
Peg Perego Primo Viaggio 4-35 + Clima Cover
Peg Perego Primo Viaggio 4-35 Nido + Clima Cover
Peg Perego Primo Viaggio 4-35 Lounge + Clima Cover
Peg Perego Primo Viaggio Convertible + Clima Cover
Peg Perego Primo Viaggio Kinetic Convertible + Clima Cover
Diono Radian 3R + summer cover
Diono Radian 3RXT + summer cover
Diono Radian 3QX + summer cover
Car seat with a sun visor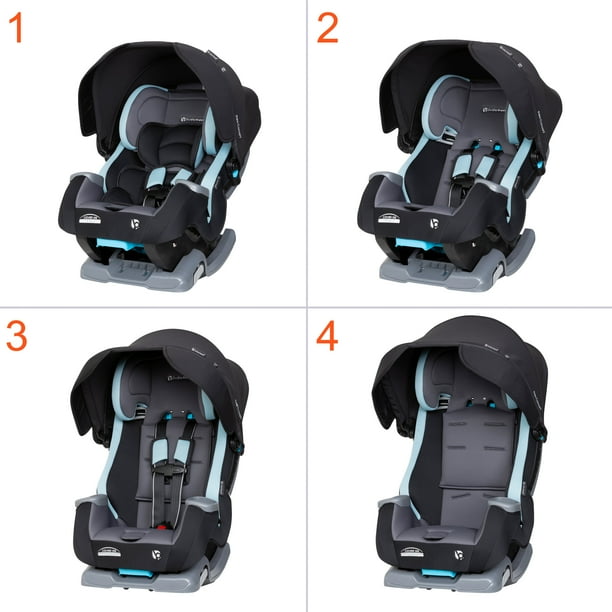 Something as simple as a sun visor can work wonders for kids sitting in the back seat. If your baby is riding in an infant car seat, just extend the included canopy – it'll keep the sun out of their eyes and keep their little bodies cooler.
Older kids don't usually have the same benefit. But this year, Baby Trend is giving parents the option of a sun visor for the car seat with their new Baby Trend Cover Me all-in-one car seat. It's a great idea, and the canopy even offers siblings the opportunity to get a little peace from each other on long road trips.
The Cover Me should last most kids from birth to around 6 years old (it can be used with the harness for 7 years, while in booster mode it expires after 9 years). It has low harness slots to fit newborns, allows rear facing until 40lbs/1″ of shell above the head (there's no standing height limit for rear facing) and has decent height top harness slots for forward facing. The booster mode is just a hair taller than the harness mode, so all kids will need a different booster seat after this – I'd just as soon ignore the "all-in-one" marketing and consider it a convertible car seat.
The biggest downside is that adjusting the harness is fairly complicated if you're starting with a tiny baby and the required recline is substantial, while it's more straight-forward for older infants and toddlers. This car seat is probably ideal for ages 6 months to 5 years though I wouldn't purchase it for a child who's already forward facing. It's not a perfect car seat, but the idea of a long-lasting convertible car seat with a sun visor is one I hope to see other manufacturers try as well!
Car seat that monitors for baby in a hot car
One final car seat to consider won't keep your baby cooler in the car, but just might save her life. Evenflo SensorSafe car seats use a "smart" chest clip to audibly remind parents not to leave their child in the car (or if the chest clip becomes unfastened when the car is in motion, for those houdini toddlers in the crowd).
While the early version of SensorSafe just used a chime in the car, the newest version now connects to your smart phone via a free app. In addition to reminding you to get your precious cargo out, alerting you to an unbuckled child and letting you know your kiddo has been buckled in for too long, it also monitors your baby's temperature and can alert you if she's getting too hot. If you don't unbuckle your child, the app can even notify your emergency contacts. I really love that Evenflo continues to develop this technology to help keep kids safer and prevent child hot car deaths!
There are plenty of SensorSafe car seats to choose from:
Evenflo Shyft DualRide infant car seat stroller
Evenflo Gold SecureMax infant car seat
Cybex Cloud G Luxe infant car seat
Evenflo Revolve 360 Extend
Evenflo Revolve 360 Slim
Evenflo All4One DLX all-in-one car seat
Evenflo All4One all-in-one car seat
Cybex Sirona S rotating car seat
Cybex Sirona M convertible car seat
Cybex Eternis all-in-one car seat
Look, no one thinks it will happen to them. We all try our best as parents (and the fact that you've come to this website and have read this far means you care deeply about your child's safety). But, without fail, conscientious parents deviate from their daily routines or get distracted and tragedy ensues.
Tragically, every year there are dozens of instances in which a child or baby in a hot car has died of heatstroke. About half of child hot car deaths are completely accidental. Here's some important training about child hot car deaths to help you learn how it happens and what you can do to prevent it.
Some countries like Italy and Israel are even mandating similar technology-based solutions to this issue. A few are even sold here in the US, but they aren't tested by car seat manufacturers so their crash performance can't be assured. Hopefully we'll see more manufacturers here in the US testing these third-party solutions or developing their own.
If you don't plan to replace your car seat, you can pick up a CleverElly device that plugs into your car and gives you an audible reminder every time to check the back when you turn off the car. The message changes each time, which is good for avoiding the "routine" aspect that comes into play with so many hot car deaths.
(If you use the Waze app, you can enable the Child Reminder feature but it only works if you remember to turn it on and you plug in your accurate destination.)
---
Make sure your child is dressed appropriately
Riding in a hot car in summer is enough to make most people want to strip down to their swim suits (or even less). Tempting as it might be, riding in the car in your birthday suit poses a few risks.
At best, kids may accidentally bump up against extremely hot metal buckles on their way into the car seat. That can happen even in shorts, but wearing clothing reduces the likelihood.
At worst, if you're in a crash and your kids aren't wearing clothing they can get serious abrasions from the car seat harness or vehicle seatbelt (if boostered).
Sometimes this can happen even through clothing, but it's definitely worse against bare skin. I've seen some grizzly looking photos that I won't share with you in case anyone reading this has a sensitive stomach. Those injuries aren't life-threatening and generally not life-altering, but they can be mighty uncomfortable and are 100% avoidable.
And I admit that I'm imperfect on this one. Sometimes my kids have forgotten to bring dry clothing after the pool and I don't even realize they're only wearing swimsuits until they've buckled themselves and we're on the road. But when we know better, we do better (or at least try harder).
So what should kids wear in their car seats to stay cool? Loose, lightweight clothing is a great pick. My kids love sweat-wicking athletic shirts for hot car rides, and for babies muslin is always comfy.
How to keep baby cool in car seat FAQs
How do I stop my baby from sweating in the car seat?
There are lots of great options for keeping baby cool in car seat. You can try cooling the car seat in advance, increasing air flow to the back seat and even review my list above of the best car seat to keep baby cool if you're shopping for an upgrade.
What can a baby wear in a car seat?
It's best to dress your baby in thin, light colored clothing in the car seat when it's hot. It's easy to add more thin layers if you go into an air conditioned building and thin layers won't prevent proper harnessing.

Ideally you should have a layer of clothing between baby's sensitive skin and the car seat harness to avoid abrasions in case of a crash.
I hope you've found some great tips in this article on how to keep kids cool in the car seat! Be sure to visit the road tripping hub for more helpful tips.
Wanna share this with your friends? Pin it here!
<!–googleoff: index–>