Car seat safety in winter can get a little… complicated depending on where you live. Back when our kids were babies we were living on easy street in Southern California, where a cold day might be 50 degrees. Now that we've moved to the midwest and we're expecting a weekend high of 16 degrees, I have so much empathy for my fellow mamas living in cold climates! I know some of you reading this will even think that 16 sounds balmy for winter.
Wherever you live and whatever the climate, chances are you'll need to consider changing your car seat routine at least a little bit as the seasons change. In this article you'll find out how to keep baby warm in the car seat safely, and you'll find plenty of tips for big kids too!
Well-fitting layers are key
Tip: The most important safety tip for keeping baby warm in the car seat in winter is to avoid anything bulky or puffy – that snowsuit above is extremely unsafe. The general rule of thumb is that if you have to adjust the harness tightness of your car seat to fit the coat, it's probably too bulky. (I'll just caveat that by saying that even putting on a sweatshirt over a t-shirt will require a tiny loosening of the harness and that's ok.)
Why? A bulky jacket can compress in a crash, leaving your child susceptible to more movement. That can in turn cause injuries that would have otherwise been avoided. It can also interfere with how the straps fit to your child's body (as you can clearly see in the photo above). The same rules apply to adults and booster riders.
What to use: Those of us who live in colder climates know that layers are the key! Two thin layers will keep you warmer than one puffy layer thanks to the air trapped in between them. Thin layers also won't compress in a crash!
Fleece is really the magic fabric for winter car seat safety. It's thin but warm and it's water-resistant. My kids often wear their fleeces in the car and bring puffers to layer over the fleeces once they're unbuckled. It works great even for winter hiking!
For toddlers and older kids, we absolutely love our Columbia fleeces and have used them for years. These are the ones we use every day:
Columbia also makes their fleeces with hoods for girls and for boys. That can help with coziness if you're removing their warmer jackets before getting in the car (or leaving them behind entirely). Be sure to keep reading to find out the safest way to handle hoods in the car.
For babies, I absolutely love the fleece jumpsuits at Carters. I recommend them over similar fleece snow suits made by Columbia and North face because the Carters options are cut a little closer to the body. There's still enough space to layer a onesie and thin cotton pants underneath, but there's not a ton of extra fabric around the belly that will get in the way of the car seat's harness (which I've seen in photos of kids wearing the "fancier" ones). The Carters jumpsuits are also really affordable, so we often kept two of them on hand – they were always my favorite option for keeping a newborn warm in the car seat. There are options with and without hoods (more on that later).
Here you can see my daughter rocking one of her fleece suits – it's cozy without being bulky. This was on an extra-cold trip, so she was wearing thin cotton clothes underneath it as well. I wasn't a CPST back then, so unfortunately I didn't think to photograph her in the car seat!
---
Choose car seat friendly coats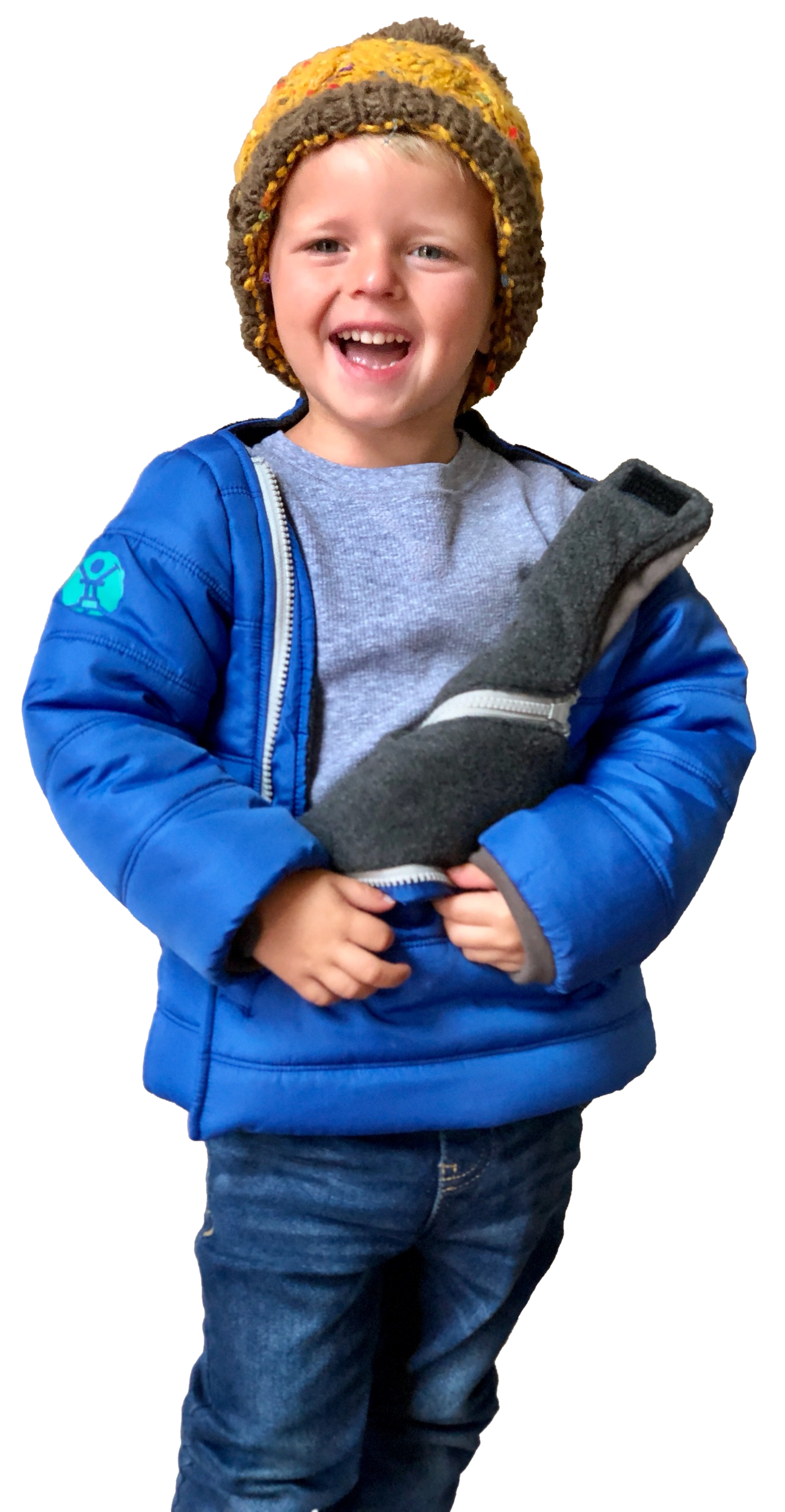 Tip: If you do need to use something warmer than a fleece layered over a shirt, look for "car seat friendly" coats. There are some you can buy off the rack that are highly compressible (meaning you can keep the harness almost as snug as without the jacket) while there are a few specially designed products out there as well.
As much as possible, I actually like to leave coats unzipped (especially for booster riders) and tuck them away from or over the seatbelt. You want the seatbelt itself as close to your child's body as possible, as you can see in the photo below. Note that this photo was taken on a bus, not in a car; the seatbelt fit was actually quite good, but if it hadn't been we would have used her Ride Safer Travel Vest – more on that here.
Why? As I mentioned above, you want to avoid anything that's so bulky that you have to loosen the harness a lot to fit it in. Crash forces are stronger than you are, so under that extreme pressure a bulky coat will compress and leave the harness looser on your child than you thought it was. Again, this goes for adults and booster riders too.
What to use: Here are some safe car seat winter coat options to consider, and remember to buy the correct size if you plan to use it in the car (rather than sizing up).
A little more info on that last option, the BuckleMe Coat. You can see tons of information on their website, but the concept is wonderful. The back is thinner so that it doesn't add bulk between your child and the car seat, and the front opens up specifically to accommodate the harness. Once the harness is buckled, you can lay the front panel back over it to keep your kiddo toasty warm. It's brilliant! Here's a visual explanation:
BuckleMe Coats child car seat winter coats aren't cheap, but thanks to the adjustable sleeves many families can get two years out of one size. If you have younger siblings coming up, you'll be able to pass the BuckleMe Coat down for sure. The price varies by model – they have some that are fine for milder winter conditions and others designed for families living in the frozen tundra. If your child is still riding in a harnessed car seat, you'll definitely want to check these out! Save $10 with our exclusive coupon TRAVELCARSEATMOM.
DEAL ALERT! Now through 12/24, save 20% with coupon TRAVELCARSEATMOM20% on the checkout screen
Parents of tiny new babies in frigid climates are usually very concerned with keeping baby warm in the car seat. Thankfully for 2021 there's a great option for infants as well! The new Primary baby puffer suit is basically a packable puffer with legs. I'll admit, I kind of want one for myself.
There's no extra lining to add bulk and it compresses nicely under a car seat harness. For extra coziness, put the hood up (that'll also make sure you don't compromise baby's airway) and fold over the built-in mittens and booties. Just be sure not to use too many other strategies with this suit, as you don't want your baby to overheat. A solution like this can be easier than a hip-length coat, as you won't have to worry about it bunching and shifting while you buckle. It also comes in a super cute rainbow stripe option!
Some families like fleece car seat ponchos, which are kind of like a blanket with a hood. When your child get in the car, just fan it around them and buckle without interference. They're less expensive than BuckleMe Coats, but not quite as warm.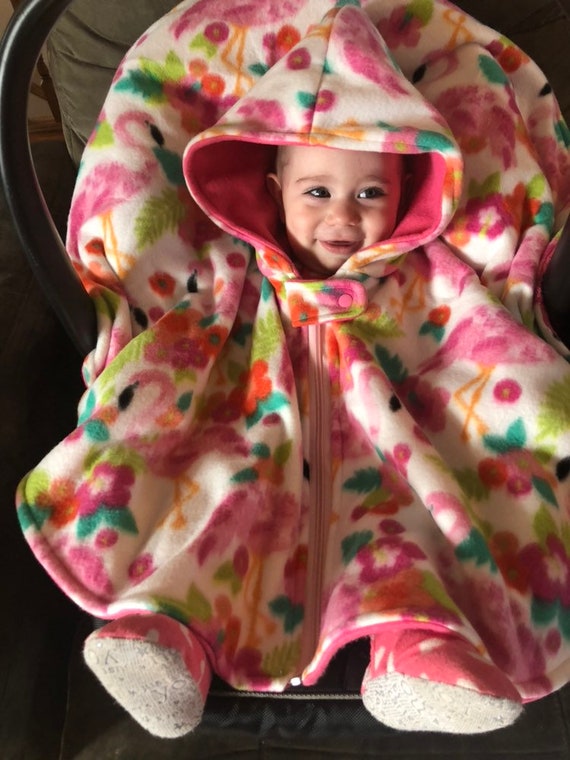 ---
Be strategic with car seats and snowsuits
Tip: Car seats and snowsuits can be tricky as your kids get older and you need to drive them around for sledding, skiing and snowball fights with friends – but you can manage safely!
Why? Wearing a snowsuit in a car seat is not recommended because the bulk of the snowsuit can cause you to fasten the harness too loose, but then the snowsuit can compress a lot in a crash. It also goes under the child's bottom and behind the back, so the geometry of the harness can change from how the car seat was tested.
In a booster seat, slippery snow pants can encourage your child to slouch and leave the seatbelt dangerously positioned over the soft part of the belly. That leaves kids susceptible to "seatbelt syndrome", which can be fatal.
What to use: The good news is you don't need a special car seat snowsuit! You can use what you already have. We have our kids get dressed as if they're ready to head out the door, minus the puffer on top. Once we get to the car we pull the snowsuit down so that it's just below the harness (or to the knee for our booster rider). You can't see in the photo above, but her boots are still on so we don't need to fuss with them. If kids are cold in the car, they can put their jackets on backwards after they're buckled in.
Once we arrive at our destination, we just pull the snow pants up and zip them, then throw her puffer on top. Easy! It really just takes an extra minute or two but makes a world of difference for safety.
---
Hats vs hoods
Tip: Babies heads are huge compared to their bodies, making an uncovered head a major source of heat loss. Put something on on your baby's head to keep her warm (and to avoid unsolicited commentary from elderly onlookers). As usual, you have to weigh a few factors when it comes to car seat safety.
Why? Hoods and hats each have pros and cons when it comes to using them in the car seat. When you are driving a newborn around or when your kids are bigger but the temperatures are lower, you'll want to make sure everyone has something to go on their heads.
What to use: I'll go through each option so that you can decide for yourself and know how to execute your choice safely.
Should your baby wear a hat in the car seat?
Hats are adorable, easy to use, come in lots of different weights and don't interfere with your car seat harness. You can also add them to any outfit to make your baby toastier in an unexpected chill.
The biggest risk of putting a hat on a baby in the car is that a hat that is too big can potentially slip down to your baby's nose or mouth and become a suffocation risk. That's especially an issue with infants who can't maneuver objects very well. Using a well-fitted hat – even just a knit cap like this – should be just fine.
The biggest annoyance of hats is that older infants and toddlers love to take them off and then can't put them back on when they're cold.
Should your baby wear a hoodie in the car seat?
Hoodies can be used safely in the car, you just have to pay attention. I see lots of parent who wind up with car seat straps that are out of place because of a misplaced hood.
Here's my trick: Put the hood on your child's head before you buckle the car seat. If they want to put it down behind their heads after they're buckled in, that's fine. But putting it up while you're buckling ensures that your child is properly secured. You can see in the photo above that the shoulder straps are still properly positioned over his very thin car seat friendly coat.
A hoodie can be nice for toddlers because it's easier for them to take on and off to regulate their own temperatures. Once they get older, you'll know their (ever-changing) preferences: I have one child who absolutely loves hoods right now (and hats, and hoods and hats together) and another who now prefers no hoods.
---
Don't forget about the feet!
Tip: When you're thinking about how to keep a baby warm in his car seat, don't forget the feet! But the challenge every parent knows too well is the struggle of keeping baby socks on. I wish I remembered my own babyhood to understand the allure of socks, but alas.
Why? Fortunately you don't have to worry too much from a safety perspective about what you put on baby's feet in the car seat, but it's really a matter of keeping them comfortable when the temperatures drop. The worst possible situation is that your baby chucks her sock somewhere in the car and you can't find it when you need to actually go somewhere.
What to use: We loved Zutano booties! They're like Fort Knox for baby feet thanks to the snap closure around the ankle. In moderate weather they can be worn alone, and in colder temperatures you can layer the fleece booties over socks. There are also cotton options if you want something lighter weight.
All about those boots…
For those of you with older kids (like me), winter boots can lead to their own unique and disgusting challenges. They're not just wet, but usually mucky and salty. Here are three potential ways to keep your car from looking gross from big kid boots – if you have other ideas, pretty please drop them in the comments to share!

1) Prevent: Take their boots off before they get in the car. I'll sometimes have my kids sit on the running boards or the floor of the car with their feet sticking out and put their boots in the trunk – even better if you have a plastic trash bag or heavy duty liner back there. This works better in an SUV or van than a low-rider. If it's extremely cold or you have a long drive, you might want to be a super nice parent and have some cheap fleece slippers in the car waiting for them.

2) Protect: If you don't want to bother taking off your kids' boots (which I completely understand, especially if you have a bunch of kids who can't do it on their own) another option is to protect your vehicle seats.

The cheapest way to do that is by removing the headrest, sliding an old t-shirt over the entire vehicle seat and then putting the headrest back on. That can work for either rear-facing kiddos (put it on the seat they're installed on) or forward-facers (put it on the seat in front of them – in that case, you might need to cut off most of the front of the shirt so it doesn't interfere with the safety of anyone riding in the front). This cheap trick works best for captains chairs but you can try the "cape option" for bench seats too.

The other option is a dedicated kick mat. You just need to make sure that they're well-secured to the vehicle seat so they don't become projectiles and if you're using one for a rear facing car seat put it on after you install the car seat so that it doesn't interfere with installation.

3) Deal with it: At some point, most cars that children ride in daily will be gross. Mucky boots, milk shakes, crushed gold fish, broken crayons in the summer… There's only so much you can let yourself stress about your family car. This obviously won't work for some parents, but if you don't want to try either of the other options, perhaps letting go of the idea of a pristine car will bring you greater peace of mind.
---
Bring a blanket for car seat
Tip: If you live in a place that gets cold in winter, it's always good practice to keep a spare blanket or sleeping bag in the trunk in case you break down. But it's also the easiest way to keep kids warm in the car seat without any safety concerns. See that kiddo with the red blanket? Best. Day. Ever.
Why? Since a blanket just goes on top of your child, it doesn't interfere with the harness in any way. The downside is that babies and younger toddlers may throw blankets off of them and may not be able to get them back on later.
What to use: The good news is that you don't need to run out and buy special car seat blankets. Personally I like fleece or sherpa for the car seat (are you sensing a theme?) because even if it's left out in the cold, it won't feel icy like some of the slick synthetics. My kids (who complain about many things) would definitely be thrilled if I threw one of these in the back seat. Since I'm cheap, sometimes they just have $2 scrap fleece from the fabric store clearance bin.
If you're putting a blanket on a newborn or infant who is already wearing a fleece suit and a fitted cap, a tightly tucked muslin or cotton blanket is sufficient as long as your car's heater works.
---
Only some baby winter car seat cover options are worth considering
Tip: If you really want to get a warm car seat cover for an infant car seat, be sure to get the "shower cap" style that just attaches around the edge with elastic – with the caveats listed below. Definitely don't buy one that goes behind your baby.
Why? Even if the manufacturers of car seat covers claim that their products are "crash tested", that doesn't really mean anything since there's no Federal standard for aftermarket accessories. It could mean that they throw the cover into a wall and it doesn't split apart. Whoopee doo!
Those ultra cozy plush covers that line baby's back look comfortable, but anything that comes between you baby and the car seat that hasn't been tested by the car seat's manufacturer could potentially prevent the car seat from performing how it's intended to. It's just not worth the risk. These product are not regulated, not approved and nearly every car seat manufacturer says in their manuals not to add any aftermarket products – whether it's a winter infant car seat cover or those adorable snuggly harness covers (don't use those either!).
Those ultra-plush covers are awesome to use in a stroller. If you're gifted one and don't want to return it, you can pop it in your favorite stroller and thread the straps through to keep your baby cozy on winter walks. They just aren't safe for keeping warm in the car seat.
What to use: We all know that infants kick blankets off, so some manufacturers have made infant car seat covers to address that issue. The "shower cap" covers that go around the seat rather than under the baby are the preferred option but only some car seat manufacturers officially approve of their use. Some of my industrious Canadian colleagues reached out to the CPSTs at every car seat manufacturer and found that only a few permit covers of any type:
If your car seat comes from one of those brands and you choose to use a winter baby car seat cover, be sure that it doesn't interfere with the installation or with clicking the car seat into the base. If you own a different brand of infant car seat, call your manufacturer to discuss your options with them. Here are some examples of car seat covers that don't interfere with the harness:
The other risks are air circulation and overheating. You may want to consider leaving the panel open when you're in the car and just closing it when you're carrying or pushing the car seat outside.
---
Babies can overheat
Tip: Don't overdo it. Especially if you're running the heater in your car, it'll be pretty comfortable after a few minutes (unless you're living in Alaska or Canada… sorry northern friends!). You can pick some of these strategies to try to keep your child warm in the car seat, but you almost certainly don't need to do them all.
Why? Babies are great and all, but they're pretty terrible at regulating their body temperatures. They're also generally shitty communicators. All they can do is cry, but lots of babies do that in the car seat anyway so it's easy to brush it off (especially when you have a few kids back there). A baby wearing several layers of clothing, tucked in with a blanket and zipped into a car seat cover in a heated car will almost certainly be too warm and there's nothing they can do about it.
For older kids, there's no safe way for them to peel off a jacket when they're strapped into the car seat if they get too hot.
What to use: You can pick some of these strategies to try to keep your child warm in the car seat, but you almost certainly don't need to do them all. Try to keep your options flexible so that you can easily adjust to your child's needs en route.
Read more:
Pin this to save it for later!
How to keep baby warm in car seat FAQs
Can babies wear sweaters in car seats?
Yes, babies can wear sweaters in car seats. That's a great layering choice because you can fully tighten the harness and don't have to worry about additional compression in an accident.
Can babies wear coats in car seat?
Yes, babies can wear coats in the car seat as long as they're thin and well-fitted. Sometimes they can be hard to fit properly on a tiny body so you may want to wait on a traditional coat until toddlerhood.
What can a baby wear in a car seat in the winter?
A baby can wear thin layers to keep warm in the car seat. For truly cold climates a packable puffer suit like this one goes well over a onesie and pants, while in more temperate climates a fleece jumpsuit is the perfect outer layer.