This post contains affiliate links. As an Amazon Associate I earn from qualifying purchases.
<!–googleon: index–>
Whether you're a family on a budget or you just want inexpensive light car seats to have as spares, there are plenty of amazing options for you today! We've rounded up some of the best cheap car seats to keep your kids safe, no matter how often they ride in them.
Remember: All car seats sold in the US pass the same Federal testing. When used properly, even the cheapest car seat will keep your child safe! The most important thing is to use your car seat correctly (more on that here) and not to move on to the next type of seat too soon.
To save money, you don't necessarily need to buy every type of seat available. There are some that will get kids through multiple stages and last for years – and then they can be passed down to younger siblings too if they haven't expired.
DON'T MISS THE TARGET CAR SEAT TRADE-IN + SALE THROUGH APRIL 30TH!
For example, this car seat will last most kids from birth to age 6; if they're tall enough and mature enough, they can then transition to this affordable booster seat. No fuss! Another budget-friendly car seat option is to start with this convertible car seat and then move on to this 3-in-1 harnessed booster seat after a few years.
Read more: The month's best car seat deals
Quick Picks: Car Seats Under $50
Quick Picks: Car Seats Under $100
Where To Find Car Seat Deals
Sometimes you don't have to compromise to find an affordable car seat! There are always great deals around if you know where to look. Of course it's extremely important to choose the right car seat for your child's needs, your car and your budget. But sometimes you can get a great deal on a premium car seat by shopping around. Here's a quick look at some options:
Walmart – While the in-store selection may be limited, online you'll find lots of great options and there are often sales.
Kohls – Much like Walmart, you'll find a much wider selection online. They often run sales and offer "Kohls Cash", which can make for some great bargains on top-notch car seats.
Target – While they usually just have big car seat sales a few times per year, you'll often fine up to 10% off on select car seats throughout the year and you can save extra by opening a RedCard. Target has an extremely wide range of car seats.
One word of caution: Often the specifications like weight and height limits are wrong on big retailer websites (especially Walmart and Target). Be sure to verify specs on the manufacturer website if something doesn't look quite right.
I always recommend checking manufacturer websites directly for deals – sometimes they have great discounts on old colors. You can also usually get an extra discount by signing up for emails.
Best Cheap Infant Car Seats
The most important factor in choosing a cheap newborn car seat is that it actually fits newborns well. There's a surprising number of cheap infant car seats that don't have low enough harness slots for the straps to come from below a little baby's shoulders.
The other important feature is ease of use. You might not need all the "bells and whistles" of more expensive car seats, but a car seat that's difficult to use or install correctly can be a real hindrance to your child's safety.
There are three excellent options to consider if you're on the market for the best budget car seat to fit your newborn – keep reading for more info on all of them:
Century Carry On 35 review
There's a new ultra-cheap, ultralight infant car seat on the market for 2021 and I think it's going to have a lot of fans: the Century Carry On 35 infant car seat. The Century brand is almost as old as I am and is now being produced by Graco as a bargain version of its namesake baby gear line. If you've owned a Graco SnugRide recently, you'll notice plenty of similarities with the new Carry On.
What's got me so excited about this new infant car seat? It takes the crown as the lightest infant car seat + base combination, and not by a small margin. The Century Carry On and base together come in at just over 10lbs. For comparison, the competitive Evenflo Litemax and its base weigh around 15lbs.
Why does it matter? Weight isn't everything, but many parents like the convenience of bringing the infant car seat base. I usually discourage that because bases are so heavy but that's just not the case with the Century Carry On. That makes it a great pick for parents who want to fly with their car seat base and for those shopping for the best car seat for families without their own car.
Great news on the fit: since it's really a basic Graco infant car seat, the Century Carry On 35 offers a great fit for even small newborns. On the larger end, the tall shell means you can continue using this infant car seat for travel until 15-18 months depending on your child's height!
A few other nifty features to note: first up, the cover and padding are made from recycled soda bottles. Second, the base includes a pop-out recline foot to make sure you newborn is riding at a safe angle. Third, if you will be mostly using trains or other public transportation and want to leave the base at home you can still do a simple and easy seat belt installation (though you may need a locking clip).
If you're on an ultra-tight budget opt for the less expensive version, the Century Carry On 35 (no LX). If you have more breathing room in the budget I'd probably spend the money to get the Century Carry On 35 LX. The basic version has a shorter canopy that's weirdly connected to the carry handle and it doesn't come with the newborn body insert. But if you're on a tight budget, the basic Century Carry On 35 is one of the cheapest infant car seat options. It also comes in gorgeous colors!
While you're at it, you can grab a super-affordable spare base for another family car – or even to leave at Grandma's so you don't have to bring yours! If stroller compatibility matters to you, there are two singles and a double to choose from. They aren't likely to stand up to strollers costing five times as much, but could make a helpful extra addition that you won't mind checking on your flight.
---
Evenflo LiteMax Infant Car Seat review
The Evenflo LiteMax is one of the cheapest infant car seats out there but it really has a lot going for it! It's very lightweight at only 7.8 pounds and it (along with the other new Evenflo cousins in this series) offers the lowest approved weight limit around at 3 pounds.
The low weight rating combined with plenty of adjustments for harness, hip and crotch straps makes this one of the best car seats for preemies available today. Note that some versions of the manual say there's a 4 pound minimum, but Evenflo has updated their approvals.
At the top end of the range, the LiteMax goes up to 35 pounds and 32″ – it'll last most kids past their first birthdays making it an exceptional value. Keep in mind that your baby still needs to have 1″ of shell height above their heads, and that may be your limiting factor.
Whether you want to install it with the base at home or install it without the base when you're using it as a lightweight infant car seat for travel, it's easy to work with.
If you have a little more room in your budget, you should look at the Evenflo LiteMax DLX – sometimes even cheaper when you buy directly from Evenflo. It has some great extra features for comfort, convenience and safety without adding much weight or cost. It adds premium lower anchor connectors, a no-rethread harness, extra padding, a load leg (to add stability in an accident) and more. These are some seriously premium features at a very moderate price point. And yes, it's still almost a lightweight as the regular LiteMax.
One downside of Evenflo car seats is that, for the most part, stroller compatibility is limited to Evenflo strollers. But they've got some great choices these days – if you're trying to stick with a budget-friendly, lightweight stroller then the new Evenflo Urbini Reversi will tick a lot of boxes and last your family for years to come.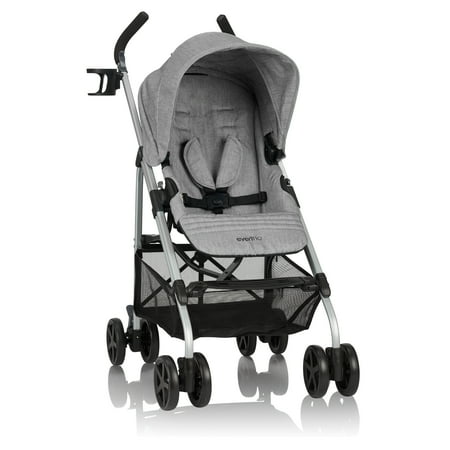 If you prefer to buy the car seat and stroller together as a travel system, you can snatch a fantastic deal on the Evenflo Folio travel system while it's available: it's the same price as the car seat alone!
The other nice option to consider is the Evenflo Sibby travel system (also available here). It includes the LiteMax car seat and base, the Sibby stroller and even a ride-on board to use for an older sibling! It's a great package at a very affordable price. You can see the full details here.
The LiteMax isn't a great choice for compact cars. Evenflo recommends installing in the center seat if possible. In many cases that requires using a seatbelt, which is 100% safe but may intimidate some parents compared to using LATCH; fortunately the LiteMax has an easy-to-use lock-off on the base to make seatbelt installation a breeze.
If you can't or don't want to install in the center seat, Evenflo requires 1.5″ between the back of the LiteMax and the seat in front. That means a front passenger would potentially have their knees in the dash or realistically couldn't sit at all if you're driving a very small car. If you drive a compact car and would need to install in one of the side seats, check out the brand new SnugRide Lite below.
---
Graco SnugRide 35 Lite Infant Car Seat review
Graco has added another solid contender for parents seeking an affordable infant car seat and those who want a lightweight infant car seat. It's a reasonable choice for families trying to find the best infant car seat under $100.
The new Graco SnugRide 35 Lite is a great pick for families who expect to bring home a full-term newborn since it offers 6″ bottom harness slots when you use the included insert (compared to 4″ bottom slots on the LiteMax). This would not be a good choice for parents expecting multiples or preemies, who usually arrive on the smaller side. Even for an average sized newborn, families may need to add a rolled washcloth behind the crotch buckle to avoid the baby slumping (don't worry, this is approved by Graco).
If you want a travel system for the convenience of clicking your infant car seat into a stroller, the Graco NimbleLite (also available here) might be the cheapest travel system stroller you can find. It includes the SnugRide 35 Lite and the NimbleLite stroller, which is light weight and full-featured to accommodate kids up to 50 pounds.
Unlike the LiteMax, this is an awesome choice for compact cars since it doesn't take up much room from front to back. If you're installing it without the base for travel or to save even more space, you have the option of European routing (wrapping the shoulder belt around the back of the seat for extra stability).
The trade off for the bargain price, light weight and compact size is that the SnugRide Lite is a very basic seat. You won't find extra safety or extra convenience features. The base that comes with the SnugRide Lite is also ultra-light and very basic, though it gets to job done. If you'll be moving the seat between multiple cars you can consider buying the fancier and easier-to-install SnugLock base for your primary car – it adds a SnugLock arm for easier seatbelt installation as well as premium lower anchor connectors and a more useful recline option. You could also opt for the SnugLock DLX base, which further adds extra energy absorbing features.
There's a slightly upgraded version, the Graco SnugRide 35 Lite LX, that has a nicer infant insert (which still has to be removed at 12 lbs) and upgraded fabrics. The two versions seem to be otherwise the same.
Read more: What's the lightest infant car seat?
---
Best Cheap Convertible Car Seat Options
Of all the car seats a family buys, the convertible car seat has the potential to be the longest lasting – often from 1 year all the way to 6 years old! If you're on a tight budget there are some wonderful affordable convertible car seats to choose from.
Before you pick one from the list below, it's important to decide how long you want to keep your child rear facing and to check on your child's height and weight. Unfortunately none of the convertible car seats under $100 can rear face past 40″ standing height or 40 pounds – the average size of a 4 year old boy. Kids on the bigger end of the curve will need a more expensive car seat like this one (which get you all the way to 10 or 11 years old) or this one to rear face until 4 or beyond.
Quick picks: Budget-friendly convertible car seats
The cheap toddler car seat I would avoid is the Evenflo Tribute. While the price tag is attractive, it only allows rear-facing until 37″ (that could be an average 3 year old or a tall 2 year old) and is completely outgrown at at 40 pounds/40″. Any of the inexpensive car seats below would be a better choice.
Read more: What's the best lightweight convertible car seat for travel?
Cosco Scenera Next DLX review
The most popular convertible car seat for travel and backup is the Cosco Scenera Next DLX. What makes it so insanely popular? It's as easy on the scale as it is on the wallet! The Cosco Scenera Next is the lightest convertible car seat and the cheapest convertible car seat (Walmart may be your best bet since they have a direct relationship with Dorel) as well, making it an ideal toddler travel car seat or one to leave in the gradparents' car.
Just how light is it? It would be no problem to carry on your back in a car seat backpack like this one, and some parents even use these hooks to hang it from the back of the stroller as they walk through the airport.
It's good to know that the top harness slots are just 13.5" high, so some kids will outgrow the Scenera Next forward-facing even while they still have another year or two rear-facing. (Remember, when your kid is forward-facing the straps need to come from above their shoulders.)
If you're debating the Cosco Scenera vs Evenflo Tribute, definitely go with the Scenera Next. It's cheaper, fits small babies better, lasts longer for toddlers and it's lighter too. It's a solid choice for families on a tight budget, occasional travelers looking for a lightweight travel car seat or those who just want a backup car seat for their toddler.
Our petite kids were able to rear-face in the Scenera Next until almost 4yo. However, it wasn't necessarily a comfortable seat at that age. The crotch strap that comes with the seat is extremely short – like, newborn short. They will send you a longer one for free if you provide the serial number, so make sure you reach out to them the minute your seat arrives if you have a trip coming up.
The Cosco Scenera Next fills an important niche as an affordable car seat that travels fairly well and keeps kids rear-facing until at least 3yo. It's also the best convertible car seat for small cars if you're on a tight budget. See how it compares to the Cosco Apt 50 here.
Why don't I love it? We found it very challenging to get a truly tight installation (though the tricks I've learned since may help you) and the patterned version of the seat that we got has minimal padding. Babies may not notice or complain but our preschooler was clear that it wasn't the seat for him!
There's now a DLX version that comes in solid colors but has more padding, so if you opt for the Cosco Scenera Next be sure to pick up that one even though it costs a few dollars more. Even better, Cosco now offers the Cosco Scenera Deluxe convertible car seat. They've basically taken the Cosco Scenera DLX and added a head pillow, lower back pad and strap covers – plus an extra $10 on the price tag. These are good changes that will appeal to many parents who don't like the idea of their precious cargo riding in such an unpadded seat. I'm sure that my kid who complained about his original (non-DLX) Cosco Scenera Next would have been pleased!
If you're traveling internationally, make sure you bring a locking clip. Cars in many other countries may not have locking seatbelts like the ones in the US; they lock in an emergency, but you can't manually lock them by pulling all the way out. You should be able to use LATCH in cars where available, but if the seating position you want to use doesn't have LATCH or it's an older car without LATCH then you will need a locking clip. Grab a locking clip here – it's cheap and doesn't take up any space!
As with all of Cosco's seats, they now require use of the top tether. It's great for safety, but you may not find one when you're traveling outside of the US, Canada, EU, Australia and New Zealand (or if you're in an older car in one of those places). If you come across that situation, you'll have to make a judgement call on whether or not to install your car seat against the manufacturer's directions.
---
Cosco MightyFit 65 review
This car seat has been around for a long time but has gained in popularity thanks to fresh branding. Dorel has now added its well-respected Safety 1st Guide 65 to the popular Cosco car seat lineup as a longer-lasting convertible car seat option, renaming it the Cosco Mighty Fit 65 DLX. As with other Cosco car seats, be sure to check pricing at Walmart. I've had an opportunity to work with the DLX version specifically, and it offers nice padding for kid comfort.
The Guide 65/Mighty Fit 65 has proven its worth as an affordable car seat for many years and continues to work well for many families. It'll get most kids to 3 or 4 rear facing, and then for a few years forward facing until they're mature enough a booster seat around age 5 or 6.
One of the biggest downsides of the Cosco Mighty Fit 65 is that the steep recline needed for kids under 22lbs is tough to achieve without using a pool noodle or rolled towel. That can be a little tricky and makes it pretty big to use in a compact car. The harness doesn't fit young babies well, so I recommend buying it only after your child has passed the 22lb mark.
When you install the Mighty Fit 65 forward-facing, it requires you to use the top tether. The top tether's job is to decrease head movement – and that's a good thing. But in some countries in Asia, Africa, Central and South America and even Eastern Europe you won't find a top tether is many cars. At that point you'd have to make a judgement call about how to install the seat when you can't follow the manufacturer's rules.
It's also worth knowing that you can only use LATCH to install the Mighty Fit 65 until 40 pounds. After that, you'll have to install with a seatbelt – both options are just as safe, but for travel overseas I recommend bringing a locking clip and knowing how to use it in case you encounter a car with seatbelts that don't lock.
---
Evenflo Sonus 65 review
The Evenflo Sonus and Evenflo Sonus 65 are a replacement for Evenflo's older introductory-level lightweight car seat, the Evenflo Tribute LX. We've had several well-loved Evenflo car seats over the years so we're glad to see they're offering a great option for younger travelers now!
The Evenflo Sonus 65 is a great choice for an affordable car seat thanks to its more generous size limits combined with kid-friendly comfort features and light weight. Most kids will make it to their fourth birthday rear-facing in this car seat! This is one of the best travel convertible car seat options to come on the market in the last few years despite the low price tag.
It offers reasonable padding for kid comfort (unlike some other bargain models) and gives kids built-in cup holders to boot. The Sonus 65 not only has a higher forward-facing weight limit (65 pounds vs 50 pounds) than the regular Sonus, but it also adds a recline wedge to get the correct angle without needing a pool noodle or rolled towel.
If you mostly fly on airlines with limited seat pitch (the space between the seats) it may be a tight fit to install the Sonus 65 rear facing. If your child is old enough and big enough, you can consider forward facing for your flight and then rear facing again in the car.
PSA: We've read that the seat comes with the LATCH strap set up to install forward-facing. If you want to install rear-facing, be sure to switch it. Read the manual and do it before your trip because it can be tricky!
---
Evenflo Sureride review
And the award for tallest convertible car seat goes to… the Evenflo Sureride DLX! The Evenflo Sureride won't help heavier kids, but for tall kids it can't be beat. It's a full inch taller in the shell and the maximum harness height versus the already-tall Evenflo Sonus 65. It's even taller than our huge convertible seat that we used at home for years. That height is especially good for forward-facing kids (all of the car seats on this list top out at 40″ standing height for rear-facing).
And did I mention that it only weighs 10lbs and comes at a bargain price? It's the most versatile of the cheap carseats.
Yeah, the Evenflo Sureride DLX is kind of a rock star if you need an affordable, lightweight toddler car seat for a very tall kid. That height also means that it'll take up a lot more space in cars and planes if it's rear-facing, so keep that in mind if that's one of your constraints.
DEAL ALERT! Get 40% off the Evenflo SureRide
In my opinion, this is the Sureride's Achilles heel as a travel car seat; if your kid isn't on the tall side, you might be better served by choosing a shorter car seat that will be easier to fit in small cars and planes. The Sureride also won't help you if your kid is on the heavy side and you want to rear-face longer, as the weight limit is 40lbs (just like every other budget-friendly convertible car seat).
PSA: As with the Sonus 65 above, the seat comes with the LATCH strap set up to install forward-facing. If you want to install rear-facing, be sure to switch it. Read the manual and do it before your trip because it can be tricky!
---
Best Cheap Booster Seat Options
For families on a tight budget, getting to booster age is a welcome relief. They're usually the most affordable car seats. Depending on how old your child is when he or she outgrows their convertible car seat, you may need to buy an inexpensive harnessed booster seat (also called a combination car seat) or you may be able to jump to an affordable highback booster seat or an even cheaper backless booster seat.
Just be sure to pay attention to age and size limits and your own child's maturity. Kids under 5 need to stay in a harnessed car seat, but many kids aren't truly mature enough for the responsibility of a booster seat until 6 or even 7.
Read more: Best lightweight booster seats for travel
Cheap Harnessed Booster Seats Under $100
Cosco Finale review
The Cosco Finale DX is the cheapest harnessed booster money can buy. If you're buying a car seat on a tight budget, this should be high on your list to consider.
Side note: Do not bother with the Evenflo Chase. It's the same price but only harnesses to 40 pounds, so it's basically outgrown the minute you buy it and at a weight when the convertible car seats above still accommodate rear facing. I really like Evenflo car seats overall, but this one has outlived its place in the world.
What do families love about the Cosco Finale?
First, that price tag is irresistible. There's actually an even cheaper version at Walmart but the padding is scant. All car seats meet the same minimum safety standards regardless of price, so you can feel confident putting your child in the Finale while keeping a ton of money in your wallet.
Second, you absolutely can't beat the weight. At 8 pounds, it's the lightest car seat in its class! You can push it in a stroller, carry it in your hands or even strap it to your suitcase without breaking a sweat. It's narrow enough to work in some 3-across situations too.
So what are the cons? For starters, it's not a seat that's going to last particularly long. The 17″ maximum harness height is the shortest on this list – even shorter than a few of the affordable convertible car seat options above. There are plenty of kids who will outgrow the harness mode at age 6, even if they aren't mature enough yet for the booster mode.
The biggest downside for international travelers is that the Cosco Finale requires using the top tether in harness mode. Not all countries have top tethers in all cars (or any cars), so the Finale may not be the best choice for international travel. If you're only traveling in the US or leaving this seat in Grandma's closet for your next visit, that won't be a concern.
The booster mode can be challenging. Though the seat belt guide isn't required, it can cause problems with the seatbelt retracting in some cars. I also don't like that you can't use the LATCH system to keep the seat in place in booster mode. Plus the booster mode will only give you another year or two since it's so short. If you buy the Cosco Finale at age 5, you might get three years out of it for an average size kid. But at such a low price, that may be ok (or perhaps you have another kid in the family who will use it later). Once you're done with the Finale and your child is mature enough for a booster seat, you can pick one up for under $20 if need be – check out those options below.
And while some kids love the seat and find it comfortable enough, my kids are extremely picky about their padding… and not shy about it either. We've had to replace more than one seat (including a Cosco) because they just don't find them plush enough for long drives.
All that said, the Cosco Finale DX might be the right choice for your family if you're on a tight budget for your backup car seat or you need an extremely narrow car seat to fit 3-across.
---
Evenflo Maestro Sport review
We've been using the predecessor of the Evenflo Maestro Sport harness-to-booster car seat at home and on trips for the last four years. It's probably one of the best options for a lightweight car seat for preschoolers if you want one that will last a few years. It offers reasonable height limits as a forward-facing harness and then plenty of room in high-back booster mode.
Note that Evenflo says kids should be at least 44″ tall to use it as a booster, which is about age 5.5 for an average boy. Our tiny kids haven't hit that threshold until at least 6.5, so if your kids are small and you want to use a booster seat, this might not be the best choice for you.
The price is very affordable, especially considering that it'll last you well into elementary school!
It's hard to beat the all-around package of the Maestro Sport. It's got enough padding to keep riders happy (unlike the previous version) and is light enough that we regularly carry it through the airport by the straps since we no longer bring a stroller. At only 9lbs, it's truly a lightweight harness booster seat and great as a travel or backup car seat.
We've installed this in an airplane seat many times and it's quick and easy. Our kids haven't had issue with legroom, but we do remove their shoes and remind them not to (accidentally) kick their neighbor in front.
The biggest downside for some families is that the shoulder straps are set fairly close to each other in 5-point harness mode. If Evenflo could make them even 1″ further apart, they'd have some very happy kids out there. The narrow setting is compounded by the lack of harness pads – which you are not allowed to add. Sometimes our kids have complained but usually they haven't; when it bothers them, we try to just pull their shirt collars up to protect the sides of their necks. If your child has a broader build, he might do better with a different seat.
The 50 pound max harness weight of the Maestro Sport is also a little disappointing. Our SecureKid went up to 65 pounds, as does the Evenflo SureRide, so I wish Evenflo had incorporated that extra reinforcement for the Maestro Sport. You can switch to booster mode at 50 pounds and continue using the seat for several more years, but some kids won't be mature enough for a booster seat at that time. The shoulder belt guide doesn't get high enough to last kids to the end of their boostering days, but you can always buy a cheap backless booster down the line when necessary.
For average or thinner kids, we think the Evenflo Maestro Sport might be the best car seat for 5 year old kids whose families are on a budget but still want a travel-worthy option.
Cosco Finale or Evenflo Maestro Sport?
If you're on the market for an inexpensive harnessed booster seat, chances are these are two of your top choices. Which one should you choose between the Evenflo Maestro Sport or the Cosco Finale?

For a kid who's heavier than he is tall, the Cosco Finale is a better choice since it harnesses until 65 lbs (while the Evenflo Maestro Sport only harnesses until 50 lbs).

For a kid who's taller than she is heavy, the Evenflo Maestro Sport is a better choice. The standing height is only a little higher (50″ vs 49″) but the top harness slot is a much more generous 18.5″ compared to only 17″ on the Finale.
---
Harmony Defender 360 review
If you have a forward-facing child and you're looking for an affordable car seat in Canada or America, the Harmony Defender Sport 360 definitely deserves consideration! For less than $100, it offers a forward-facing harness with generous height limits, a highback booster seat and a backless booster seat.
Compared to the Evenflo Maestro Sport, the Harmony Defender 360 offers more generous limits at every stage, more padding (including harness pads!), easier harness adjustment and a narrower footprint for 3-across installations.
What are the downsides? The biggest is that it's not quite as easy to set up. It requires some one-time assembly straight out of the box, screw driver and all. Installation in some cars can be kind of tricky. The arm rests are pretty close to the bottom of the seat, so it can take practice for older booster riders to buckle themselves.
The other not-so-downside is that lots of Americans just haven't heard of it or seen it; that's more a matter of a crowded field than anything else. The Canadian market isn't nearly as crowded and so the Harmony Defender harnessed booster seat is more familiar north of the border – our Canadian friends can get theirs here.
---
Graco Tranzitions review
If we were on the market for a travel car seat for a 5 year old, the Graco Tranzitions would get some serious consideration. The price tag is extremely reasonable (and may be cheaper at Walmart) for what you get and it would be a great seat to use both at home at on the go. The best part? You'll never have to buy another car seat again (unless you want to, that is).
Similar to the Harmony Defender, the Tranzitions has harness pads and a slightly wider distance between straps to keep your kid comfortable (unlike the Evenflo Maestro Sport). It has an optional pillow for extra padding and even two cupholders, which can be rotated inward to save space and make this a great car seat for traveling with three kids.
The Graco Tranzitions also makes a good booster seat for a small 5 year old who is mature. The 38″ minimum is a big help for parents of peanuts like ours! It even includes premium features like an adjustable headrest and no-rethread harness. Of course that booster mode will last for many years thanks to the ability to remove the back down the line.
So what are the tradeoffs? Some parents have had trouble installing the Tranzitions (or the Graco Wayz) in certain cars, but most parents report that it's easy to use. It also requires a top tether for installation, which you may not find in developing countries.
Lastly, the base and the back can click apart from each other too easily when you're carrying it around – this problem afflicts just about every booster seat that can become backless (including the one we use at home) and it's such a nuisance!
---
Cheap Booster Seats Under $25
Once you get into the world of booster seats, there are some extremely affordable options. All car seats in the US pass the same testing, so as long as you use them properly these seats should keep your big kid safe despite the small price tag.
Bubblebum inflatable booster seat review
Confession: I'm fudging a little to scoot this one into the "booster seats under $25" category, but it's reeeeeally close and you can often catch it on sale. As travel and backup booster seats go, the Bubblebum inflatable booster seat is hard to beat! You can read my in-depth review here.
At just 1 pound and taking up almost no space when it's deflated, this is the one to keep in your trunk for the unexpected carpool or in your child's carry-on for a trip. It's also narrow enough to fit just about anywhere.
There are no cupholders on the Bubblebum (if there were it would definitely mess with the portability!) and some kids don't love how it feels. You can play with how much to inflate it based on your child's preferences; it passes Federal testing both inflated and deflated so there's no safety concern about adjusting it for comfort. I recommend the Bubblebum for kids ages 6+ since it's a little more susceptible to scooting around if your child is wiggly.
In addition to the stated size limits, your child's entire bottom needs to be within the silver rim around the seat. The seating area is definitely narrower than the Graco Turbo GO below and I suspect that most kids outgrow the Bubblebum's width before they reach 100 pounds.
---
Graco Turbo GO review
Do you like the idea of a "traditional" booster seat but want a more compact form to throw in the trunk for backup or to take on a flight? The new Graco Turbo GO backless booster seat might a great option for a cheap booster seat! We recently got this for our older child and there's plenty to like.
When it's all set up, the Graco Turbo GO looks just like a regular backless booster seat with nice big belt guides that are easy for kids to use on their own. Ready to hit the road? The back part of the booster seat folds underneath to make it a more compact package. It can take a little "oompf" to open up, but overall it's fast and easy. When folded it's a good bit bigger than a Bubblebum, but it offers the advantage of being a more stable seating surface (and a wider one for big kids).
The biggest downside? No cupholders. If your kid can live without them, this is a nice travel booster seat that'll last a long time.
Note that the minimum height for this folding booster car seat is 43″ – many kids won't reach that until almost 6 years old. Our son didn't get there until almost 7 years old, so parents of shorter kids may need to look elsewhere. The seating area is very roomy, so it's a great booster seat for big kids.
At 3 pounds, the Graco Turbo GO booster seat is one of the lightest booster seats available. It's also extremely affordable! It'll last most kids until they pass the 5-step test to ride without a booster seat, making it a great value.
Read my in-depth review of the Graco Turbo GO.
---
Cosco Rise review
The Cosco Rise backless booster seat fits in the category of "gets the job done". If you're looking for a simple backless booster seat for backup, carpools or travel then it should be on your short list. It's quite possibly the cheapest booster seat you can buy, but it still earns a "BEST BET" from the IIHS for seat belt fit. Giddy up!
For the price of a family ice cream outing, you get a backless booster seat with an adjustable shoulder belt guide that will probably last your child until the end of her booster years.
It's important to note that the minimum size for the Cosco Rise is 40lbs AND 43″. My son was mature enough to ride in a booster seat at 6 years old (which is pretty typical) but he didn't hit 43″ until after 7. If your child is on the shorter side, the Cosco Rise is not the best choice.
If you want a booster seat to use for long rides, you might also want to consider spending a little more if you can find room in your family budget. The Cosco Rise, as you might expect based on the price tag, is basic. No cup holders, minimal padding. But for tight budgets or backup, it might be just the ticket.
---
Harmony Youth booster review
There's beauty in simplicity. The Harmony Youth booster seat has been around for a decade but it still gets the job done. There's not much to this seat, but there doesn't really need to be.
It's one of the cheapest booster seats around. It's not the best choice for kids with a broad build, but for slim kids it'll last until the end of their boostering days. Since it has a very low minimum height, it's a good choice for kids who mature enough for a booster seat despite their short stature.
It's an extremely lightweight backless booster seat at just 2 pounds, so it should be easy enough for kids 6 and up to carry this on their own. It's also a solid choice to use at home, whether for your own kid or to toss in the trunk for an impromptu carpool. The Harmony Youth booster gets excellent ratings for providing a safe fit for kids and it includes a shoulder belt adjustor strap for kids on the lower end of the allowed size range.
The only downside for hard-core traveling families is that it won't fold up to fit inside a backpack or luggage. You can definitely put it inside your checked hard-sided luggage or your child can carry it on and put it under the seat in front of her (or in the overhead bin), but if your travels will involve hopping on and off trains or taking Uber in a city just know that this booster seat stays at its full size.
---
Evenflo BigKid AMP No Back booster review
As with all of the ultra-cheap booster seats on this list, the Evenflo Big Kid No Back booster seat (also called the Evenflo AMP No Back booster seat) is a "what you see is what you get" kind of seat. This is a good option for older kids who aren't ready for an adult seatbelt but are mature enough to sit properly all the time.
Some kids might not love the elastic cup holders since there's no way to store toys, and the padding is rather basic. It's a little heavy to be a travel booster seat, but the bargain price tag makes it a nice choice as a backup booster seat to leave in the closet at grandma's house.
---
Graco Turbobooster review
The Graco Backless TurboBooster wins the award for our family's shortest relationship with a car seat. Quite an honor, eh? It's not all bad, and the TurboBooster has been keeping kids safe in the car for nearly two decades.
The Graco TurboBooster backless is a straight-forward booster seat, like many on this list. It includes two cupholders that can rotate inward to save space. Shoulder belt fit can be adjusted with the included length-adjustable clip. If you opt for the TurboBooster LX with LATCH, you can anchor it to the car so that it doesn't become a projectile in an accident (without having to buckle it in every time).
So why did we return it after less than 24 hours? The lack of padding was acceptable given the low price tag. But our big issue was that the sharp angle of the arm rest with the seat belt guide kept "catching" the lap belt in car. It was frustrating for our normally-independent booster rider. I haven't seen many other reports of that issue so it may have been specific to the seatbelts in that van, but didn't have that issue when we replaced it with this booster seat. (Since I'm writing this in the middle of a pandemic and can't get a moment to myself, I was able to get real-time confirmation that he was annoyed by the TurboBooster. Silver linings, right?)
For less money, the Graco Turbo GO (full review here) was easier to use. But if cupholders are important to your child (which I totally understand) then the classic Graco TurboBooster might be a solid choice for your family.
---
Still debating the best inexpensive car seat for your family? Pin this article to come back to it later!
Cheap car seats FAQs
<!–googleoff: index–>