If you like booster seats and photos, you'll love today's Diono Monterey 5iST review! I'm sharing all of our impressions of this innovative new folding high back booster seat to help you decide if it's the right choice for your family.
What is the Diono Monterey 5iST?
The Diono Monterey 5iST is an all-new folding booster seat from international car seat manufacturer Diono. It brings some of the world's leading safety and convenience features into a compact package to keep even the biggest kids safe no matter where they are.
With just a few button presses, the Diono 5iST transforms from a compact package (about the size of a carry-on suitcase) to a full-size high back booster seat. It squeezes a sturdy frame, 8 layers of side impact protection and comfort padding in there. This new Diono folding booster seat also has rigid LATCH connectors to keep the booster seat from sliding around during entry or becoming a projectile during a crash.
I'm so excited that Diono engineers confirmed that this is the same Diono Monterey 5iST FixSafe they are selling for the European market but with stickers indicating US and Canadian approval rather than R129 approval. Why does that matter? Because Europe now requires side impact testing! Plenty of car seats and booster seats in the US claim side impact protection but we're short on standards and long on marketing-driven controversy. This is the only folding booster seat sold in the US that has been subjected to and passed any sort of standardized side impact testing.
Who is the Diono Monterey 5iST folding booster seat for?
The Diono Monterey 5iST size range is commendable: 40-120 pounds and 38-63″. That means it should fit average size kids from 4-13. I found the belt fit on both of my kids to be right in line with what I was looking for: lap belt low on the hips touching the tops of the thighs, shoulder belt making nice contact in the middle of the collar bone.
As with all booster seats, you shouldn't put your child in it until he or she is mature enough to sit properly 100% of the time. Generally we CPSTs recommend that kids be at least 5 before making the transition to such a big responsibility and some kids aren't ready until 6, 7 or even older. It's important that you know your child and evaluate their ability to follow rules honestly.
In addition to the stated limits, there are some physical limits that come into play with booster seats. On the small end, we found that our younger child didn't get a good fit in her other Diono booster seat until she was around 43″ since she's more legs than torso. Fortunately the 5iST gets a lot smaller! I think she would have been just fine around 40″ since the lowest belt guide height I measured is 13.5″. You can see here how the 5iST compares to its cousin the Diono Monterey 4DXT in their smallest sizes.
If you're considering the Diono Monterey 5iST for kids near the upper end of the size range, you won't be disappointed! The side wings automatically widen as you raise the head rest, giving lots of room for growing shoulders. Diono boosters are deservedly known as great options for broad kids and this one is no exception.
I measured the top belt guide height at 21″ and the max width at the shoulders as 21.5″. The venerable Diono Monterey 4DXT has a 23″ belt guide at about 19.5″ between the shoulders. Both are linebacker worthy, though it's worth noting that the 4DXT seat is 13″ deep while the 5iST is more like 12″.
Some kids at the top of the size range may find that the seat doesn't offer quite enough support for their thighs, which can cause them to move out of the ideal position. Usually we don't want more than a few inches of unsupported thigh.
My son is about 50″ tall and getting to the point where the Monterey 5iST may not offer adequate support. This is one limitation of the 5iST versus the 4DXT (and Cambria): you can take the back off of the 4DXT to give kids a whopping 16″ of depth. Of course you also have the option of buying the backless Diono Solana 2, which is like the bottom of a 4DXT, down the line when your kid needs more space.
Will it actually fit a kid who is my height and 120lbs? At that point it'll depend a lot on body structure, but rest assured it does get very, very wide. As with all boosters, you need to make sure that their ears are fully contained within the booster seat.
Remember: Kids aren't ready to ride with the seatbelt alone until they can fit properly. That's usually between 10 and 12 years old. Sadly we see many more serious injuries in school age kids riding in the seatbelt than in young kids in car seats.
For those older kids it'll also be about as appealing as a high back booster seat can be. I can't put my finger on it, but it just looks cooler than you'd expect a booster seat to be. It's got swanky Euro styling, a fairly low profile and a dynamite color selection.
While those things aren't what I look for as a safety-conscious parent, if you can make a booster seat more aesthetically appealing to an image-conscious tween I'm all for it. Spoiler alert: my 10 year old has chosen this for his daily ride for now instead of his beloved backless booster seat.
How do you fold the Diono Monterey 5iST FixSafe?
When you get your shiny new booster seat to your car, it'll probably be neatly folded in its compact form. Squeeze the gray handle on the bottom to pop it open. Ta da! The seat will easily fold down and lock into place.
To fold it back up, squeeze the same handle and push the seat pan back into the upper part of the booster seat. It's a snap, especially when compared to the more complicated process of folding our hifold booster seat.
Diono Monterey 5iST booster seat install details
While most travel booster seats sacrifice features in the interest of weight, Diono just packs them in more densely! The Diono Monterey 5iST FixSafe is equipped with rigid LATCH (which is called IsoFix in Europe… hence the "Fix" part of FixSafe). Unlike a harnessed car seat, the lower anchors here are not intended to bear any load in a crash. Their job is to keep the booster seat in place, whether it's occupied or not. That's great for preventing sliding around when clumsy children hurl themselves into the car, and when they exit and you have an otherwise-unsecured 20lb projectile right behind you.
It's easy to install a seat with rigid LATCH. Just press the gray button on the front of the seat – hard – and the rigid lower anchor connectors will pop out on the back. If you're just playing with the seat, it can be a little tricky to get them back in and you may need three hands (one for the button and the other two to simultaneously push each anchor back in). But if you're a normal person and just installing and uninstalling, this won't be an issue for you.
Line up the lower anchors with your car and just push the booster seat in place. Click click done! It's really that simple.
The Monterey 5iST doesn't have a recline that you're able to set, but it does have a few degrees of recline built in to help it match the vehicle seat back. You still want the vehicle seat to be basically upright (as an adult would safely sit in it) and Diono wants a vehicle head restraint behind all of their booster seats.
The only other thing to do is adjust the head rest to your child. Squeeze the gray handle on the back of the headrest and pull up. I recommend pulling it up a few clicks before your kiddo gets in the seat and complains that she's squished. Then you can lower it as need be. Diono specifies that the shoulder belt guide should be at least 1 cm (about 1/2″) above the shoulder. Not sure? It's right there on the side of the seat.
Thread the shoulder belt into the red guide. It's wide enough to avoid most seatbelt retraction issues, while the little metal gate should avoid the shoulder belt slipping out accidentally. Nice!
After that you just have to buckle the seatbelt as usual. The Diono Monterey 5iST doesn't have traditional lap belt guides to worry about or arm rests to go under/around. The shape of the side wing on the bottom acts as a lap belt guide to keep it nice and low on the hips.
This is not our family's first armless booster seat. My daughter has been happily riding in this armless booster seat for a year. The downside is that some kids, especially older kids, may prefer the support of arm rests on long drives. The upside of an armless design is that they're extremely easy to buckle and easier to use correctly – no more worrying about whether the shoulder belt should be routed under or over the armrest, which is a common booster seat mistake.
When you're done with the Diono 5iST and ready to pack it up for your flight or to make space in the back row, just push the button on the front hard and the lower anchors will release and retract back into the shell. Then just lower the headrest all the way with the gray lever on the back of the headrest and use the gray button on the bottom of the seat to fold it up.
I always encourage families to read their car seat manuals, which are full of critical safety information, but out in the wild plenty of parents ignore this advice. Fortunately Diono has designed a booster seat that's extremely easy to use correctly with even the smallest bit of car seat intuition and experience.
Traveling with the Diono Monterey 5iST
Since I'm all about helping parents keep their kids safe when traveling, I'll give traveling its own section. We travel often (in normal times) so I'm always looking out for the best booster seat for travel with my own kids.
The elephant in the room, so to speak, is that the Monterey 5iST weighs almost 20lbs. It has backpack straps tucked into a compartment on the back but I don't find them especially comfortable. Our most recent travel day involved more than 2 miles of airport walking/running and I just couldn't have comfortably managed such a heavy booster seat on my back without better straps and a hip belt. Alternatively you could get an inexpensive folding luggage cart to pull the booster seat (and you could probably fit another backpack or carry-on suitcase on there).
Be sure to review the rules for flying with a booster seat – the most important thing to remember is that your child can't use it on board, just like any booster seat.
Fortunately the Diono Monterey 5iST should fit in the overhead bin on many planes (at least in the US and Canada). The folded size is 17″ x 8″ x 23.5″. As you can see, it's about the same size as my carry-on suitcase so it should go in the proper way.
On a plane with smaller bins you may have to turn the booster seat sideways to make it fit – it's a breach of frequent traveler etiquette, but we can let it slide in the interest of child safety and hopefully most flight crews will too. It's within the carry on length prescribed by Southwest (though a little wider), but longer than what's allowed by the nickle-and-dime folks at Spirit and Allegiant so YMMV.
If you plan to use your shiny new booster seat in a taxi, Uber or Lyft on your journey you don't even need to worry about installing with the rigid LATCH. It's primary purpose is to avoid the empty booster seat becoming a projectile but you won't be leaving it in the car when you're done.
How does the Diono Monterey 5iST car seat compare to other travel booster seats?
There are a few different folding highback booster seats on the market today: Diono Monterey 5iST, Peg Perego Viaggio Flex 120, Baby Trend PROtect Yumi and hifold. I'll give you a quick rundown of the head-to-head feature differences.
Diono Monterey 5iST vs Peg Perego Viaggio Flex 120
When comparing the Peg Perego Viaggio Flex 120 vs Diono Monterey 5iST, I'm struck more by the similarities than the differences. They will both accommodate kids 40-120lbs and up to 63″, offer expanding side wings, use rigid LATCH to keep the booster seat in place, have meaningful side impact protection and fold in half for travel.
The Peg Flex 120 has a slightly higher top shoulder belt guide at 23″ versus about 21.5″ for the Monterey 5iST. Whether or not that makes a difference for your situation really depends on how long you intend to use a high back booster seat. As a point of reference, I'm a petite adult woman and 23″ is almost right for me.
The Peg Flex side wings expand independently of the headrest/shoulder belt guide height. That's nice for a custom fit, especially if you're dealing with a tight squeeze and you have a tall skinny kid who doesn't need the width. On the flip side, it's one more adjustment to make and you do need to access the back of the booster seat to do it so it's less convenient for quick use on the fly or for other caregivers.
In terms of portability, the Diono Monterey 5iST FixSafe makes a more compact package at just 8″ depth while the Peg Perego Flex 120 is closer to 10″. Keep these measurements in mind as you're investigating overhead bin space for your upcoming flight! On the other hand, the Peg Flex 120 weighs 14lbs versus 19lbs for the Monterey 5iST.
There is a notable price difference as well: the Diono Monterey 5iST carries an MSRP of $250 while the Peg Perego Viaggio Flex 120 ranges from $280 to an eye-popping $320 depending on your fabric preference.
Diono Monterey 5iST vs hifold
The other folding booster seat in our family's fleet is the the hifold by mifold. You can read my full hifold review for tons of info. While the Monterey 5iST FixSafe is about making a traditional booster seat more compact and somewhat more travel-worthy, the hifold puts the travel aspect first.
First and foremost, hifold collapses into thirds rather than just the seat pan folding into the back. That makes it extremely compact. It also uses more plastic and less metal to save on weight, coming in at a svelte 10lbs.
But there's no clear winner between these two products, they're just different beasts. To get the tiny fold, it requires a lot more fiddling and a multi-step adjustment process every time you unfold and set it up. In exchange for weight, the hifold doesn't have lower anchors and doesn't feel nearly as sturdy.
The Monterey 5ist will easily accommodate most of the biggest booster riders thanks to the 20″ top seatbelt guide and ultra-wide shoulders, while hifold may not take some kids all the way to passing the 5-step test (it maxes out at 100lbs and 59″, though nearly all kids are find in a backless booster by that point). It'll get close, as it has a 19″ top guide and adjustable side wings, but not quite as far.
These are both great booster seats and they work as different tools in our family's toolbox.
Diono Monterey 5iST vs Baby Trend PROtect 2-in-1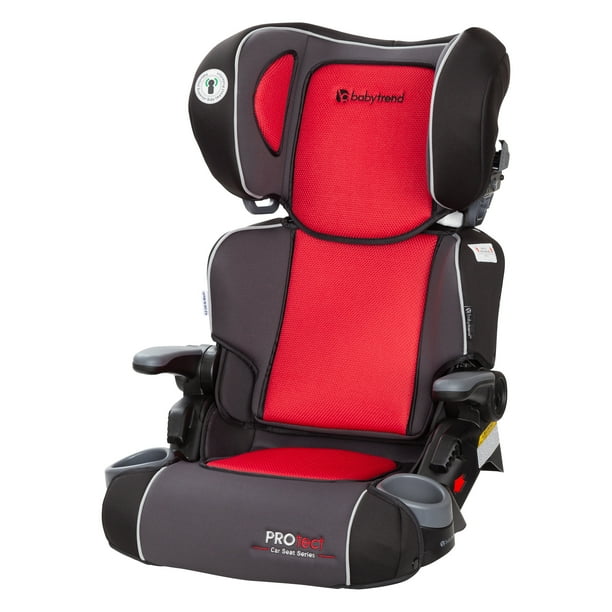 The Baby Trend PROtect 2-in-1 booster seat has been around for many years (sometimes with slightly different names and features, sometimes listed as the Baby Trend Yumi booster seat). Unlike the other folding highback booster seats listed above, it can eventually transition to a backless booster. Of course, if you wanted a backless booster for travel there are other options you'd consider first.
The Baby Trend PROtect folding booster seat weighs about 10lbs versus almost 19lbs for the Monterey 5iST. However, it's entirely made of plastic and doesn't have lower anchors to prevent it from sliding around when the kid enters the car (and it must be buckled when empty). Those aren't necessarily bad things but explain the weight difference and may be deciding factors for some caregivers. Fortunately the MSRP is just $70 (and it's often less), making it one of the best cheap booster seat options.
While the Monterey 5iST is going to work for nearly kids until they are done with boosters, the Baby Trend tops out at 100lbs and 57″ – fine for some kids in some seating positions but not universal. One nifty aspect of the Baby Trend is the super flexible positioning for the seatbelt: the shoulder belt can go either over or under the arm rest depending on what gives a better fit and the shoulder belt guide can be in one of three positions.
If you're searching for a travel booster seat, Baby Trend reports that the folded size is 12″ x 20″ x 24″. Remember, the Monterey 5iST is 8″ x 17.5″ x 23.5″. If you're flying on a small plane, a discount airline or otherwise asking for some grace to avoid checking your car seat that may be pushing it. On some small planes it truly may not fit and you'll have to just hope that baggage handlers are gentle and it comes back to you in one piece.
Diono Monterey 5iST review: My Impressions
I have to say that from a subjective perspective I'm really impressed with the Monterey 5iST, and my kids are as well. Nothing is perfect so here's my personal list of Diono Monterey 5iST advantages and disadvantages:
Diono Monterey 5iST advantages
Fits a very wide range of kids until seatbelt readiness
Easy to set up
Easy for kids to buckle on their own
Rigid LATCH
Passes EU side impact testing
Colors and styles appeal to older kids
Folds for travel and storage
Kids say it's comfortable
Usable cup holder
Diono Monterey 5iST disadvantages
Much heavier than alternative travel booster seats
Uncomfortable carry straps
May not fit some kids well at the very top and very bottom of the size ranges
Not a great option for 3-across
For daily use my kids find the Diono Monterey 5iST to be very comfortable. My kids are spoiled by our fleet over extremely comfortable booster seats but they're happy to ride in this one. It is a subjective matter, as some kids prefer a firmer ride or a squishier ride and different kids have different arm rest preferences.
If you regularly need a booster seat for 3-across, this is probably not a long-term solution for you. It's pretty compact at the lower heights, but as your kids get taller the seat gets too wide to play nicely with others. We'll use this seat when my kids are the only ones in the back of our CR-V but if grandma comes to visit or we have a spontaneous carpool I'll need to swap it out for something else (likely a bubblebum or RightGuide).
The good news if you'll need to take it out from time to time is that storing this booster seat is extremely easy since it folds into a nice compact package. Whether you need to pop it in the trunk for a quick carpool or in the closet for a week when grandma visits, it won't take up too much space and there's no awkward shape to contend with. As someone with a closet full of backup car seats, that's a big improvement.
Conclusion: Is the Diono Monterey 5iST worth buying?
Personal opinion: I really like the new Diono Monterey 5iST and my kids do too. Some kids this age can be tough to get on board with safety in the car, so I'll take my victories where I can get them.
The price tag is on the high side for a booster seat but many kids will be able to comfortably use this seat for 6-8 years. It may not be the first thing I reach for when we eventually get back to backpacking through Europe, but for families who only travel once or twice per year and rent a car it's a great solution for both daily and travel use. It's also a compelling choice for carless apartment-dwellers thanks to its compact storage.
Key stats:
-Weight 19lbs
-Highback booster size limit 40lbs/38″ to 120lbs/63″; max belt guide 21″
Pros:
✔ Folds for compact storage
✔ Easy for kids to buckle
✔ Side impact tested
✔ Rigid LATCH for quick installation
✔ Very roomy, width adjusts to fit even the biggest kids
✔ Highest weight and height limits of any booster
✔ 8 year expiration
Cons:
✘ Heavier than other folding booster seats
✘ Too wide for 3-across as kids get taller
Where to get your Diono Monterey 5iST booster seat
Thanks to our partners at Diono for providing a booster seat for review. All opinions are my own.