This post contains affiliate links. As an Amazon Associate I earn from qualifying purchases.
<!–googleon: index–>
I have a confession. I've become a booster seat hoarder. With two kids now able to ride safely in booster seats, I'm constantly trying out different options for different situations – road trip booster seats, carpool booster seats, travel booster seats and more. Today I'm excited to share my Graco RightGuide review, and by the time we're done you'll have a sense for whether or not it might be the right next step for your family!
What is the Graco RightGuide booster seat?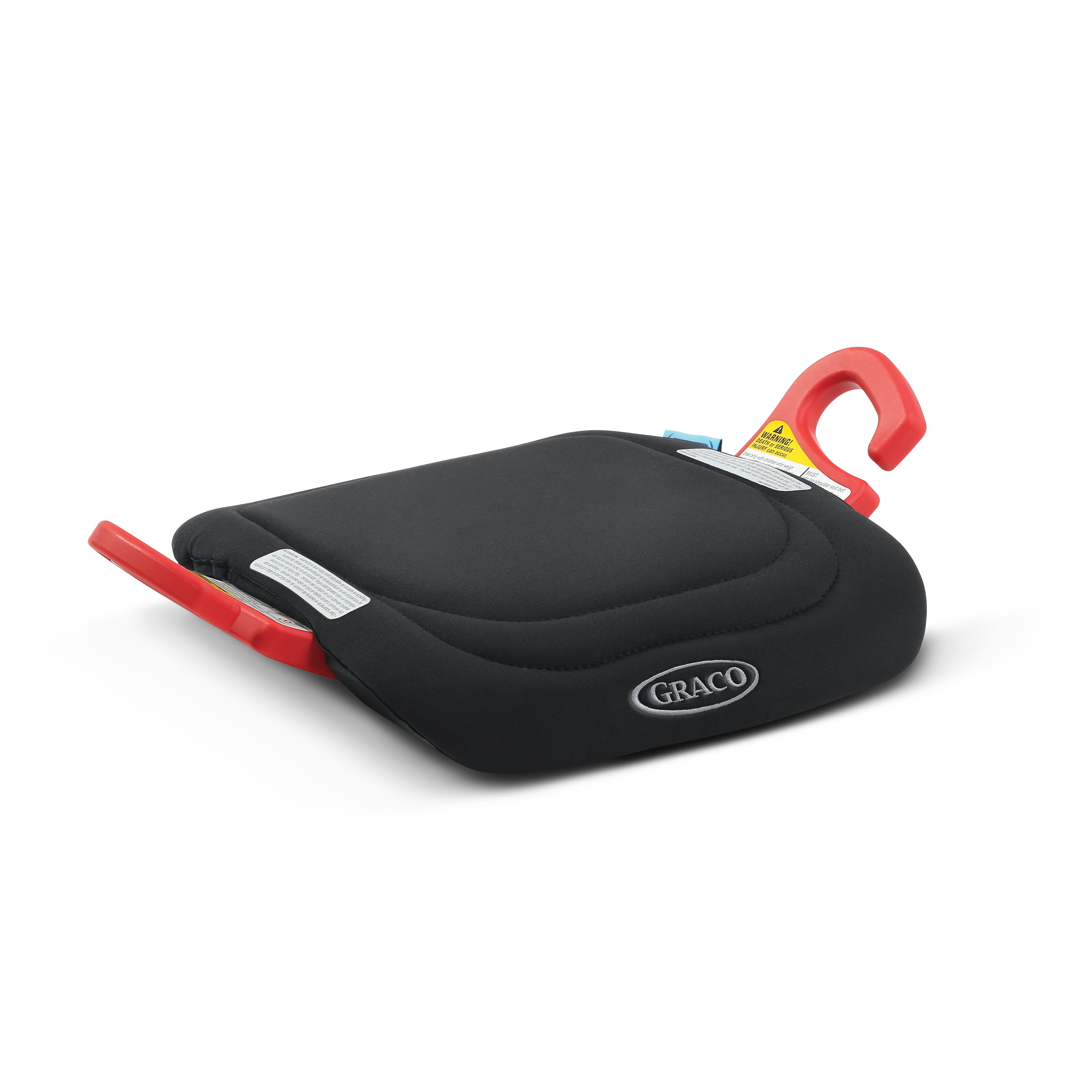 The Graco Right Guide booster seat is a low-profile booster seat that helps elementary schoolers bridge the gap between a traditional booster seat and using the adult seat belt alone.
It's extremely low-profile, so it's inconspicuous for kids who are old enough to be self-conscious about using a booster seat but too young to sit safely without one. At a little over two pounds, it's also easy for kids to carry around with the included carry bag or throw it in their duffel bag for carpool after practice.
The RightGuide's nifty trick is that the lap belt guides fold into the bottom of the seat to make it flatter for transportation. The permanently-attached shoulder belt guide also tucks neatly into a compartment on the bottom – more on that later.
The Graco Right Guide car booster seat is very narrow, so it can be useful in some tight 3-across situations where another booster seat doesn't even stand a chance. We found it very useful when we had Grandma staying with us, as we could fit the RightGuide next to the hifold folding booster seat and leave a roomy outboard seat open for an adult passenger. (Like I said, we have a massive booster seat collection!)
Key stats:
-Weight 2 lbs
-Backless booster size limit 50-120lbs, 43-60″, age 5+
Pros:
✔ Extremely light booster seat
✔ Very compact booster seat when folded
✔ Narrow option for 3-across with big kids
✔ Inconspicuous option for tweens
✔ 10 year expiration
Cons:
✘ Belt guide may not stay in place securely
✘ Incompatible with some seatbelt designs
While the Right Guide's footprint is narrow enough for tight spots, the way that the lap belt guides are angled outward makes it feel roomy for even the biggest riders who can't yet pass the 5-step test for booster readiness.
---
Who is the Graco RightGuide booster seat for?
Graco doesn't make you hunt for the size limits – they're stated clearly on the belt guide. Unlike many traditional booster seats, the minimum requirements for the Graco RightGuide are pretty high:
Graco RightGuide minimum age: 5 years old
Graco RightGuide minimum weight: 50lbs
Graco RightGuide minimum height: 43″
The minimum weight means that the Graco RightGuide can start to be used by an average size 7 year old. In almost all cases, this is going to be a child's last booster seat rather than her first. The target market is tweens, and thankfully that's who Graco shows in their marketing materials for the RightGuide.
In fact, the official name is the the "Graco RightGuide Portable Seat Belt Trainer" to help parents recognize that it's meant to bridge the last gap into the adult seatbelt. Fortunately there are plenty of other portable booster seats that are well-suited to 5 and 6 year olds who are big enough and mature enough to use them.
At the top end, the RightGuide can be used for kids until they are 120lbs or 60″ tall. Be sure that kiddos on this end still have vehicle head rest support to at least the tops of their ears. By the time they outgrow the RightGuide, the vast majority of tweens will be ready to ride with just the seatbelt (but still in the back seat until at least age 13 to avoid injury from an airbag).
Read more: Most comfortable booster seats for long drives
---
How do you use the Graco RightGuide portable booster seat?
Using the Graco RightGuide seat belt trainer is very straightforward. It's so easy that my 9 year old found it by the door, took it out to the car and got it set up on his own almost completely right. I didn't even have to ask! #CPSTkids
(Note: The shoulder belt needs to be in the red lap belt guide as well. He was so close!)
Once it's out of its slightly-too-tight neoprene case, you'll want to flip the RightGuide over. Ignore the red tab near the back, that's for using it with this booster seat (its original purpose). Open the little compartment to pull out the shoulder belt adjuster and try to get it to roughly the length you think you'll need. There's a thoughtful notch on the latch for the compartment so that you can lay the adjuster strap flat and close the hatch over it. Then pull the two big red lap belt guides from their notches and unfold them.
Just like with any other backless booster seat, thread the red shoulder belt adjuster on the seatbelt above the buckle. Once your kiddo sits on the RightGuide, have her buckle in and thread both the lap and shoulder belts under the arm of the lap belt guide – that was my son's only mis-use out of the gate, as he's used to the Bubblebum which has the shoulder belt outside of the guide.
Adjust the shoulder belt clip lower so that the shoulder belt crosses nicely between the neck and the edge of the shoulder. Make sure you child's bottom is scooted all the way back and that the lap belt is sitting low on her hips.
Graco has told me that they do not want the seatbelt buckle itself to be in the lap belt guide. That can happen in cars with long and/or flexible buckle stalks so be sure to double check – if you see that, unfortunately the RightGuide is incompatible with your vehicle. The photo above is borderline.
---
Graco RightGuide review
Seatbelt fit
The Graco RightGuide does an excellent job with seat belt placement. The belt guides are well-positioned to keep the lap belt low on the hips. Above you can see my ultra-cool 9 year old, who is around 65lbs and 50″.
I also tried my silly 7 year old on the RightGuide and was very pleased with the belt fit. She doesn't ride with this seat yet because she's only 45lbs (and around 45″ tall). Despite her being below the minimum weight, the fit is excellent. That's reassuring since she got a weird lap belt fit in the Graco Turbo GO despite its lower height and weight requirements (keep reading to see what I mean).
One important thing to keep in mind with regard to seatbelt fit: the Graco Right Guide booster seat is extremely low profile. If your child usually rides in a traditional booster seat without the shoulder belt guide, he may still need to use it with the RightGuide so that the seatbelt doesn't hover over his shoulder. Make sure he knows that if he's taking the RightGuide for carpool. Kids who are old enough to use the RightGuide are also old enough to learn what makes for a safe seatbelt fit!
Ease of use
This is where things get a little sticky for us (or perhaps unsticky is a better way to put it). The lap guides are doing the important work of keeping the lap belt properly placed on your child's body. Casually unfolding the lap belt guides into position wasn't enough to make one of them stay in place. Sometimes it would slowly drift down on its own, while other times I could get it pretty firmly in place but a gentle bump when my son was buckling was enough to dislodge it.
After discussing with a fellow CPST, I learned that there is a tiny bump on the side of each red plastic guide and that it's supposed to match up with a tiny divot in the plastic of the booster seat base. The only way to make that happen consistently is by pushing the excess fabric away from the guide as you try to put it into place. That mostly seems to do the trick, but I worry that over time if the little bump wears down through frequent opening and closing there will no longer be any mechanism to hold the lap belt guide upright.
If you plan to send the Right Guide with your child to use independently, be sure to teach her how to secure the lap belt guide in place on her own and to make sure she doesn't bump it when buckling. While my 9 year old is a very independent booster rider, he got extremely frustrated with the RightGuide when using it in the middle seat because he constantly bumped the guide out of place.
I reached out to Graco and they sent a replacement for me to try out. That one works somewhat better but still not as securely as I would expect. Graco engineers have received this feedback and with any luck they'll devise a more secure mechanism for keeping the lap belt guides up on a future version.
Travel worthiness
From a size and weight perspective, the Graco RightGuide should be really excellent for travel. This is one of the lightest booster seats on the market. It's nice and compact with the guides folded under and the included pouch even has a clip that can be used to attach it to the outside of a backpack. Alternatively, kids can carry the case with its attached shoulder strap.
Read more: Flying with a booster seat
My main concern for travel is unknown vehicle compatibility with regard to the buckle sneaking up in the lap belt guide as I mentioned above. The RightGuide is so low profile that it could be incompatible in a seat with long or very flexible or rigid forward-angled buckle stalks, or with seatbelts that are positioned too far forward on the seat. Since the RightGuide is very narrow, on a flat bench seat you can potentially scoot it an inch or two away from the buckle in an effort to mitigate some issues. In this article you can find the whole range of potential buckle issues to watch out for – it's pretty eye-opening!
While the interaction between the lap belt guide and the buckle is questionable in my CR-V above, in the photo below you can see that there's no issue in our Camry. The buckle stalk is shorter and has a sheath that keeps is pointing in a particular direction so the buckle stays out of the lap belt guide. The RightGuide would be a great spare to keep in this car in case of unexpected carpools!
2023 update: How has the Graco RightGuide been for travel? I'm updating this review after nearly two years of ownership and multiple trips with the RightGuide. My son (just over 70lbs now) has used it successfully on several trips, and I love that I can slip it into his backpack (in the laptop sleeve) and not have to carry it in my own bag.
My daughter is still hanging around 51lbs and the fit on her depends a lot on the shape of the rental car's seats. In cars with a "waterfall" shape in the back (a little extra sloped piece between the seat and the vehicle seatback), the fit is still too low on her thighs. It's not my top travel booster car seat for her, but an acceptable option depending on the vehicle and how much driving we'll do. Many of my fellow CPSTs agree that the fit is just less forgiving on smaller kids.
---
Graco RightGuide versus other folding booster seats
How does the Graco RightGuide seat belt trainer compare to other folding booster seats? Fortunately I have plenty of options to compare it with!
Graco RightGuide vs Bubblebum
One of our favorite travel booster seats is the Bubblebum inflatable booster seat (read my Bubblebum review). The RightGuide and the Bubblebum are about the same weight and they both work very well in narrow spaces. I give the nod to Bubblebum for portability, as it rolls up nicely once deflated to fit in even the tightest spaces.
The Bubblebum also works for younger kids thanks to its 40lb minimum and doesn't present as many potential compatibility issues. That said, at 9.5 my son (who is small for his age) feels like the Bubblebum is getting too small for him. Bubblebum's manufacturer wants the child's bum to be inside the silver border so kids definitely get extra space with the RightGuide.
Graco RightGuide vs mifold
As mifold comfort pictured above (read my in-depth mifold review) is unbelievably portable. It's super light and folds down to about the size of a paperback book. They're both technically considered "heightless boosters" so they're the most direct competitors in this crowded field.
Unfortunately, the seatbelt fit isn't nearly as reliably good as what the Graco RightGuide offers. As you saw above, my 7 year old had a great fit with the RightGuide even though she's technically too small to use it. On the other hand, even my 9 year old couldn't achieve a lap belt fit that I felt comfortable with using the mifold.
These two photos were taken just a few weeks (and a much-needed haircut) apart. You can see that the mifold (left) is pulling the lap belt down well on to his thighs whereas the RightGuide (right) is properly positioning it at the bottom of his hips.
For an even clearer view of the issue, compare these two photos of my daughter. Remember, she's technically too small for the RightGuide while she's plenty over the size minimum for the mifold. These photos were clearly taken just a few minutes apart. Check out the difference in lap belt positioning with mifold (left) and RightGuide (right).
Graco RightGuide vs Graco Turbo GO
Yes, I am fully aware that I own too many booster seats – especially too many folding booster seats. So be it. There are several different Graco folding booster seats to choose from and the Graco Turbo GO (full review here) has a lot going for it.
Unlike many other travel booster seat options like the RightGuide, it feels to kids like a regular booster seat. That can be really appealing, especially for long drives. It's also super easy to use because when you unfold it the belt guides rotate in to position automagically (and then they rotate back to their storage position when you fold it in half.
That said, it's not nearly as portable as the Graco RightGuide. It weighs a pound more but it's much bulkier to carry around – or pack for a trip. I really wish they had included some sort of carry strap or handle on it.
Kids can also use the Graco Turbo GO a little smaller, starting at 40lbs and 43″. In these photos my 7 year old is within the size range for the Turbo GO (left) but you can see that the lap belt fit is a little further forward on her non-buckle side than the really wonderful fit she gets with the RightGuide (right).
---
Final thoughts of my Graco RightGuide booster seat review
The Graco RightGuide is a product that I want to love and recommend without reservations. For the right circumstances, I think it has a huge amount of potential to be the best booster seat for big kids (ideally 60+lbs) in some vehicles.
In the meantime, I recommend that those families who choose it do so with a close eye to the lap belt guides to make sure they stay upright and to the car buckles themselves to make sure they aren't going up into the guide.
Key stats:
-Weight 2 lbs
-Backless booster size limit 50-120lbs, 43-60″, age 5+
Pros:
✔ Extremely light booster seat
✔ Very compact booster seat when folded
✔ Narrow option for 3-across with big kids
✔ Inconspicuous option for tweens
✔ 10 year expiration
Cons:
✘ Belt guide may not stay in place securely
✘ Incompatible with some seatbelt designs
Not sure if it's right for you? Read reviews of these other travel booster seats to find your match:
Where to buy Graco Right Guide
If you feel that Graco RightGuide is right for your child, currently the only place to buy it is directly from Graco.

<!–googleoff: index–>