This post contains affiliate links. As an Amazon Associate I earn from qualifying purchases.
<!–googleon: index–>
If your child is under 40 pounds, the safest place for her on a plane is either in a travel car seat or another approved restraint – the AmSafe CARES harness. While each option has its pros and cons, for some families the CARES toddler airplane harness works better than a traditional car seat. It's an especially good choice if you're traveling with a Ride Safer Travel Vest or planning a car-free vacation!
What exactly is the CARES airplane safety harness? In this article, you'll find out what it is, who should use it, how to use it and you'll also get lots of honest feedback from parents in our Facebook group who have used it for their own children.
What is the AmSafe CARES toddler airplane harness?
The CARES (Kids Fly Safe) harness is a system of webbing and buckles that adds a shoulder harness and chest clip to an airplane seatbelt to better restrain toddlers on flights. The top of the shoulder harness stays in place thanks to a webbing loop around the seatback.
It is manufactured by AmSafe, which makes most airplane seatbelts and buckles, and was designed in coordination with the FAA. It's the only FAA-approved car seat alternative for planes, and you can use the CARES child safety device for any portion of the flight.
Other "baby airplane harnesses" are labeled as comfort devices rather than safety restraints, so they can only legally be used during the cruise portion of your flight and you may have to remove your child during turbulence – basically those are just for convenience, not safety.
---
Who should use the CARES harness?
The FAA advises that kids under 40 pounds need something to keep them safe on a plane, whether it's an FAA approved car seat or the CARES harness. The CARES harness is certified for use with kids who:
Weigh 22-44 pounds
Are under 40″
Can sit up on their own
AmSafe recommends that kids be at least 1 year old, though the FAA doesn't require it. In reality, it's best suited for 2 year olds and 3 year olds. If your child exceeds the size limits but has developmental needs that require more support than the airplane seatbelt alone offers, you can seek an exemption to use CARES child airplane travel harness to higher size limits. In addition, the "Special CARES" (available only with written approval by the FAA) is a larger sized harness for older children and even some adults who require it based on their development.
Many parents find that the CARES airplane harness starts fitting best at 30 pounds. Since it doesn't adjust the fit of the lap belt, smaller kids may "submarine" or slide under the seatbelt. Younger kids may also lack the core muscle strength to sit up for a long flight. Some parents find a square of grippy shelf liner to be really helpful for reducing slipping.
---
Should you bring the CARES harness or a car seat on the plane?
The CARES safety harness is the perfect airplane solution when you're bringing the Ride Safer travel vest (full review here) to use in the car, you'll have a car seat available on each end of your flight or you don't need a car on vacation.
If you need to bring a car seat for your travels, it's a better choice to bring your car seat on board rather than checking it. Not only is it safer for the car seat, but for smaller kids they'll be assured of a safe fit. You can also be assured of having a safe restraint for your child for the entire flight (see my note below regarding some tray tables).
If your flight will involve overnight travel, a rear-facing convertible car seat (or even this one forward facing) gives a more reclined, padded seat. The CARES airplane harness for toddler travelers only allows as much recline as the airplane seat – in some cases, zero.
---
How to use the CARES harness
Using the CARES harness is simple once you've done it a few times. The basic steps are:
Lower the tray table behind your child
Slide the red webbing around the seatback and lower it until it's just above your child's shoulders
Tighten the red webbing to keep it in place, then put the tray table back up
Place the black shoulder straps over your child's shoulders and thread the airplane seatbelt through the loops on the bottom
Buckle the seatbelt, buckle the chest clip, then adjust the shoulder straps to the right length
If you're a visual learner, you can see how it works here:
If your airline offers family pre-boarding, it can be helpful to get on early to get set up. While CARES doesn't take long to set up, the passenger behind you might be concerned when they see you messing with their tray table!
The CARES harness shouldn't impact the tray table behind your child on most planes. However, if the tray table is recessed into the seat back when it's stowed then you may have to install the red loop around the tray table to make it work. In that case, you'll only be able to use the CARES harness for takeoff and landing (since tray tables have to be stowed then anyway), not during the cruise portion of the flight.
That limitation was a necessary concession to gain FAA approval, but it means that if you have an especially bumpy ride your child wouldn't have anything other than the airplane lap belt to hold them in place. If you suspect that your plane might have this issue, you can try to arrange your family's seats so that someone from your group is behind your child using the CARES harness so that you can continue using it for the entire flight.
The other major limitation is that some of the fanciest new airline seats (like premium lie-flat options or those with inflatable seatbelts) may be incompatible with the CARES harness. It'll work find with normal upright seats in any class of service as long as they only use a lap belt.
---
Which airlines permit the CARES harness?
The CARES harness is FAA approved, and all airlines based in the United States are required to permit its use as long as you've purchased a ticket for your child and they're within the size requirements (or have written approval from the FAA to use it beyond the size requirements for passengers with special needs). The FAA takes that rule seriously and gets involved when airlines breach it.
Unfortunately, everything outside of the US is like the Wild West. While many countries approve the CARES harness for use on their airlines, they don't require that airlines accept it. The CARES harness is approved by the aviation authorities of Canada, UK, France, Australia, New Zealand, Japan and more. But you really have to look into the specifics of your target airline to find out their rules. For example, Air Canada generally permits the CARES harness but points out specific planes and classes of service for which it won't work because of the seat design.
Here are the CARES flight harness rules for a few popular airlines:
As you can see from this sampling of airline CARES harness rules, it's worth double checking before you decide to bring your airplane harness for toddlers on board in lieu of a car seat. If you're bringing it on a non-US airline, be sure to screenshot or print the airline's webpage with their CARES rules. Even if the airline allows it, many flight attendants haven't seen one before and may try to tell you that you can't use it.
---
CARES reviews from our community members
For our family, flying with a car seat has always been the right solution since we need car seats at our destinations. I turned to our Tiny Globetrotters community for their candid CARES harness reviews.
Review from Carlos G.:
I felt it started to fit well after he turned 2 (about 28-30 months old). The harness has worked really great for us, as long as you keep the kids busy with something to do. We have managed to keep him on his seat still for flights between 3-5 hours without any issues. We only take it off for potty breaks and naps. We love that we didn't have to take a bulky car seat into the plane and allowed us to keep our child in place and safely!
Review from Katie P.:
My son would have been 3 years, 2 months when we first used CARES instead of a carseat. He was roughly 14.2kgs (31 pounds) and 94cms (37″) at that point, so very average. The main things that I find that are important with CARES are that the child needs to be able to sit up straight and not slouch because it's only a 4 point harness and be mature enough to not play with the airplane seatbelt.

I always make sure to take advantage of family boarding to install the CARES because I often need to lower the tray table behind us to use it. My son is now 4 and we still use the CARES as he is still under the weight limit and I just feel better having that extra bit of safety. We were on a flight home from Mexico a few months ago and experienced the worst turbulence I have ever been though. I was so happy that both my son and nephew were both safely buckled in and also using the CARES. We will continue to use CARES as long as we possibly can.
Review from Kristin M.:
We first used it this fall when my son was just over 2.5 and around 38" tall and we used it a few months later, so I can't compare if it fit any better. That trip included nine flights, so we got a lot of practice in.

It seemed to fit fine. He's a wiggle worm, so the tip about using a silicone mat under his bum was helpful. The biggest challenges were the slipping down and the easy unbuckle. We used rubber bands around the plane seatbelt latch to solve that.
There are also plenty of stories of tiny kids not fitting well and fidgety kids playing too much with the toddler airplane seatbelt. It's worth considering your child's size and behavior as you decide on the right airplane safety solution. Some parents also do a "trial run" at home on a dining room chair to get their child used to wearing the CARES harness before the stress and overstimulation of a travel day. Genius!
---
AmSafe CARES child restraint FAQs
Do airlines provide CARES harness?
Sadly no. Airlines do not provide CARES harnesses… but I hope they do one day!
Is the CARES harness safe?
The CARES harness is FAA-tested and approved to provide a safer fit on airplanes for kids 22-40 pounds and under 40″ who can sit up well on their own.
Can a 2 year old sit in an airplane seat? Can a 3 year old sit in an airplane seat?
On many airlines a 2 year old or 3 year old is permitted to sit in an airplane seat without any additional restraint beyond the airplane seatbelt, though a few airlines require a car seat or CARES harness. However, aviation safety experts have warned repeatedly that children under 40 pounds don't fit properly in airplane seatbelts and pose a risk to themselves and others. CARES fulfills the need to properly secure children whose parents choose not to bring a car seat on board.
Does the CARES harness expire?
No, the CARES harness does not have an expiration date.
Can I use a CARES harness in a car?
No, the CARES harness is only approved for airplane use. The most similar item for car rides is the Ride Safer Travel Vest (full review here). Many families travel with both, as they are complementary products and both extremely small and light.
---
Pros and cons of the CARES airplane seatbelt for toddlers
Advantages of CARES harness
Safer than using the airplane seatbelt alone
Kids can use the tray table (if they're tall enough to reach it)
Extremely lightweight to carry
Easy to use
Fits even in the smallest airline seats where a car seat may not fit
Can be shared among friends, family and neighbors to spread cost
Disadvantages of CARES harness
Fidgety kids can still easily undo the lap belt
Doesn't change the fit of the lap belt, so it can still be quite loose on young, skinny kids
Small kids may slide down if you don't use a grippy liner under their bums
Useful weight range (30-40 pounds) is limited
No recline for sleeping children
Can be unfamiliar and upsetting to some kids
Not permitted by all airlines
---
Where to buy your CARES harness
You can find the CARES harness for sale at Amazon.
FRAUD ALERT: There are tons of CARES knock-offs floating around the internet, including on Amazon and Walmart. How can you tell the difference between the real deal and a fake CARES harness? When you click on the photos below, you can look for a few key differences:
Different shoulder strap adjustments
Red loop on fake looks like a cheap luggage strap rather than seatbelt webbing
Label showing the "Kids Fly Safe" logo should be next to child's right ear
Bag should say "Kids Fly Safe" (colors can vary) – the third picture shows a convincing fake called "Toddler Travel Harness" that claims FAA-compliance on their website even though the FAA clearly tells customers that only the AmSafe CARES harness is an approved toddler airplane seatbelt restraint
As soon as you receive your CARES harness in the mail, look for this label to make sure it's a real one: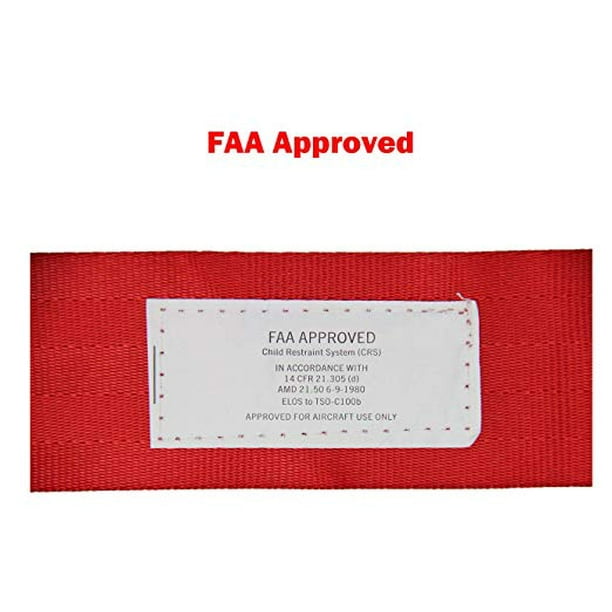 On a personal note, let me say how much is pisses me off to have to dedicate that many words and pictures to helping people buy child safety products that aren't knock-offs. It's distressing what people will do to make a buck.
---
I hope this review has been helpful! Don't miss these important tips for flying with a car seat and other car seat travel hacks before your next big trip with kids.

<!–googleoff: index–>