America has a long history of quality manufacturing, and these days there are some wonderful (and travel-worthy) car seats made in the USA. They run the gamut from ultra-light, budget friendly seats to some of the fanciest, most feature rich options. And yes, some of them are perfect for your family's next adventure.
Here are the main manufacturers who make car seats in the USA and where the factories are located:
Dorel Juvenile Group (includes Cosco, Maxi Cosi and Safety 1st) – Columbus, Indiana
Britax – Fort Mill, South Carolina
Evenflo – Piqua, Ohio (O-H!)

Clek (some products) – Ohio (

I-O!

)
Like most products that are made in the USA, some components are made overseas and then brought to the US for assembly. There are lots of parts of a car seat that manufacturers don't make themselves, like buckles, chest clips, LATCH connectors and harness webbing. That said, one of the biggest makers of those components is IMMI – short for Indiana Mills & Manufacturing Inc.
These lists of made in the USA car seats below don't include every single model from the above manufacturers because there are a lot of choices. Also not every car seat they make is from the US – some are still made in China, while others are made in Canada car seats. But these will give you some great ideas to start with!
This post contains affiliate links.
---
Infant car seats made in the USA
Evenflo LiteMax infant car seats
Maybe I'm biased as an Ohioan, but I have a really soft spot for Evenflo car seats. We've owned them for the last 7 years and this one kept my son completely injury-free during a terrible accident. My daughter still rides in a different Evenflo seat today (you'll see that one down below). We didn't try their infant seats because the offering weren't quite as fancy back then, but the newest Evenflo infant car seats have a lot going for them in terms of both features and value.
The Evenflo LiteMax is one of the cheapest infant car seats out there but it's still really impressive! It's very lightweight at only 7.8 pounds and it (along with the other new Evenflo cousins in this series) offers the lowest approved weight limit around at 3 pounds. It's one of the lightest infant car seats around, making it perfect for families who want to travel when their kids are tiny.
The low weight rating combined with plenty of adjustments for harness, hip and crotch straps makes this one of the best car seats for preemies available today. Note that some versions of the manual say there's a 4 pound minimum, but Evenflo has updated their approvals.
At the top end of the range, the LiteMax goes up to 35 pounds and 32″ – it'll last most kids past their first birthdays. Keep in mind that your baby still needs to have 1″ of shell height above their heads, and that may be your limiting factor.
Whether you want to install it with the base at home or install it without the base when you're using it as a lightweight infant car seat for travel, it's easy to work with.
If you have more room in your budget, you should look at the Evenflo LiteMax DLX. It has some great extra features for comfort, convenience and safety without adding much weight. It adds premium lower anchor connectors, a no-rethread harness, extra padding, a load leg (to add stability in an accident) and more! These are some seriously premium features at a very moderate price point. And yes, it's still almost a lightweight as the regular LiteMax.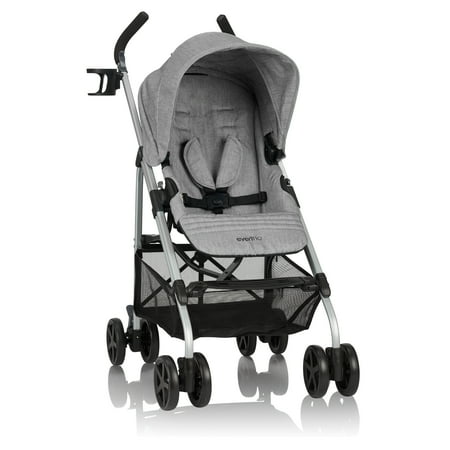 The biggest downside of Evenflo car seats is that, for the most part, stroller compatibility is limited to Evenflo strollers. But they've got some great choices these days – if you're trying to stick with a budget-friendly, lightweight stroller then the new Evenflo Urbini Reversi will tick a lot of boxes and last your family for years to come.
The LiteMax isn't a great choice for compact cars. Evenflo recommends installing in the center seat if possible. In most cases that requires using a seatbelt, which is 100% safe but may intimidate some parents compared to using LATCH; fortunately the LiteMax has an easy-to-use lock-off on the base to make seatbelt installation a breeze.
If you can't or don't want to install in the center seat, Evenflo requires 1.5″ between the back of the LiteMax and the seat in front. That means a front passenger would potentially have their knees in the dash or realistically couldn't sit at all if you're driving a very small car.
Maxi-Cosi Mico Max infant car seat
Maxi-Cosi is a popular European car seat brand, but their Mico Max infant car seat is made in the USA. And it comes with some unbelievable features!
From a safety perspective, it's hard to beat the extras that Dorel has added. This infant car seat comes loaded with side impact protection, a load leg to provide more stability in an accident.
Comfort and convenience are high on Dorel's list of priorities too: you'll find an innovative, moisture-wicking cover that you can take off without removing the harness! I promise, you'll appreciate that every time your kid spits up or has a diaper leak in the car seat. The canopy even has an extra mesh panel that opens up to provide fantastic sun protection and breathability.
Britax B-Safe 35 and Britax Endeavours infant car seat
The Britax B-Safe 35 infant car seat is manufactured in Fort Mill, South Carolina alongside Britax's other US car seats. There are actually three rear-facing Britax car seats in the family: B-Safe 35, B-Safe 35 Ultra and Endeavours.
The Britax B-Safe 35 is the most basic of the line, but it still includes nice features like side impact protection and a steel frame for enhanced rigidity (though all that steel makes for a very heavy car seat – if that's a concern for you, check out these lightweight infant car seats). If you're hoping to buy a matched travel system, the strollers available from Britax are actually very nice and will serve your family well even after your child graduates to a convertible car seat. Definitely take a look at the "Dual Comfort" fabric that offers better breathability as well as wicking fabric to avoid a sweaty back for your adorable babe
If you have more room in your budget, the Britax B-Safe 35 Ultra adds a convenient no-rethread harness and an extra layer of side impact protection. You can get it in CoolFlow fabric to help your baby stay comfortable. It also allows you to use European routing if you're installing the seat on its own without the base – in addition to running the lap belt through the guides by your child's legs, the shoulder belt also goes around the back of the seat to make it more stable. That's a nice feature for traveling families and those who plan to bring their car seat in a taxi, Uber or Lyft.
The newer Britax Endeavours infant car seat is pretty much the same seat as the Britax B-Safe 35 Ultra, but the base adds and anti-rebound bar for extra stability in an accident.
I will say that in my own experience, the SafeCenter base is a little harder to install than infant car seat bases with a traditional single strap in the center like my beloved Chicco Keyfit. If you've never installed a car seat before, you probably won't have any issue with it and even for me it was still manageable. Just know that it's a little different than experienced parents might be used to!
---
All-in-one and convertible car seats made in the USA
Once your child has outgrown the infant car seat, your next step is to buy a convertible (rear facing to forward facing) or all-in-one (rear facing to forward facing to booster seat) car seat. There are some awesome all-in-one and convertible car seats made in America for you to choose from, no matter what your budget it. In fact, some of the most popular travel car seats for 1 year olds, 2 year olds and 3 year olds are American-made!
Keep your child in the convertible car seat until it's outgrown. Most kids aren't ready for a booster seat until they're at least 5 years old – and some even older.
Britax One4Life all-in-one car seat
All-in-one car seats are all the rage now, which I completely understand. Who wants a graveyard of outgrown car seats down in their basement? And who needs to keep spending a few hundred dollars every couple of years for a new car seat?
The new Britax One4Life is competing hard for the "best all-in-one car seat" title – and it's made right here in the USA! Honestly there isn't much you won't find on this car seat. The One4Life includes rear facing, forward facing and highback booster seat options.
It will fit most kids from early infancy until it expires at age 10. It also has extremely generous rear-facing limits (50lbs/49″, which is the size of an average 7 year old), so it's a great step once your child has outgrown their infant car seat. Yes, it's pricey. But you probably won't need to buy anything more than an inexpensive backless booster seat at the end.
Kids will love the cushy cover, harness pads and two cup holders. Parents will love the easy installation with ClickTight technology, no-fuss harness height adjustment and so much more.
Britax has created one of the most compelling car seats on the market, and they've done it right in South Carolina.
Should you travel with the Britax One4Life? The ClickTight installation technology is perfect for installing without a locking clip, so that's handy for visiting many countries. Unfortunately, at 30 pounds it wouldn't be my personal preference. It does have an integrated carry handle to ease the burden and it pairs well with the Britax car seat travel cart if you'll be doing some serious driving on vacation, but most of the time I'd probably keep the One4Life in your own car for road trips and pick up a lighter convertible car seat for travel on planes.
Britax Marathon ClickTight convertible car seat
If many of the One4Life features sound amazing but you don't want to spend that much money (or carry around quite as much weight when you travel), the Britax Marathon ClickTight may be a great choice for you! Unlike its cousin, it doesn't convert to booster mode down the line and the rear-facing weight limit is a more typical 40 pounds versus the 50 pounds of the One4Life.
What makes the Britax Marathon a standout among convertible car seats? The ClickTight technology makes installation a breeze whether you're at home or on the road. It's a great choice for tall kids both rear facing and forward facing. If you opt for the Dual Comfort fabric, your kids will enjoy a cooler ride thanks to extra ventilation and moisture wicking.
The lowest harness slow (when you use the infant insert) also makes the Marathon suitable from birth for most full-term babies, unlike the One4Life. That's great news for families who want to use a convertible car seat from birth – you can use this from birth through roughly age 7, and then pass it along to another sibling or cousin.
Evenflo Sonus 65 convertible car seat
The Evenflo Sonus 65 is a great all-around lightweight convertible car seat that families will be happy using both at home and on the go. It offers more comfort and convenience features than other lightweight car seats, but at an affordable price. Since it weighs just 11 pounds, you won't have to buy a separate travel car seat.
The Sonus 65 is a nice choice for families who want to rear face until around 4 years old and then forward face in a harness until around 6 years old. It has enough padding for a comfortable ride and comes with two kid-pleasing cup holders.
Cosco Scenera Next DLX convertible car seat
Who says companies have to move manufacturing overseas to keep their products affordable? Dorel Juvenile Group brought production of most of their car seats, including the entire Cosco line, to Indiana in partnership with Walmart's commitment to American manufacturing. The Cosco Scenera Next is one of the least expensive car seats ever sold in this country!
We had one of the early Scenera Nexts in our "fleet" for a while and it serves its purpose well. It's extremely affordable and also extremely lightweight, making it great as a backup and for flying with a car seat. It's also narrow enough to work pretty well for fitting three across in the back seat. It's designed primarily as a rear-facing car seat and will fit most kids until 3-4 years old (it's often outgrown forward facing before rear facing).
I do strongly recommend the Cosco Scenera Next DLX rather than the regular version. There's a noticeable difference in the cover padding – and I mean noticeable to kids, not just their nervous parents. It's not a safety issue, but comfort is obviously important.
You won't find high-end extra features on the Cosco Scenera Next, but it still passes the same federal crash testing as other seats.
Cosco Apt 50 convertible car seat
The Cosco Apt 50 convertible car seat is pretty similar to the Scenera Next above – you can see a full comparison of them. The Apt 50 is also manufactured in Indiana and will fit kids forward facing a little longer than the Cosco Scenera Next.
It's still incredibly light weight and meets federal car seat safety standards, all while coming in at a bargain price. Both of those features make it an excellent choice for travel with toddlers.
Like the Scenera Next, the Apt 50 comes with a few different cover options. It's worth spending a few dollars extra to get the nicer solid color cover.
Cosco Mighty Fit 65 convertible car seat
Cosco has a third great made in the USA car seat on this list, the Cosco Mighty Fit 65. Dorel has been making this car seat for many years under different names, but it's now under the Cosco brand.
The Cosco Mighty Fit 65 (and the slightly upgraded Cosco Mighty Fit 65 DX) are a little heavier than the Scenera Next and the Apt 50 but still light enough that it makes a great travel car seat. However, it has some nice features that could make it a great choice for a daily ride as well!
It's narrow enough to fit in some three-across situations. Yet the 49″ forward facing height limit means that it can last many kids until 6 or 7 years old! That's an amazing value consider that it'll fit babies starting around 6-12 months. It can be a little tricky to install rear-facing and does require some serious recline for babies under 22lbs, but if you start using it at a higher weight you won't have as many challenges.
---
Combination and booster seats made in the USA
The safest option for your child is to stay in a harnessed car seat until they reach its upper limits. There are lots of wonderful made in the USA booster seats that can keep your kids safely harnessed until 6 (or even 7) years old. Beyond that, a seat belt positioning booster seat is an important step before kids can safely ride with an adult seat belt – often not until 10-12 years old.
Britax Grow With You harnessed booster seat
Though the venerable Britax Frontier has been discontinued for a while now, the replacement Britax Grow With You ClickTight harnessed booster is a fantastic new made in the USA car seat for families with tall kids.
The Grow With You ClickTight is one of the best combination car seats made in the USA that you'll find. It's extremely easy to install, fits kids well F-O-R-E-V-E-R and will keep kids comfortable thanks to its generous padding and CoolFlow fabric. In harness mode it will fit an average sized kid until 7 or 8; after that it'll still work as a highback booster seat until age 10 or 11 for average sized kids.
While it's not especially light for travel, ClickTight makes it a good choice for installing overseas since you won't need a locking clip.
It's on the wider side, so it's probably not your best choice if you need to fit three car seats in a row. It also isn't a cheap seat, though you'll certainly get your money's worth with such a huge size range.
If your child is big enough and mature enough to ride in booster mode, check out the Britax Highpoint 2-Stage booster – it has a few extra features you'll love like the option to use as a backless booster as your child grows.
Evenflo Maestro Sport harnessed booster seat
The Evenflo Maestro Sport is the latest version of a combination car seat (or "harnessed booster") that's been around for a whole decade! It's a total workhorse seat that's ideal for kids from ages 3 (in harness mode) to ~8 or 9 (in booster mode).
We use a cousin of this seat and it's served us well for years. It gets the job done at home, and at only 9 pounds it's fantastic for travel. Ours has been on more flights than I can count while our kids have used it in harness mode (you can't use any seat in booster mode on a plane – more info on that here). It's also relatively narrow, so it may work for installing 3-across (but it'll depend on the car and the exact combination of seats).
The biggest downside of the Evenflo Maestro Sport is that it's not ideal for kids on the higher end of the weight curve. Between the 50lb harness limit and the sort of narrow harness straps, it's better suited to slim kids. You will need a backless booster after your child outgrows the Maestro Sport, but those are inexpensive and easy to come by.
Evenflo Evolve Platinum 3-in-1 combination booster seat
The Maestro Sport isn't Evenflo's only offering for preschoolers and elementary schoolers. On the higher end, you'll find the full-featured Evenflo Evolve Platinum 3-in-1 combination booster seat. If you don't need all of the "platinum" features, you can get the more basic version as the Evenflo Transitions harnessed booster seat – with a more basic price tag too.
Compared to the Maestro, the Evolve is a totally different creature. It's full of squishy padding to keep kids comfortable and has a much more generous weight limit for the harness at 65 pounds. It also converts to a backless booster down the line and should last many kids until they fit in an adult seatbelt around age 12.
While it's not quite as lightweight as the Maestro Sport, it's an excellent choice if you'll be flying somewhere and then doing lots of driving. It reclines for car nappers, has nice harness covers to avoid straps rubbing kids necks and the Outlast fabric keeps kids cool. Perfect for road tripping!
Clek Olli & Clek Ozzi backless booster seat
Once your child has outgrown their 5-point harness and high back booster seat options, she'll probably still need a few years in a backless booster seat before she fits safely in an adult seat belt. The Clek Olli and Clek Ozzi backless booster seats fit the bill nicely and are assembled right here in Ohio!
These are great booster seats for mature kids who don't want to feel like they're riding around in a "baby seat". They're designed to fit kids up to 4'9″ and 120 lbs – that's around 11 years old on average.
What's the difference between the Clek Olli and Clek Ozzi? They're pretty similar in concept, but the Olli offers more premium "creature comforts" like a cupholder, padded arm rests and a carry strap.
If your child would benefit from extra support for sleeping (or reminders to sit up straight!) you can check out the made in Canada Clek Oobr high back booster seat – and a greater selection of Clek's nicer fabrics here.
---
I hope this list has shown you just a few of the excellent car seats made in the US! What's your favorite made in the USA car seat?
Bonus: Car Seats Made in Canada!
While our American readers may prefer to buy American-made car seats, Canadian friends might want to support their "hometown hero" too. There are several car seats made in Canada by our friends at Clek.
Clek Liing and Liingo infant car seats
The Clek Liing infant car seat is extremely easy to install whether you're using its rigid LATCH or the seatbelt, eliminating lots of worries for first-time parents. It's compact in all the ways that matter, making it a great choice for those driving small cars or who need to fit three car seats in the back. It's also fairly light at just 9 pounds including all of the inserts and the canopy (almost light enough to make it onto our list of the lightest infant car seats!).
Fortunately the size limits are pretty generous at 35 pounds or 32″ or 1″ of shell height, whichever comes first. That'll last most kids until 12-18 months, mostly depending on torso length.
The Liing is compatible with lots of stroller choices since it works with Maxi-Cosi adapters. You'll be able to use it with Uppababy, Baby Jogger and more!
If you're a city-dweller without your own car, Clek recently added a new option to save you some serious money (and storage space): you can now buy the Clek Liingo infant car seat. The car seat itself is pretty much the same, but instead of the full base it comes with a detachable "LATCH bin" – think of that as a mini-base with flexible (non-rigid) LATCH connectors. Without the LATCH bin it still weighs just 9 pounds, and it's easy to install using a seatbelt when you're hopping in and out of Ubers or taxis. It's also – not kidding – about half the price of the Clek Liing!
While the Clek Liing is listed as "assembled in Canada" the entire Liingo is a car seat made in Canada!
Clek Foonf and Fllo convertible car seats
If you're Canadian, the Clek Foonf and younger sibling Clek Fllo probably need no introduction. They're ultra-narrow and loaded with safety features.
For rear facers, the Foonf comes with an anti-rebound bar to stabilize the car seat in a crash. As a bonus, it also provides a few extra inches of leg room for extended rear facing. You can up the ante with an optional rear-facing tether as well.
Once your child is forward facing, they'll be protected by the Foonf's crumple zones – the same way a car manages crash energy. As a convenience to parents, the forward facing installation uses fancy rigid LATCH so there's no strap to tighten. Just click and go (and don't forget to install your top tether).
For kids who like to sleep in the car, the Foonf offers three different recline positions. There are rules for when you can use each recline, so make sure you check the manual for details.
The Clek seat fabrics are really interesting. Their latest offers include soft-touch jersey knit, wipe-clean C-Zero Plus (which comes in fantastic colors!) and even a chemical-free merino wool knit.
The Foonf does sit really high up rear-facing due to its base, so many families find that it's not ideal for flying with a car seat. If you want lots of the awesome Clek features but a more plane-friendly design consider the Clek Fllo, its sister seat.
The Clek Fllo is entirely made in Canada, while the Foonf is assembled in Canada.