You've probably come to this article because you're looking for the best pink car seat for your child. But choosing a car seat by color alone won't cut it – all car seats pass the same Federal crash tests, but that doesn't mean they're all created equal. Some of them are easier to install, fit children better, fit different cars better or have great extra features for convenience and safety. It's important to do your research before picking a car seat based on color alone.
In this article you'll find some of the best pink infant car seats, convertible car seats and booster seats. Whether you're shopping for pink car seats because you love the color or because you think one will convince your child that riding in a car seat is cool, read on to help you wade through the options to and make a good decision for your family.
Psssst… if you're a little flexible on color there are also some great purple car seats out there
This post contains affiliate links. As an Amazon Associate I earn from qualifying purchases.
<!–googleon: index–>
The best pink infant car seat options
There are some wonderful pink car seats for infants available now – you can find everything from budget-friendly models to advanced safety features without sacrificing your personal style.
Century Carry On 35
One of the newest pink infant car seats is an easy choice to recommend: the Century Carry On 35. It comes in a gorgeous shade of berry, with nice fabric that's surprisingly made from recycled bottles!
Beyond the pink car seat cover, the Century Carry On has so many great features! First off, it fits most newborns beautifully without any modifications. Second, it's one of the lightest car seats currently made. Third, the price is an unbelievable bargain.
It's an even better value if you buy the Carry On as part of a travel system like the Century Stroll On. If you opt to buy the Century Swap On stroller instead, you can even add on an affordable bassinet attachment to give a flat surface for neighborhood walks.
The Century Carry On 35 may be a fairly new entrant into the crowded field of pink "pumpkin" car seats, but it's one I recommend often for parents seeking a budget-friendly infant car seat.
---
Doona car seat stroller
Do you want the Swiss Army knife of baby travel gear? You'll find it in the Doona infant car seat stroller, one of the coolest baby products I've ever seen. In just a matter of seconds your very capable infant car seat deploys its own wheels and converts into a perfectly serviceable baby-friendly stroller! I've had the opportunity to play around with it in person (though it was released after our youngest was born) and I definitely let out a few "WOW"s during my test drive. The Doona blush pink has a sweet pink canopy, while the body of the car seat/stroller is the same as other options.
This is the perfect foldable baby car seat for families who live in or travel to big cities and need to hop in and out of taxis. You'll never have to worry about your baby being safe on the road, but you also won't have to wonder what to do with your car seat while you hit a museum or go into a store.
See how easy it is to make the transition:
It's also an easier solution than a two-piece travel system that has to be separated and stored in the car trunk. The Doona is even FAA-approved and you can just wheel is straight down the airplane aisle. Check out how perfectly it fits on an airplane seat:
So why wouldn't every family put this foldable carseat on their baby registry? There are three downsides to consider with the Doona, and it's up to you how important they are.
First, it's heavy compared to other infant car seats. The Doona weight is 16.5lbs. Most infant carriers weigh more like 9-10lbs, but of course they don't have a whole stroller built in. If you prefer a lightweight infant car seat, you'll find great options here.
Second, it ain't cheap. The price tag may make it a non-starter for many families, though once you add the cost of a well-respected infant car seat and a car seat stroller frame the sticker shock might subside a little.
Third, once your baby outgrows the Doona as a car seat around 1 year old you'll be on the hook to buy a new car seat and a new stroller. Obviously that's a tough nut to swallow financially. But many families find that the stroller they love for the newborn and infant stage just isn't ideal for the toddler stage and they wind up wanting a new stroller anyway. Especially if you're focusing on lightweight, travel friendly products you'll find that many of the best ultralight strollers aren't ideal until at least 6-12 months anyway.
All those cons aside, the Doona really is an incredible option for families who want to travel extensively with a young baby. It's the only collapsible car seat that rear faces to keep the littlest travelers safe!
---
Graco SnugRide SnugFit 35 DLX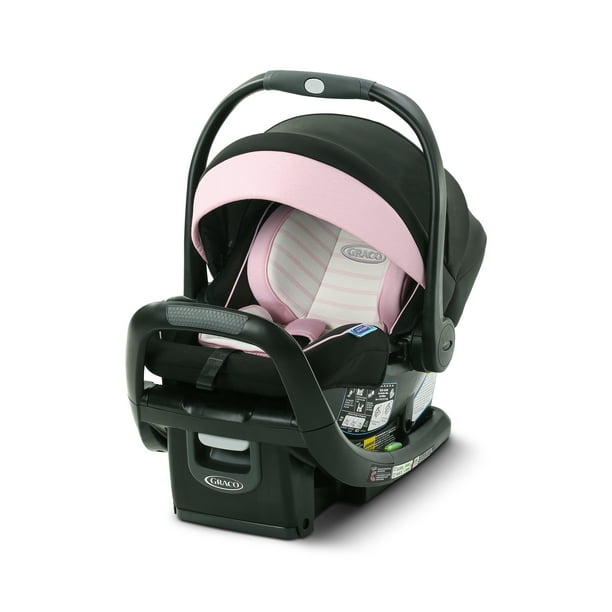 Graco has a knack for making up really confusing car seat names, but they also have a knack for making great well-rounded car seats. Their brand new Graco SnugRide SnugFit 35 DLX is no exception! It's a totally fresh looking pink and black car seat and packed with features to make it easy for new parents to use.
The new SnugFit base is where a lot of the magic happens. It offers an anti-rebound bar to decrease rotation during a crash. It also has Graco's oh-so-simple SnugLock arm for easy seatbelt installation – that's helpful if you plan to install your car seat in the center, which often doesn't have dedicated lower anchors. If you plan to install on the side, it has really nice premium LATCH connectors. There are also five different recline options, decreasing the likelihood you'd need to rely on a rolled towel to achieve the correct angle for a newborn.
The car seat itself offers a lot of awesome features (and seems to be virtually the same as the Graco SnugRide SnugLock Platinum DLX of recent years). The one-button handle adjustment that Graco introduced a few years ago can be very convenient.
The Graco SnugRide SnugFit 35 DLX should fit even small newborns extremely well. The size limits are generous enough to get pretty much every baby past their first birthdays, and the no-rethread harness makes it easy to adjust.
---
Evenflo LiteMax & Evenflo SafeMax
The Evenflo LiteMax is one of the cheapest pink infant car seats out there but it really has a lot going for it! It's very lightweight at only 7.8 pounds and it (along with the other new Evenflo infant car seat cousins in this series) offers the lowest approved weight limit around at 3 pounds.
The low weight rating combined with plenty of adjustments for harness, hip and crotch straps makes this one of the best car seats for preemies available today. Note that some versions of the manual say there's a 4 pound minimum, but Evenflo has updated their approvals.
At the top end of the range, the LiteMax goes up to 35 pounds and 32″ – it'll last most kids past their first birthdays! Keep in mind that your baby still needs to have 1″ of shell height above their heads, and that may be your limiting factor.
Whether you want to install it with the base at home or install it without the base when you're using it as a lightweight infant car seat for travel, it's easy to work with.
There's also the similar Evenflo SafeMax infant car seat, which you can get in pink as part of of the Evenflo Pivot Modular Travel System. While the shell appears to be the same, it's gone through additional side-impact and rollover testing. Remember that there are no Federal standards for those tests – as we've learned the hard way, car seat manufacturers design their own and decide what "passing" means. A more tangible difference is the anti-rebound bar on the SafeZone base that comes with the SafeMax infant car seat. Other premium features include high-end fabrics designed to keep babies cool, LATCH guides and more. The stroller is pretty nifty and can be used in all these different configurations:
The Evenflo pink car seat options also aren't great choices for compact cars. Evenflo recommends installing in the center seat if possible. In most cases that requires using a seatbelt, which is 100% safe but may intimidate some parents compared to using LATCH; fortunately the LiteMax has an easy-to-use lock-off on the base to make seatbelt installation a breeze.
If you can't or don't want to install in the center seat, Evenflo requires 1.5″ between the back of the LiteMax/SafeMax and the seat in front. That means a front passenger would potentially have their knees in the dash or realistically couldn't sit at all if you're driving a very small car.
---
Evenflo Gold SecureMax
If you read the Evenflo ADVANCED Litemax description above, pretty much all of that applies to the even fancier Evenflo Gold SecureMax. What are the differences? The Gold SecureMax adds even more premium features!
From a safety perspective, the biggest difference is in the new SecureMax base. It has a load leg that dramatically decreases the amount that the car seat rotates in an accident. That's a huge safety feature that has been standard in Europe for many years but is just arriving on the scene here in America. The price tag is a real bargain for that level of safety features. Most US car seats with a load leg cost at least $100 more. (The SecureMax base is similar to the DLX base mentioned above, which you'd have to buy separately from the LiteMax Advanced).
To improve ease-of-use, the SecureMax offers a no-rethread harness to adjust the height of the shoulder straps – remember that they should always be at or below the shoulders for a rear-facing child. The shell is nice and tall, so it'll fit most kids well past their first birthdays. Note that the LiteMax above is approved for babies as small as 3lbs but the SecureMax is not currently included in Evenflo's update list. Babies are rarely released from the hospital under 4 pounds, but if you suspect that yours may be that tiny then the ADVANCED LiteMax may be a better choice.
From a more aesthetic perspective, the Evenflo Gold SecureMax has upgraded fabric on the seat versus its less expensive counterparts in the LiteMax family. And if you really like the idea of a pink travel system, you'll find it in the opal Evenflo Gold SensorSafe Pivot Xpand travel system.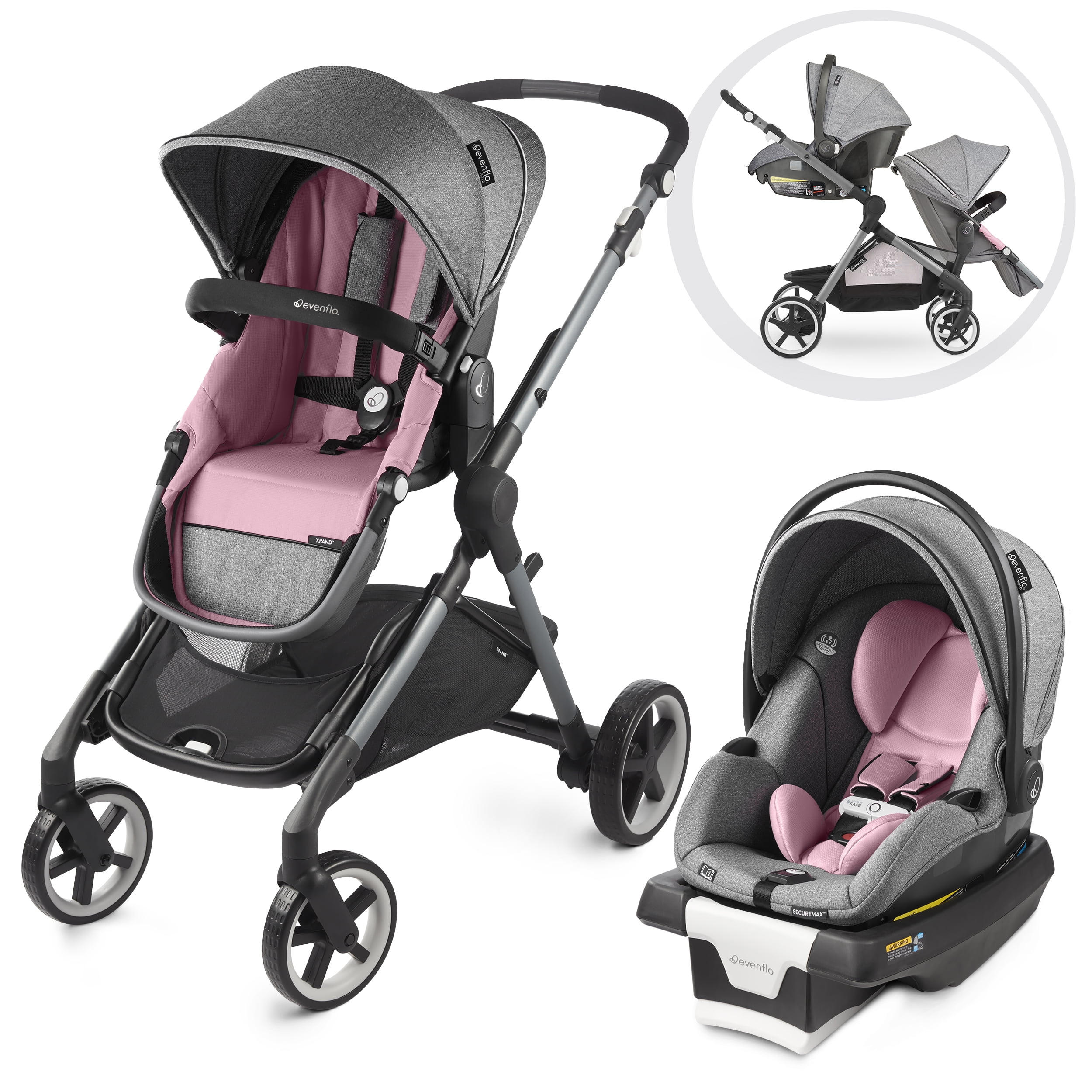 I got a chance to play with the Xpand stroller recently and I'm impressed! It uses a creative system to convert the built-in stroller seat into a bassinet for long walks with your baby. But if you're on-the-move, it's easy to pop the car seat on the stroller frame instead. Even better, it's called "Xpand" because you can easily move the included stroller seat to the front of the stroller and put the SecureMax infant car seat on the top when you need to push two kids around!
---
Graco SnugRide 35 Lite LX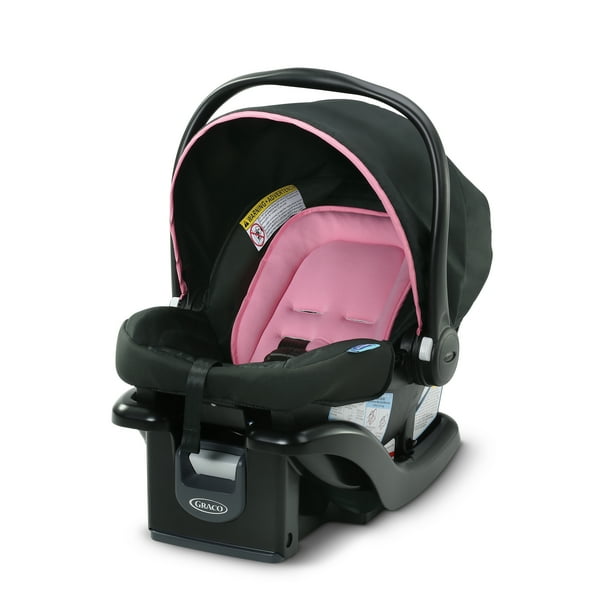 The new Graco SnugRide 35 Lite is a great pink baby car seat for families who expect to bring home a full-term newborn since it offers 6″ bottom harness slots when you use the included insert (compared to 4″ bottom slots on the LiteMax). You may need a rolled washcloth to fill the gap between your baby's diaper and the buckle strap for the first few weeks. This would not be a good choice for parents expecting multiples, who usually arrive on the smaller side.
This is a nice choice for compact cars since it doesn't take up much room from front to back – it's one of the smallest of the cheap infant car seats. If you're installing it without the base for travel or to save even more space, you have the option of European routing (wrapping the shoulder belt around the back of the seat for extra stability).
The trade off for the bargain price, light weight and compact size is that this Graco infant car seat is pretty basic. You won't find extra safety or extra convenience features. The base that comes with the SnugRide Lite is also ultra-light and very basic, though it gets to job done. If you'll be moving the seat between multiple cars you can consider buying the fancier and easier-to-install SnugLock base for your primary car – it adds a SnugLock arm for easier seatbelt installation as well as premium lower anchor connectors and a more useful recline option. You could also opt for the SnugLock DLX Graco infant car seat base, which further adds extra energy absorbing features.
There's a slightly upgraded version, the Graco SnugRide 35 Lite LX, that has a nicer infant insert (which still has to be removed at 12 lbs) and upgraded fabrics – it comes in purple though, not pink. The two versions seem to be otherwise the same.
---
Pink convertible car seat options
There are so many great pink car seats for toddlers! In this list, you'll definitely find options that fit your child, your car and your budget – they range from compact and budget-friendly to heavy beasts loaded with every conceivable feature.
Clek Foonf/Clek Fllo
If you like the concept of a super narrow convertible car seat loaded extra safety features, then it doesn't get any better than the Clek Foonf. The pink
Clek Foonf is called "snowberry" and it's gorgeous! It has pink fabric on a white shell, while the coordinating Clek Fllo is called "flamingo" and has the same pink fabric on a black shell.
Both seats are just 17″ wide, making them among the best convertible car seats for 3-across. If you're squeezing three Foonfs in your backseat, naturally you won't have space for cup holders for anyone – which can be tough when you're road tripping. But if you have room for a cup holder, you'll need to buy one separately. That's kind of a bummer for such an expensive seat!
The safety upgrades are where Clek really shines. For rear facers, the Foonf comes with an anti-rebound bar to stabilize the car seat in a crash. As a bonus, it also provides a few extra inches of leg room for extended rear facing. You can up the ante with an optional rear-facing tether as well. Once your child is forward facing, they'll be protected by the Foonf's crumple zones – the same way a car manages crash energy.
Because the Foonf is so heavy, you will need to use the seatbelt to install it starting at 25 pounds for rear facing or 35 pound for forward facing. The Foonf has lock-offs for both directions, so it's pretty straightforward. When the seat is forward facing, you can actually use both the seatbelt and the Foonf's integrated rigid LATCH (along with the top tether, as always) for improved crash performance. Note that the Foonf is unique in allowing LATCH and seatbelt together, and there are very few other seats on the market that allow it (even Foonf's younger sibling Fllo does not permit it).
The Clek seat fabrics are really interesting. Their pink fabric (whether you buy the snowberry Clek Foonf or flamingo Clek Fllo) are made of their proprietary wipe-clean C-Zero Plus. Even milk spills are no match! The Foonf and Fllo both have plenty of padding but offer a firmer ride than something like the Chicco Fit4 or Nextfit.
If you plan to use your Foonf for a newborn, you'll need to pick up their aptly-named "infant thingy" infant insert. It bumps the Foonf's minimum size down to 5 pounds/19″ and can stay in the seat until 22 pounds/33″ (whichever comes first).
The Foonf does sit really high up rear-facing due to its base, so many families find that it's not ideal for flying with a car seat and it can be tough in cars with lower rooflines. If you want lots of the awesome Clek features but a more plane-friendly design consider the Clek Fllo, its sister seat.
Overall, the Foonf is an excellent choice for safety-focused parents or those who need to install three car seats in a row.
---
Chicco Fit4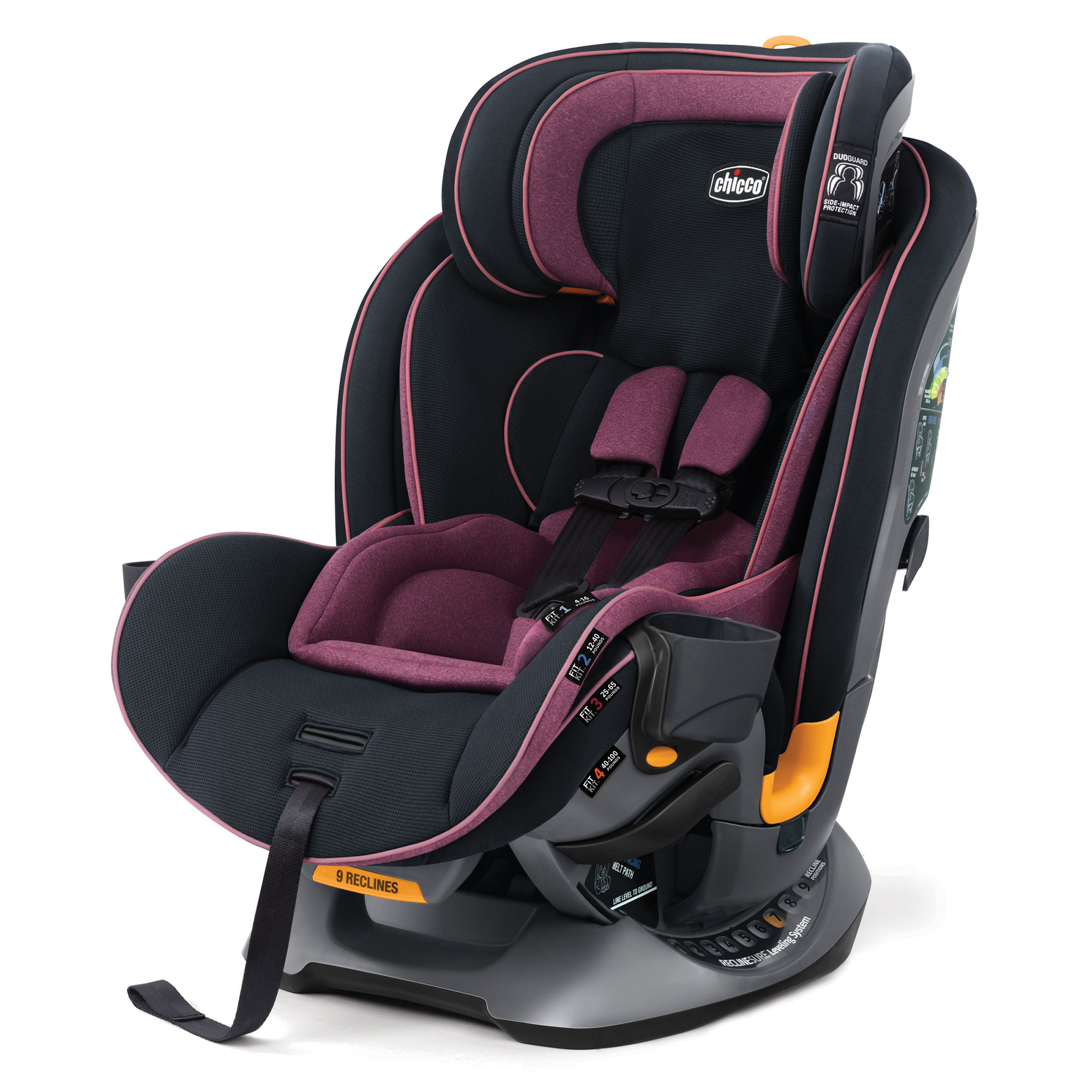 If the Chicco Nextfit and the Chicco MyFit harnessed booster got together and had a baby, it would look a heck of a lot like the new Chicco Fit4 all-in-one car seat. And that's a really good thing! The Chicco Fit4 Carina color is a sophisticated magenta color rather than a full on pink like Clek's car seats.
The Fit4 offers a great fit from newborns through booster seat riders by using different inserts for each weight range (which they have dubbed the "Fit Kit"). Newborns use the Stage 1 and 2 inserts together, while rear facing kiddos over 16lbs only use the Stage 2 insert. All of the inserts come out once you switch the seat to forward facing, and booster riders have the option of a seatbelt pad for added comfort (I'm a little jealous of that!). Thankfully all of the pieces are clearly labeled to avoid confusion.
Just like the Nextfit, the Fit4 has 9 different recline position. The fantastic news is that you can use whichever one your child prefers as long as the bubble level on the side is in the correct position for that stage. They give you plenty of options for recline in forward-facing harness mode and even some in booster mode. It's a great car seat for kids who like to sleep in the car!
The Chicco Fit4 comes with two of Chicco's excellent "cupfolders", cup holders than can fold in to make space if you have a tight squeeze. These work great for us and it's so nice for kids to have two cup holders on a long drive! In case there's a spill while you're on the road, Chicco gives you the option to machine wash the fabric cover. Since you'll be gradually peeling off the seat's layers over a few years, it'll have a better shot at looking new for the long haul.
One of the biggest downsides of the Chicco Nextfit is the high sides. They make it hard for parents to lift their rear facing babies in and for older kids to climb in themselves. Fortunately the Fit4 has lower sides to avoid that issue. While we LOVED our three Chicco Nextfits over the years, the lower sides and increased longevity are big enough improvements that today I'd recommend the Fit4 over the Nextfit. That said, if you're on a tighter budget or want the convenience of a zip-off cover the Chicco Nextfit Zip comes in a stunning purple called Vivaci – available here, here and here.
The biggest downside of the Chicco Fit4 is that it can be a nuisance to install with a seatbelt when rear facing due to the extra padding you'll have in place. You can get around this by installing with LATCH until 35 pounds, but that's only allowed in seats that have dedicated lower anchors – usually just the outboard seats rather than the middle seat.
---
Cosco Scenera Next
The Cosco Scenera Next is one of the cheapest car seats money can buy. It's also one of the lightest, and a great choice for travel. And if you're looking for a "fun" option, the Cosco pink car seat choices might make your toddler a happy camper – there are four different options!
Apart from the aesthetics, there are some basic details you need to know about the Cosco Scenera Next. It fits newborns extremely well, but is often outgrown completely by 2.5-3 years old for average size kids. Many families never even use it forward facing, as the low shoulder slots mean it's usually outgrown forward-facing before rear facing. At the extremely low price point, most families are ok with that.
The Scenera Next passes the same Federal crash testing as every other seat in the US, but don't expect any extra fancy features in this pink toddler car seat. The padding is minimal on the seats with patterned fabric (which my kiddo didn't like), while the solid color seats have slightly more padding. It's quite narrow, so in many cars it'll work well for a 3-across.
Installation is pretty standard, though we had a hard time getting it tight on leather seats – that was ultimately one of the reasons we gave it away, though it might have been easier if I'd known some of these tricks at the time.
---
Baby Trend Trooper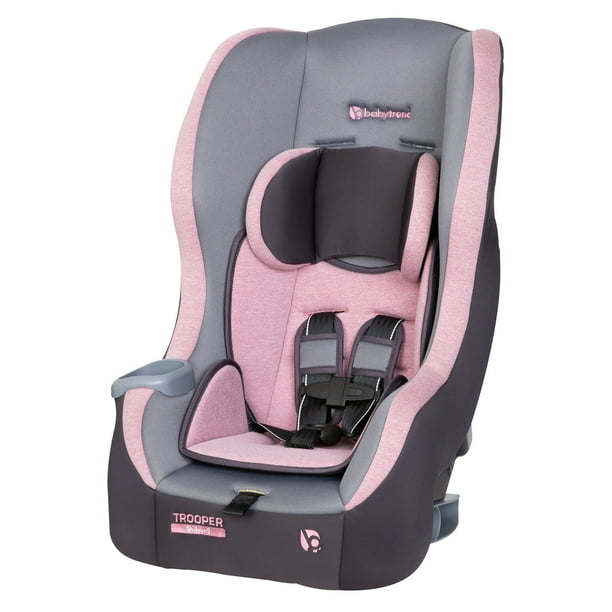 The Baby Trend Trooper convertible car seat (be sure to check prices here too) is an affordable pink car seat that's lightweight enough to take on trips too. The Baby Trend car seat's pink fabric is mostly on the insert, but even without it there's some nice pink trim on the sides.
What makes it stand out? For starters, it's very lightweight at just 10 lbs and extremely narrow. It's even a hair narrower than the Cosco Scenera Next. But unlike the Scenera, the Baby Trend Trooper will fit most kids until until around age 6. The price tag is higher, but you'll get about double the use from it! The Trooper also has a few different padding configurations available (some with weight limits, some totally optional) including a body pillow, a head pillow and harness pads.
The Baby Trend Trooper can be a tight squeeze for families with a newborn or young infant riding in a compact car. The car seat will fit your baby beautifully thanks to tons of adjustments, but the steep recline for babies under 23 lbs will take up a ton of space. It's much more compact once your child reaches 23 lbs (around 18 months on average).
It may seem like a small detail, but Baby Trend added some helpful labels to the seat. Baby Trend tells you the weight limit for the insert right there on it. The special harness routing for newborns is labeled on the seat. The harness has stripes to let you know it's laying flat with no twists. There's a big picture of an airplane on the side of the seat to show flight attendants, rather than searching for obscure red lettering.
The manual itself is thoughtfully laid out. There's a page with clear cleaning instructions for each part. There's another page that lays out the rules for various padding that comes with the seat. There's a quick safety checklist for parents to review. The manual is full of easy-to-digest information to help parents use their car seat correctly. There's even a QR code to scan that gives direct access to installation videos.
---
Safety 1st Jive/Safety 1st Guide 65/Cosco Mighty Fit 65
Don't ask me why, but Dorel Juvenile Group likes to sell a few seats with a lot of names. This nice affordable convertible car seat go by Safety 1st Guide 65 (sometimes Sport), Cosco Mighty Fit 65 (sometimes DX or LX) and Safety 1st Jive. They all have the same shell but different soft goods and cup holders so most of the important details are the same no matter which version you get. There are plenty of Cosco and Safety First car seat pink fabrics to choose from on this shell though it does seem like the Guide 65 version is being phased out.
These clone seats are relatively long-lasting thanks to their 17″ top harness slots – they'll get most kids to a safe age for booster seats. That said, they are not seats that you can use from birth as the harness won't go low enough to be below a newborn's shoulders.
The newer Safety 1st Jive does come with a "butt pad" that will help it fit young babies a little sooner, but I still wouldn't pick it for a newborn. One of the biggest downsides of all of these seats is that the steep recline needed for kids under 22lbs is tough to achieve without using a pool noodle or rolled towel, and that steep recline will make it a big space hog in many vehicles.
---
The best pink harnessed booster seats
Chicco MyFit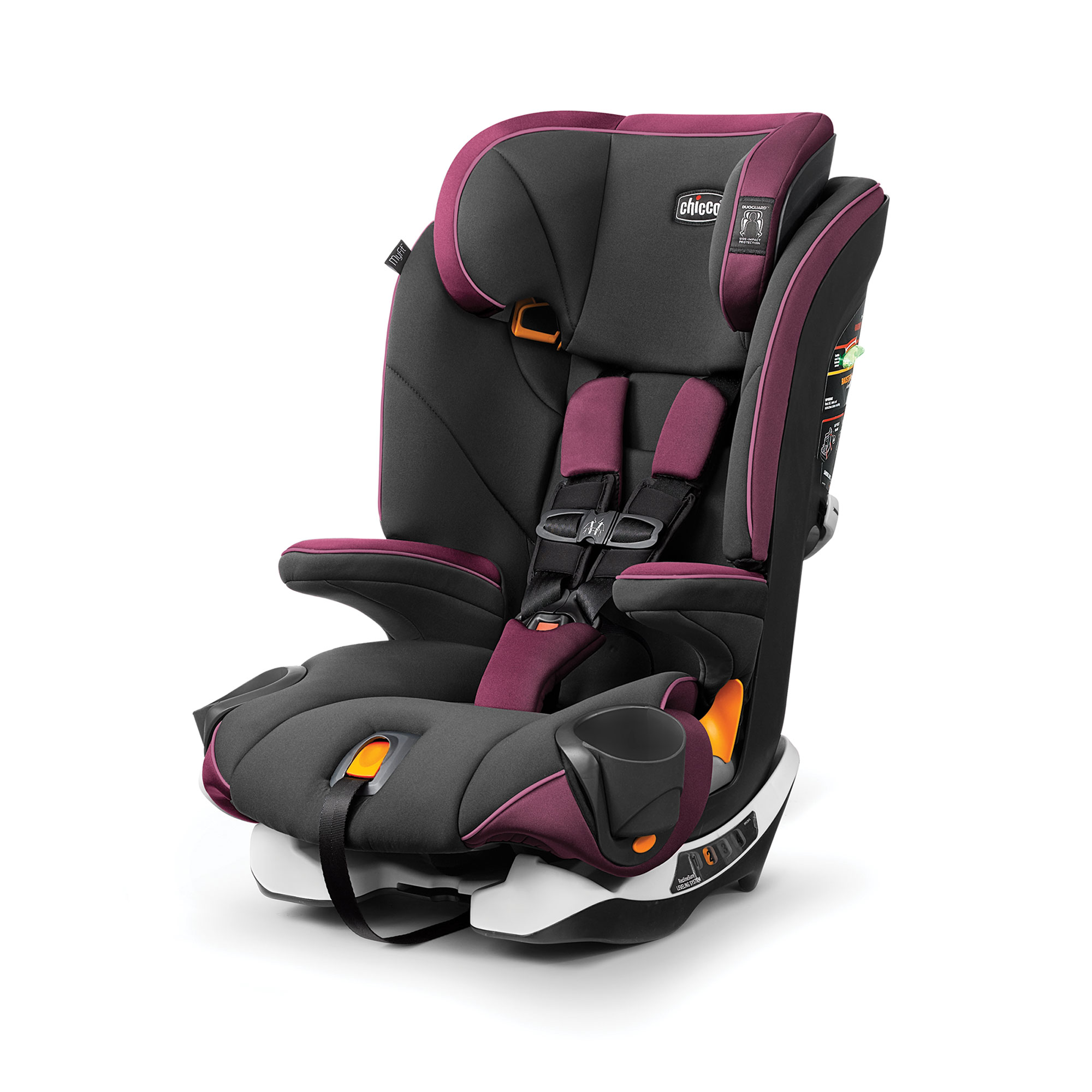 My daughter has been riding in her Chicco MyFit every day for nearly two years thanks to our partners at Chicco and it's much beloved in our family. She doesn't have this beautiful Gardenia color, but we love it all the same.
The Chicco MyFit is in a category usually called "combination car seats" or "harnessed booster car seats". It can function as a forward-facing harness car seat for kids who are 2+ (though the safest option is to rear face as long as possible) and later transition to a highback booster seat. If you're shopping for pink carseats to convince an older child (who isn't ready for a booster) to stay harnessed, this is a great option.
Pro tip: Save $30 when you sign up for Chicco's email list and buy it here
What's unique about the Chicco MyFit is that it has an extremely high height limit for its harness mode: 54″, or 4″6′. The maximum harness weight is 65lbs, tied for the highest weight harness currently available. Combined with the 20″ maximum harness slots, it's the longest-lasting harnessed car seat on the market in 2021.
It's also extremely comfortable if you're a road tripping family. In harness mode, it offers four different recline options. There's tons of padding all around, so it's great for kids who like a squishy ride.
The only major downside it that the seatbelt lockoff can be a little finicky in some cars. I find that I really need to wiggle the seatbelt all the way in. But as long as you aren't uninstalling and reinstalling on a daily basis, it's not a big deal.
The booster mode on the Chicco MyFit is not the longest lasting, capping out at 57″ or 100lbs. Plenty of kids won't quite pass the 5-step test at that time to use an adult seatbelt, so they may need an extra little boost from something like this.
But realistically you're looking at average kids fitting in the Chicco MyFit until 9 years old in harness mode and 11 years old in booster mode. That's a lot of usage to get out of a mid-priced seat!
---
Graco Nautilus 65 LX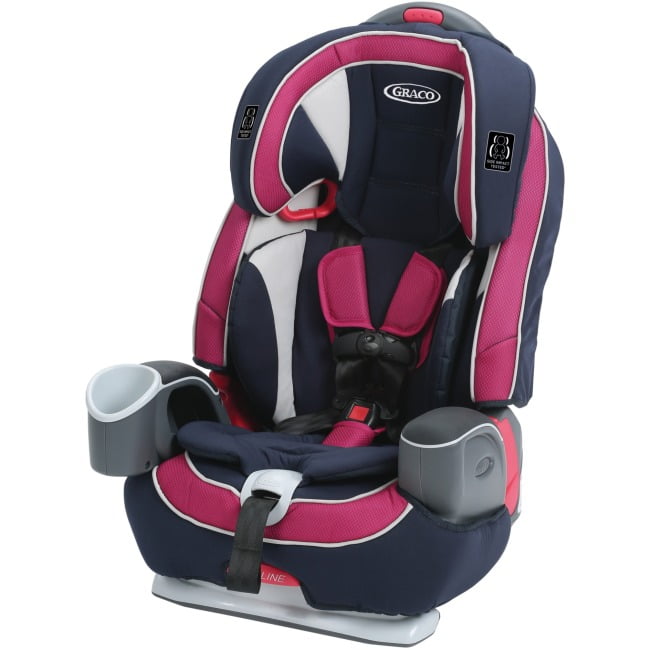 The Graco Nautilus 65 LX is a solid mid-priced pink combination car seat, ideal for kids who have outgrown the rear-facing limits of their convertible car seats and are ready for the next step. It serves as a forward-facing harness, high back booster seat and eventually a backless booster seat as well. Some kids may make it to the end of their booster seat days – typically between 10 and 12 years old – in the Nautilus.
The Nautilus (which comes in several different "trim levels") is extremely popular because it's a solid all around seat. It works well for parents and is reasonably comfortable for kids. It offers nicely padded arm rests and even a little bit of optional recline for kids using the harness. It generally gives kids a safe seatbelt fit in booster mode.
In most situations, you'd be hard-pressed to install the Graco Nautilus next to another car seat. Keep that in mind if you're planning on a car full of kids!
---
Graco Tranzitions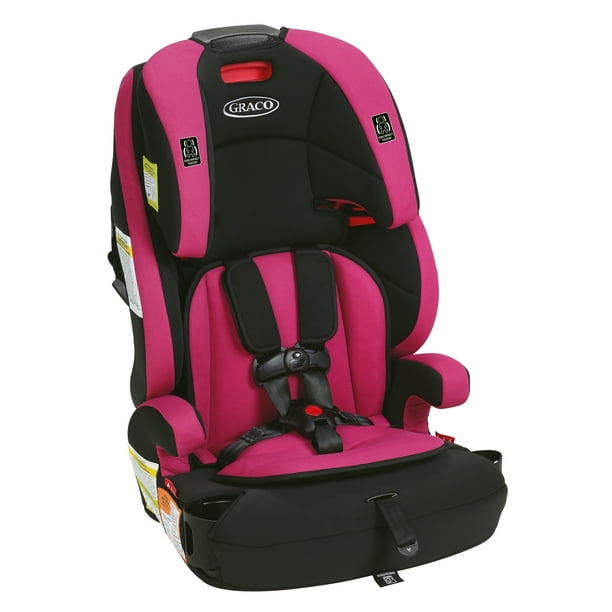 If you're looking for a Graco pink car seat to get your child from preschool age to the end of their booster seat needs without breaking the budget, the Graco Tranzitions is worth considering. While it shares the same three functions and size limits with the Graco Nautilus above, it has some distinguishing advantages and disadvantages.
First off, the Tranzitions is physically a smaller seat. It weighs 40% less (due to plastic construction rather than steel-reinforcement) so it's excellent for travel. It's several inches narrower on the outside, so it will fit better in a 3-across situation. The bottom of the seat – which eventually becomes a backless booster – is lower profile and may be preferable for kids as they hit mid-elementary school and are ready to be a little less conspicuous. The Tranzitions also comes in a little cheaper than many versions of the Graco Nautilus.
The Nautilus wins out by providing a little more width for kids with a broader build (though it's still not ideal for extremely broad kids). Along with that, it has a third position for the crotch buckle to give kids at the top of the size range more breathing room. It also offers the ability to recline the seat a little bit for preschoolers using it in harness mode. The padding and arm rests are also more generous, so kids may prefer the Nautilus for long drives. And while crash tests results aren't released by manufacturers, some parents may take comfort in the steel reinforcement of the Nautilus. The Nautilus will also last 10 years versus 7 for the Tranzitions – whether or not that difference matters to you will depend on when you buy the seat and whether or not there are any younger siblings to whom you want to pass it down.
Both seats feature a no-rethread harness for easy adjustment. The Tranzitions can be a little tricky to install in some cars, so be sure to check in with a CPST if you run into any trouble.
Whichever option you choose, you can feel confident knowing that Graco was a pioneer in the combination car seat space and they continue to innovate by releasing new options like the Graco Tranzitions.
---
Cosco Finale / Safety 1st Grand
The Cosco Finale DX and Safety 1st Grand are twins, with the Safety 1st version having slightly plusher padding and two cup holders instead of one. Beyond that, their shells and technical details are the same.
Whichever version you choose, the Cosco Finale and Safety 1st Grand are popular for their extremely affordable price tag, light weight and narrow footprint. Even better for kids, the Cosco Finale DX/Safety 1st Grand comes in two different shades of pink. There's also less expensive version of the Cosco Finale that comes in lots of fun patterns, but it's good to note that those covers have less padding.
So what are the cons? For starters, it's not a seat that's going to last particularly long. The 17″ maximum harness height is quite low – shorter than plenty of convertible car seats. There are plenty of kids who will outgrow the harness mode at age 6, even if they aren't mature enough yet for the booster mode.
The booster mode itself can be problematic too. Though the seat belt guide isn't required, it can cause problems with the seatbelt retracting incompletely in some cars. I also don't like that you can't use the LATCH system to keep the seat in place in booster mode. Plus the booster mode will only give you another year or two since it's so short and doesn't adjust. If you buy the Cosco Finale at age 5, you might get three years out of it for an average size kid. But at such a low price, that may be ok with (or perhaps you have another kid in the family who will use it later).
---
Pink booster seat options
Diono Cambria 2 high back booster seat
The Diono Cambria 2 is a really nice pink booster seat, and I can attest to my own pink-loving daughter being over the moon when it showed up at our door one day! We've had a chance to spend a little time with the Cambria 2 (and its big brother Diono Monterey 4DXT) thanks to our partners at Diono, so I'm excited to share some of our feedback with you.
The first thing to know about the Diono booster seats is that they're big. Like… really big. It's a little ironic because Diono is known for their 3-across convertible car seats, so many parents don't realize that the booster seats are entirely different. The size isn't necessarily a bad thing, as they're meant to keep big kids safe and comfortable. There's no booster seat on the market with higher size limits than the Diono Cambria and its siblings. Just don't plan to put another passenger of any age or size in between them, as you can see below.
Despite its ample size, the Cambria is very lightweight and easy to move between cars – much less unwieldy than the 4DXT. It has nice padding that'll keep kids happy for long drives. The cup holders aren't our favorites unfortunately, as they're pretty small and not very deep. They do rotate in when you aren't using them or when you're storing the seat.
While there isn't much to "installing" a booster seat, the Diono Cambria has two quirks you should know about. First, all Diono booster seats require a headrest behind the seat. It's not in the manual, but Diono safety representatives have confirmed this to the CPST community. It may not be the right seat for some cars that don't have a headrest or have one that's incompatible. The second thing to know is that the lower anchor connectors – which are strongly recommended but not required – go in upside down. I find it easiest to turn them sideways and slide them under the car's lower anchor and then rotate them the right way (with the opening pointed up) and clip on. It's no big deal once you get used to it, but just good to know.
The biggest bummer for us, albeit at temporary one, is that the lowest belt guide height of the Cambria 2 is quite high. At 43″ tall but with a short torso, the shoulder belt was a little too high for our girl. A child who is a little taller or has a longer torso won't have an issue starting to use the Cambria 2 around 6 years old, and I feel confident that this seat will get us to the end of our boostering days. Given the very reasonable retail price, it's a great deal for so many years of use.
Why? Because even once we no longer need the back or if the leg room is getting to shallow, the Diono Cambria 2 converts into… the Diono Solana 2! More on that below.
---
Diono Solana 2 backless booster seat
The Diono Solana 2 pink backless booster seat is a big comfy option for elementary schoolers. It has nice padding and two retractable cup holders, and most importantly it has the highest limits in the industry. The pink fabric is a little different than what's on the Cambria 2; the bright pink color that's used on the Cambria's back is instead used through the middle of the Solana 2
As long as your vehicle's headrest adjusts high enough to keep support to the tops of your child's ears, she can keep riding in the Solana 2 until she's big enough to fit properly in the adult seatbelt. The Diono Solana 2 provides big kids with a great fit for my years at a moderate price point.
---
Clek Oobr high back booster seat
Clek has developed a great reputation over the last few years for their innovative, safety-focused car seats and boosters and the Clek Oobr booster seat is no exception. Kids and parents love it, and the lively pink Snowberry cover is so fun!
There's a lot to love about the Clek Oobr pink high back booster seat. For kids, it's got plenty of padding, deep headwings for sleeping, and even the option to recline (if it's installed with LATCH). It's one of only a few true reclining high back booster seat options on the market currently. While the seat might feel shallow to some kids when the back is on, once they're ready you can remove the back to give a more spacious ride with the Oobr as a backless booster. The ride is firm rather than squishy, which is a matter of personal preference.
The Oobr is one of the narrowest booster seats available, so it'll give you a good chance of fitting 3-across. With 9 years until expiration, it's a great option for families with a younger sibling to pass it down to. The beautiful pink snowberry fabric is one of Clek's C-Zero Performance Plus options, will stay looking new with just a simple wipe down.
Like the Chicco KidFit, the Oobr tops out at 57″. If you buy it for a child on the top end of the height curve, you might need to pick up an inexpensive booster to bridge the gap at the end of their booster riding days. It's a very nice choice for kids who are average height or shorter.
---
Clek Olli backless booster seat
The Clek Olli gets excellent reviews for comfort thanks to Clek's "no numb-bum" design. Cheeky, eh? It comes in the vibrant Flamingo pink color, and new for this year Clek is using a quilted version of the fabric on the Olli for a little extra style (but it'll still match the Foonf, Fllo and Oobr if you have a pair in your back seat). The Crypton fabric cleans up beautifully and the booster seat cover even comes off when it needs a wash.
The Olli is also one of the narrowest booster seats around, so it's a good choice if you need to fit 3-across in your back seat. Just be sure to test out your seating positions, as the Olli uses rigid LATCH – it's great for safety and ease of use, but may be harder to connect in a tight 3-across.
Clek Olli also comes with the "drink-thingy" cup holder and "strap-thingy" shoulder strap. Yes, Clek calls all their accessories "thingies".
The Olli has a standing 57″ height limit. If you have a tall child, you might need to pick up one of these to see you through the home stretch (but you can worry about that later).
---
Chicco GoFit backless booster
The Chicco GoFit is another seat we've used a lot over the years, and we love it! It's essentially the bottom half of the Chicco KidFit high back booster.
It comes in two shades of pink: the Coral and Hibiscus. These are both the original GoFit, which doesn't have lower anchors – you'll need to teach your child to buckle it in before she exits the car so that it doesn't become a projectile if you get in a crash when it's unoccupied. Both colors have the same excellent padding, convenient "cupfolders" and nice padded arm rests.
There's not all that much to say about backless booster seats, but we really do like using this one. It comes in at a very reasonable price tag for a pink booster car seat you'll use for a few years.
The only word of caution is that its upper height limit of 57″ may not be enough to get some kids to the end of their booster seat needs. Some kids might need a little boost like this one for the very tail end, but until that point they'll be very happy to ride around on a cushy seat like the GoFit!
---
Graco Turbo GO backless booster seat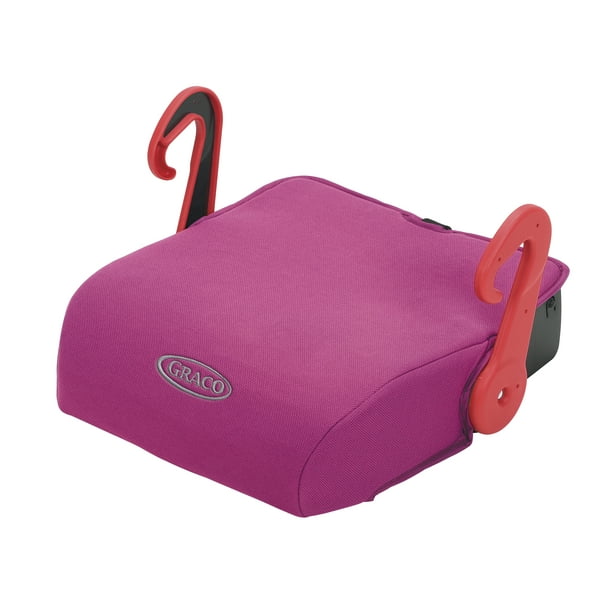 The Graco Turbo GO is the least expensive car seat on this list, coming in at less than the price of a fast food lunch for the family. But we love ours! While we have the boring black version, pink-lovers will rejoice at the range of colors Graco offers for its oldest riders. The Graco Turbo GO also happens to be one of our favorite travel booster seats.
When it's all set up, the Graco Turbo GO looks just like a regular backless booster seat with nice big belt guides that are easy for kids to use on their own. Ready to hit the road? The back part of the booster seat folds underneath to make it a more compact package. It can take a little "oompf" to open up, but overall it's fast and easy. When folded it's a good bit bigger than a Bubblebum, but it offers the advantage of being a more stable seating surface (and a wider one for big kids).
Note that the minimum height for this folding booster car seat is 43″ – many kids won't reach that until almost 6 years old. Our son didn't get there until almost 7 years old, so parents of shorter kids may need to look elsewhere. But the Graco Turbo GO is a wonderful choice for globetrotters who need more hip room and prefer a stable seating area. That fact that you get get this Graco booster seat in pink (or purple) is just the icing on the cake.
At 3 pounds, the Graco Turbo GO booster seat is one of the lightest booster seats available. It's also extremely affordable (and may be even cheaper at Walmart)! If your child is ready for a backless booster and you don't mind the extra size or weight compared to the Bubblebum or if your child has outgrown the small seat of the Bubblebum, this just might be the best booster seat for travel.
Read my in-depth review of the Graco Turbo GO.
---
Cosco Topside backless booster seat
The Cosco Topside is one of the least expensive booster seats available, and it will delight booster seat riders who love bold pink shades. The minimum height is 43″, but it's really ideal for older booster riders.
Unlike nearly every other option on the market, it doesn't include a shoulder belt adjuster strap. Wherever the shoulder belt falls, that's where it lies. Because the shoulder belt goes over the armrest rather than under it, the seatbelt may sit too high on some young kids.